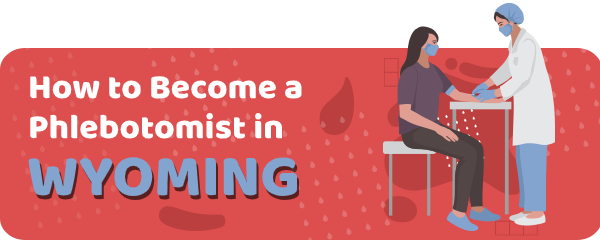 Phlebotomists play an important role in all medical systems.
Their role is to draw blood samples from patients as part of some diagnostic tests.
Aspiring phlebotomists in Wyoming have several pathways as part of their career.
They can complete a diploma program, certification, or degree programs, or medical assisting program.
Phlebotomy is one of the fastest-growing filed as far as the employment options go, so phlebotomists career is very prospective.
Phlebotomy Training in Wyoming
Even though phlebotomy certification isn't part of the state official requirements, students are encouraged to complete high-quality certification programs and earn certifications.
Sponsored Listings
The reason behind it is employment – employers prefer certified phlebotomists, those who have completed the educational course and pass the exam.
Phlebotomy courses usually include knowledge of blood drawing procedure – venipuncture, finger sticks, and syringe techniques.
Also, students are required to complete at least 100 hours of clinical laboratory training under a qualified supervisor.
Also, it is great that Wyoming students have a lot of accredited programs across the state.
Night classes or weekend workshops are also available for working adults.
Phlebotomy Certification Prerequisites in Wyoming
As mentioned before, a phlebotomist doesn't need a certification to work in a healthcare facility.
However, obtaining certification is a way to improve job opportunities and gain more knowledge.
The course prerequisites are different and vary from school to school.
However, there are some general requirements for the phlebotomy course in Wyoming.
Those are:
Age – 18 years or older,
High schools diploma or equivalent certification exam
Proficiency in the English language
Effective and patient communication
Basic computer still
A role of a phlebotomist includes more than just drawing blood from a patient.
Therefore, a phlebotomist needs to provide comfort and calm the nervous patient down to perform the procedure correctly.
Inter-Personal Skills
Because phlebotomists work closely with other medical workers and patients, they are required to have good communication skills.
Next, they are expected to know about laboratory equipment and possess basic computer knowledge in data entry fields and EMR – electronic medical records.
The job of phlebotomists is specific, and they are sometimes asked to work night shifts.
Sometimes, phlebotomists need to work overtime or long hours, so the ability to work under pressure is highly appreciated.
Lastly, phlebotomists need to have a friendly and compassionate approach to patients and the ability to handle different situations.
Choosing Phlebotomy Training in Wyoming
In Wyoming, phlebotomy certification training programs usually take around six months to complete.
Typically, courses include classroom education and clinical experience, including venipuncture procedures.
The phlebotomist training programs usually include education form the following fields:
Safety and infection control guidelines
CPR and handling emergencies
Phlebotomy procedures
Medical terminology
Best laboratory practice
Also, some courses are available in the online form.
Whatever course you choose, make sure it is accredited.
After the course is complete, you can sit for the certification exam.
In Wyoming, there are several certification agencies:
American Medical Technologists
American Society of Clinical Pathologists
National Center for Competency Testing
National Health Career Association
Another benefit of obtaining a phlebotomist certification is the ability to transfer the certification to the majority of other states.
However, make sure to check the requirements in place for out-of-state phlebotomist if you plan to relocate.
Schools
There are four educational institutions suitable for aspiring phlebotomists in Wyoming.
Casper College offers phlebotomist training that consists of two courses.
The program can be completed in one semester, and students are eligible for the certification upon program completion.
One course includes didactic and laboratory training, while another focuses on preparing students for taking blood specimens from the patients.
Central Wyoming College is located in Rivertown and has a Phlebotomists Technician Program.
It is available for credit, certification, or for training purposes only.
The program is comprehensive and includes practical instructions as well as classroom instructions.
Students who complete the program are qualified to sit for the national examination.
Next, Northwest College includes five credit hours and includes various topics such as safety policies, infection prevention, specimen acquisition, etc.
Western Wyoming Community College in Rock Springs has a convenient phlebotomist training that can be completed in four months.
Classes are conducted in the evening, usually on Tuesday or Thursday.
| School Name | Address |
| --- | --- |
| Casper College | 125 College Drive, Casper, WY 82601 |
| Central Wyoming College | (2660 Peck Avenue, Riverton, WY 82501 |
| Northwest College | 231 West 6th Street, Powell, WY 82435 |
| Western Wyoming Community College | 2500 College Drive, Rock Springs, WY 82901 |
Salary
An average annual salary of a phlebotomist in Wyoming is $39.561.
However, the salary depends on several factors including certification, skills, experience, education, and location.
Annual Salary Range:
Annual Salary by Location:
| Location | Avg. Annual Salary |
| --- | --- |
| Cheyenne | $40,326 |
| Casper | $41,410 |
| Laramie | $40,806 |
| Gillette | $39,328 |
| Rock Springs | $40,794 |
| Sheridan | $41,903 |
| Green River | $40,794 |
| Evanston | $41,133 |
| Riverton | $40,744 |
| Cody | $41,903 |
Phlebotomy Classes by State
---