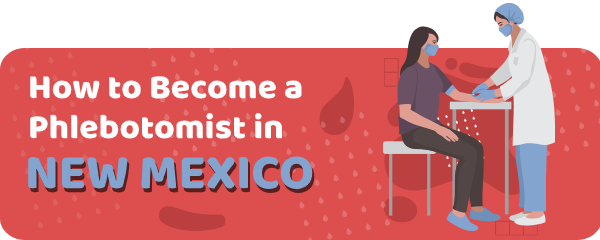 Phlebotomy is one of the fields with the highest expected growth rate.
Therefore, it is an excellent choice for anyone interested in developing a career in healthcare.
The primary task of a phlebotomist is to draw blood samples from patients, and them transport them further for the diagnostic tests.
The phlebotomy is highly important in identifying the illness process.
Therefore, as medical science develops, the need for a skilled phlebotomist is also growing.
However, the job of a phlebotomist includes more tasks, such as working with different laboratory equipment, working long hours and weekends, handling different situations, etc.
Sponsored Listings
Experienced phlebotomists may be granted with favorable working hours.
But, entry-level phlebotomists need to be flexible.
Certified phlebotomists in New Mexico have better career opportunities and a higher salary.
The cities that are in the highest demand for certified and skilled phlebotomists in New Mexico are Albuquerque, Las Cruces, Roswell, Tucumcari, Silver City, etc.
Phlebotomy Training Requirements in New Mexico
New Mexico is one of the states that doesn't require phlebotomist technicians to hold national certification to be employed.
However, the majority of reputable healthcare facilities and possible employers prefer certified technicians.
Those with previous experience in drawing blood can complete the certification process quickly.
Those without experience can enroll in phlebotomy training within any of the accredited schools.
After the program is complete, a student may sit for the national examination and get its certification in New Mexico.
Phlebotomists need to be friendly and cooperative to perform the procedure as part of the medical team and on different people.
Therefore, those who have strong customer service skills are highly appreciated as they will be able to handle different situations and types of people.
Phlebotomists need to be trained to follow strict protocols and safety guidelines related to cleanliness and infection prevention.
Lastly, because phlebotomists work with sick people, they are expected to have a strong immune system.
Certification Agencies in New Mexico
If you live in New Mexico and you want to improve your job outlook, you can get certified through several national agencies recognized in New Mexico.
First of all, the National Center for Competency Testing offers an exam-based certification in phlebotomy.
The exam consists of 145 questions and you have 2.5 hours to complete it.
Next, the organization American Medical Technologists is recognized in New Mexico.
You need to have work experience and to pass a written or oral exam.
The renewal cycle at this agency is three years.
The American Society of Clinical Pathology certifies phlebotomists in New Mexico.
For this one, you need to complete training or to show proof of work experience, to pass an oral or written exam.
Here, the renewal period is ten years.
Lastly, the American Society of Phlebotomy Technicians and the National Phlebotomy Association are suitable for phlebotomists in New Mexico.
Training in New Mexico
The majority of the phlebotomist programs in New Mexico last around six months.
However, the duration depends on the number of classes per week.
Some courses have classes every day, thus those courses are shorter than courses held on weekends.
Weekend courses are suitable for working students.
Upon application, you need to submit your high school or GED transcripts and to pass a criminal background and drug test.
Passing a drug test is mandatory for the majority of healthcare facilities.
Training programs that consist of at least 40 hours of classroom training and 40 hours of practical training will make you eligible for the certification.
Lastly, you need to perform 100 venipunctures and 10 skin punctures.
When choosing a program, make sure to choose the one with a focus on practical experience, as it will give you better chances for future employment.
Schools in New Mexico
You can enroll in a phlebotomy training program at several schools in New Mexico.
In Clovis, you can complete phlebotomy training at Clovis Community College.
Eastern New Mexico University in Roswell also has comprehensive 19-credit training for future phlebotomy technicians.
Students who complete training at San Juan College are eligible to sit for the national examination.
Phlebotomy training at Santa Fe Community College also leads to certification.
| School Name | Address |
| --- | --- |
| Clovis Community College | 417 Schepps Blvd. | Clovis, New Mexico 88101 |
| Eastern New Mexico University - Roswell | 52 University Blvd, Roswell, NM 88203 |
| New Mexico State University - Dona Ana Community College | 2800 N. Sonoma Ranch Blvd, Las Cruces, NM 88011 |
| San Juan College | 4601 College Boulevard, Farmington, NM 87402 |
| Santa Fe Community College | 6401 Richards Avenue, Santa Fe, NM 87508 |
| University of New Mexico | 1634 University Blvd NE, Albuquerque, NM 87102 |
Sponsored Listings
Salary
An average annual salary of a phlebotomist in New Mexico is $31.991.
However, the salary depends on whether you will be employed in the private or public sector, certification, experience, location, etc.
Annual Salary Range: Annual Salary by Location:
| Location | Avg. Annual Salary |
| --- | --- |
| Albuquerque | $32,909 |
| Las Cruces | $29,751 |
| Santa Fe | $33,076 |
| Rio Rancho | $32,804 |
| Roswell | $30,696 |
| Farmington | $32,468 |
| Alamogordo | $31,221 |
| Clovis | $31,006 |
| Hobbs | $30,195 |
| Carlsbad | $30,696 |
Regional Salary in New Mexico
| Region | Employed | Avg. Annual Salary | Avg. Hourly Pay | Top 10% Annual Salary | Bottom 10% Annual Salary |
| --- | --- | --- | --- | --- | --- |
| Albuquerque, NM | 480 | $36,670 | $17.63 | $44,160 | $24,870 |
| Farmington, NM | 40 | $35,520 | $17.08 | $47,930 | $30,630 |
| Las Cruces, NM | 100 | $34,330 | $16.51 | $42,540 | $28,920 |
| Santa Fe, NM | 60 | $35,290 | $16.96 | $46,500 | $25,570 |
* Salary information based on the May 2022 Occupational Employment Statistics (OES) Survey for Phlebotomists, OCC Code 31-9097, BLS.
* Employment conditions in your area may vary.
Phlebotomy Classes by State
---