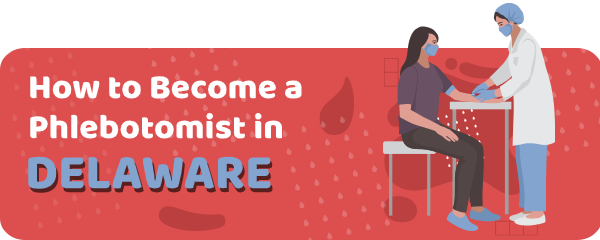 The Healthcare field is growing rapidly, and there is a higher demand for all healthcare professionals, including phlebotomists.
Delaware has a shortage of skilled phlebotomists, due to an aging population and global trends.
The growth rate for phlebotomy expected in the next three to five years is up to 26%.
Therefore, all reputable clinics and hospitals are constantly in the search for skilled, certified phlebotomists.
The scope of practice of a phlebotomist includes the collection of the blood samples, samples handling, testing, storing, transporting, and perform all supporting tasks.
Phlebotomists need to have a specific set of skills to be able to complete the tasks confidently and to cause minimal discomfort to the patient.
Sponsored Listings
Also, they need to educate the patient about the procedure and help the patient calm down.
Dover, Elsmere, Georgetown, Middletown, Milford, New Castle, and several other cities are excellent cities for developing a phlebotomy career in Delaware.
Keep reading to find out more information on how to become a phlebotomist in Delaware.
How to Start a Phlebotomist Career in Delaware?
Luckily, it isn't complicated to become a phlebotomist in Delaware.
There are a few steps to complete on your way.
Friendly, flexible, well-organized, detailed-oriented, and adaptable phlebotomy technicians are highly appreciated across the state.
Phlebotomists deal with a lot of people and are important parts of medical teams, so communication skills are highly important.
Because they will be in close contact with ill people, it is useful for a phlebotomist to have a strong immune system.
Next, paying attention to safety and cleanliness is a big deal in a phlebotomist job.
In Delaware, the Division of Professional Regulation states that phlebotomists aren't required to hold national certification to work.
However, reputable employers prefer certified phlebotomists because certification proves that you have completed adequate training and gained the necessary skills and knowledge for the role.
Employers in Delaware prefer candidates certified through national certification agencies.
National Phlebotomy Certification Agencies in Delaware
There are several institutions in Delaware suitable for aspiring phlebotomists.
One of those is the National Center for Competency Testing.
Students here need to complete 145 test questions in 2.5 hours.
Next, the organization American Medical Technologists certifies phlebotomists through examination.
They need to renew their licenses every three years.
In Delaware, phlebotomists are certified through the American Society for Clinical Pathology well.
The process is similar to other agencies, but the renewal cycle is ten years.
The American Society of Phlebotomy Technicians and the National Phlebotomy Association are also great options for the certification process in Delaware.
Get Certified in Delaware
Holding a certification in phlebotomy comes with many perks.
Once you get official phlebotomy certification, it will boost your marketability and improve your chances of employment.
However, you will first have to select the program.
In general, in Delaware, you can find short, basic, and intensive programs that can last for a few weeks and longer that can take several months to complete.
The requirements for the training are similar in all schools.
You will have to submit high school or GED transcripts and pass the criminal background and drug test.
To get eligible for the certification exam, you need to complete at least 40 hours of classroom instructions, 40 hours of practical training and 100 venipunctures, and 10 skin collections.
When choosing a training program, you should choose the schools that provide you practical experience as much as possible.
Still, even though you can work in Delaware just after you complete high school, it is unlikely that any healthcare facility will hire you without adequate training.
Also, remember that phlebotomy certification differs from entry-level credentials because you have to complete specialized training at accredited organizations.
Schools
Delaware has a couple of schools that offer appropriate training for future phlebotomists.
Delaware Technical Community College has a Certified Phlebotomy Technician Training Program.
The program includes 135 classes, and you can complete it in only seven weeks.
Students who complete the program are eligible to sit for the national certification exam.
Institution Polytech Adult Education in Woodside also has courses for future phlebotomists.
The course covers all phlebotomy aspects, including techniques and safety protocols.
Additionally, you can sign up for a review course if you want only to prepare for the NHA Certified Phlebotomy Technician (CPT) exam.
| School Name | Address |
| --- | --- |
| Delaware Technical Community College | Terry Campus- 100 Campus Drive Dover, DE 19904 |
| Polytech Adult Education | 823 Walnut Shade Rd. P.O. Box 102, Woodside, DE 19980 |
Sponsored Listings
Salary
An average annual salary of a phlebotomist in Delaware is $37.162, which is above the national average.
The salary is different in the private and public sectors and depends on education, certification, experience, etc.
Annual Salary Range: Annual Salary by Location:
| Location | Avg. Annual Salary |
| --- | --- |
| Wilmington | $37,728 |
| Dover | $37,671 |
| Newark | $37,700 |
| Milford | $37,763 |
| Seaford | $36,985 |
| Middletown | $37,613 |
| Smyrna | $37,629 |
| New Castle | $37,728 |
| Georgetown | $37,763 |
| Lewes | $37,763 |
Phlebotomy Classes by State
---