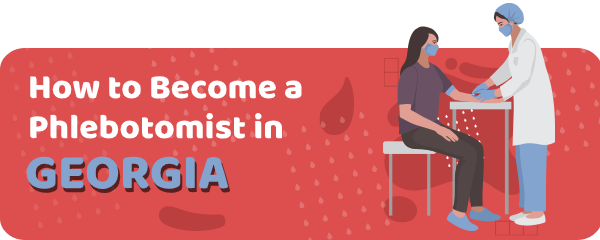 One of the perks of a phlebotomy career is short training and the ability to start working as soon as you complete the program.
In Georgia, you can start working as a phlebotomist in three to six months.
It is an average time that can take you to complete a diploma program and pass the certification exam within the national phlebotomy association.
Once the process is complete, you can apply for entry-level phlebotomist's positions in clinics, laboratories, hospitals, blood banks, etc.
Drawing blood isn't the only responsibility of a phlebotomist.
Phlebotomist needs to process the samples, maintain medical records, take care of laboratory equipment, educate patient, etc.
Sponsored Listings
Atlanta, Savannah, Columbus, Brunswick, Douglasville, and a few other cities are in demand for skilled phlebotomists year-round.
How to Become a Phlebotomist in Georgia?
Becoming a phlebotomist in Georgia is relatively simple.
The most appreciated technicians are friendly, organized, adaptable, and capable of handling different people and different situations.
It is important for a phlebotomist to be detail-oriented, and pay attention to safety and cleanliness.
Luckily, in Georgia, the Division of Professional Regulation doesn't require phlebotomists to hold certification to be allowed to work.
However, being certified as great leverage and employers in Georgia prefer certified phlebotomists.
In general, certification proves that you have completed adequate training, gained the necessary skills and knowledge and that you are completely prepared for the role.
Certification Agencies in Georgia
If you live in Georgia, you have several agencies to choose from for the certification process.
The National Center for Competency Testing has the certification-based exam that includes 145 questions that can be answered in 2.5 hours.
You have to submit written evidence of clinical competence, too.
Next, you can get certified through the American Medical Technologists.
You will have to show proof of relevant work experience, pass the exam, and renew your certification every three years.
Next, the American Society for Clinical Pathology (ASCP) also certifies phlebotomists in Georgia.
To get certified through ASCP, you have to provide proof of training or work experience and pass the exam.
The certificate issued by ASCP has to be renewed every ten years.
Phlebotomy certification is available at the American Society of Phlebotomy Technicians and the National Phlebotomy Association.
Both organizations require you to pass the exam to earn the certification.
Getting certified has many perks.
Once you achieve your certification, you are a valuable candidate in the job market.
It can also help you to get a better position and possibly a higher salary.
Training Requirements
After you select the school or institution for your phlebotomy training, you will have to complete several steps.
First of all, you need to submit your high school or GED transcripts.
Next, many schools in Georgia require their students to pass criminal background and drug test.
To get eligible for the certification, during the training, you will have to complete at least 40 hours of classroom training and 40 hours of practical training.
During the training, you will perform at least 100 venipunctures and 10 skin collections.
When choosing a school, you should select the one that includes the largest portion of practical experience.
Despite not having official requirements for the job, you can have trouble in a job search if you apply for the job after you finish high school.
Therefore, it is useful to complete training, and getting certified is another way to improve your chances for the job.
Also, remember that phlebotomy certifications differ from entry-level credentials because require you complete specialized training at accredited organizations in the field.
Schools
Aspiring phlebotomists in Georgia have some great options for their education.
For example, the Phlebotomy Certificate Program is available at Albany State University.
The training at Athens Technical College consists of 24 credit hours and offers comprehensive phlebotomy education.
Students who complete the program at Central Georgia Technical College will be granted the Technical Certificate of Credit in Phlebotomy.
Great training is offered at the Clinical Skills Training Center in College Park.
It covers all aspects of phlebotomy and includes EKG training.
Dalton State College has a training program that includes a total of 20 hours and covers Human anatomy, biology, venipuncture techniques, etc.
Georgia Northwestern Technical College offers phlebotomy training that is equivalent to 24 semester hours.
It includes a wide range of lectures and practical training.
Check the table for more information on schools in Georgia.
| School Name | Address |
| --- | --- |
| Albany State University | 504 College Drive, Albany, GA 31705; 2400 Gillionville Rd, Albany, GA 31707 |
| Atlanta Career Institute | 5380 Peachtree Industrial Blvd, Suite 120 Norcross, GA 30071 |
| Athens Technical College | 800 US Hwy 29 North Athens, GA 30601 |
| Atlanta Technical College | 1560 Metropolitan Parkway SW Atlanta, GA 30310-4446 |
| Cambridge College of Healthcare & Technology | 5669 Peachtree Dunwoody Rd Suite 100, Atlanta, GA 30342 |
| Central Georgia Technical College | 80 Cohen Walker Drive, Warner Robins, Georgia 31088 |
| Clinical Skills Training Center | 2459 Roosevelt Highway ste C-9, College Park Ga 30337 |
| Columbus Technical College | 928 Manchester Expressway Columbus, GA 31904 |
| Dalton State College | 650 College Drive Dalton, GA 30720 |
| University of North Georgia | 1201 Bishop Farms Pkwy P.O. Box 1748 Watkinsville, GA 30677 |
| Georgia Northwestern Technical College | Walker County Campus- 265 Bicentennial Trail Rock Spring, Georgia 30739 |
| Georgia Piedmont Technical College | 495 North Indian Creek Drive Clarkston, GA 30021 |
| Health Tech of Georgia | 202 N. Davis Drive Warner Robins, GA 31093 |
| Lanier Technical College | Oakwood Campus-2990 Landrum Education Drive Oakwood, GA 30566 Forsyth Campus-7745 Majors Road Cumming, GA 30041 |
| Life Solutions for Health | 4798 Flat Shoals Parkway Decatur, GA 30034 |
| Coastal Pines Technical College | 1701 Carswell Avenue Waycross, GA 31503 |
| Phlebotomy Services | Various locations across the state Find more at http://www.phleb.com/3dayworkshop.html |
| Premier Medical Careers | 1015 Milstead Ave., Suite 200, Conyers, GA 30012 |
| Savannah Technical College | 5717 White Bluff Road Savannah, GA 31405 Liberty Campus-100 Technology Drive Hinesville, GA 31313 Effingham Campus-2890 Hwy 21 South Rincon, GA 31326 |
| South Georgia Technical College | 900 South GA Tech Pkwy Americus, GA 31709 |
| Southern Crescent Technical College | 501 Varsity Road Griffin, GA 30223 |
| West Georgia Technical College | Adamson Square- 401 Adamson Square Carrollton, GA 30117 Douglas Campus- 4600 Timber Ridge Drive Douglasville, GA 30135 LaGrange Campus-East- 220 Fort Drive LaGrange, GA 30240 |
Salary
On average, a phlebotomist in Georgia makes $34.242 per year.
Factors such as experience, location, employer, education, certification determine the salary.
Annual Salary Range: Annual Salary by Location:
| Location | Avg. Annual Salary |
| --- | --- |
| Atlanta | $35,009 |
| Augusta | $32,906 |
| Columbus | $31,975 |
| Savannah | $33,084 |
| Athens | $34,761 |
| Macon | $32,875 |
| Roswell | $34,877 |
| Albany | $32,533 |
| Marietta | $34,910 |
| Warner Robins | $32,776 |
Phlebotomy Classes by State
---