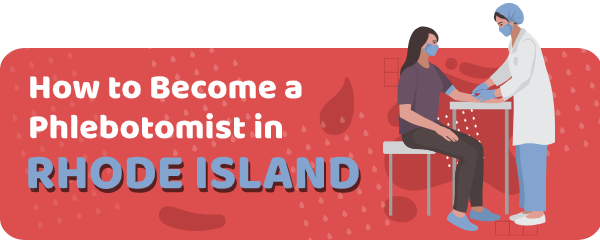 Phlebotomists are often referred to as medical assistants or clinical laboratory technicians.
However, the primary responsibility of a phlebotomist if to draw blood samples from patients.
Additionally, phlebotomists are responsible for setting the laboratory equipment, handling transporting, and storing blood samples.
An average shift of phlebotomists includes performing a venipuncture procedure from 20 to 100 times per day.
If you are interested in starting a career in phlebotomy, you can start by completing a diploma or phlebotomy certification program.
Cities such as Newport, Middletown, Bristol, Portsmouth, Rumford, and Warwick have excellent opportunities for aspiring phlebotomists.
Sponsored Listings
Phlebotomy Certification Training in Rhode Island
In Rhode Island, there are several great programs for future phlebotomists.
You can find training at vocational schools or medical centers, also.
The majority of them can be completed in less than a year.
An average training in phlebotomy can last from a few weeks to a full year.
The training includes classroom instructions and practical training in a healthcare facility.
There you will be able to collect samples from patients and perform as many venipunctures as you can.
In Rhode Island, there is no law that requires phlebotomists to have certification to be allowed to work.
However, certification is highly preferred by the majority of employers in Rhode Island.
The certification requirements include passing a criminal background test and completing a high school.
Additionally, students need to show proof of being up-to-date with vaccinations.
Next, students need to have health insurance and malpractice insurance before you start your clinical training.
The training will ensure that you will learn every skill you need to pass the certification exam and perform your tasks confidently.
Every quality program must include the following topics:
Medical terminology
Method and techniques for collecting blood and non-blood samples
Venipuncture methods and alternate sites
Data entry
Computer skills
Safety procedures and prevention of infection
Patient care
Patient privacy
Phlebotomy certification is usually the first step in your medical career.
It is common that phlebotomists continue to educate and upgrade their careers and become medical assistants, nurses, ultrasound technicians, etc.
Get Certified in Phlebotomy in Rhode Island
Obtaining your certification in the State of Rhode Island has many benefits.
First of all, it demonstrates that you have completed appropriate training and gained the necessary skills and knowledge for the role.
Next, it ensures that you enough practical experience to start working with patients.
Furthermore, you will find an adequate job easier and you will be able to negotiate a higher salary.
Phlebotomy certification is granted to candidates who pass a certification exam at some of the nationally recognized agencies in Rhode Island.
However, to become eligible to take the exam, you have to meet several requirements.
The first requirement is to complete a training program from an accredited medical facility.
Next, you have complete at least 100 blood collections (equivalent to a year of experience in clinical setting and competition of LPN or RN programs).
Next, students need to be at least 18 years old and to hold CPR certification.
You take the exam electronically, and answers are adjusted to your level of knowledge.
When you pass the exam, you will be granted certification that is valid for a minimum of two years.
Therefore, make sure to keep track of the renewal date and renew your certification on time to avoid troubles with employers.
Career Options
Generally, all healthcare facilities need skilled phlebotomists.
Therefore, it is a safe career choice.
Commonly, phlebotomists work in hospitals, community clinics, or other facilities.
They are important members of diagnostic labs and blood donor centers.
All private offices that want to prevent delays in diagnostic hire phlebotomists as well.
Therefore, there is a large number of job positions open at every moment for phlebotomists.
Certification gives you leverage over uncertified candidates and the ability to work almost anywhere in the country.
Schools
There are three schools in Rhode Island with available training in phlebotomy.
Community College of Rhode Island offers a Phlebotomy certificate program.
Lectures for training in phlebotomy at Cranston Adult Education Programs are held in the evening hours.
Institution 911 Programs in Warwick is a common choice for plenty of phlebotomists.
| School Name | Address |
| --- | --- |
| Community College of Rhode Island | Lincoln (1762 Louisquisset Pike, Lincoln, RI 02865) Providence (1 Hilton Street, Providence, RI 02905) |
| Cranston Adult Education Programs | 4 Sharpe Drive, Cranston, RI 02920 |
| 911 Programs | 555 Jefferson Blvd., Warwick, RI |
Salary
An average salary of a phlebotomist in Rhode Island is $37.303.
It is above the national average, but it depends on several factors such as certification, location, facility, experience, etc.
Annual Salary Range: Annual Salary by Location:
| Location | Avg. Annual Salary |
| --- | --- |
| Providence | $37,480 |
| Warwick | $37,480 |
| Cranston | $37,480 |
| Pawtucket | $37,480 |
| East Providence | $37,480 |
| Woonsocket | $37,445 |
| Coventry | $37,409 |
| North Providence | $37,480 |
| Cumberland | $37,480 |
| West Warwick | $37,480 |
Phlebotomy Classes by State
---