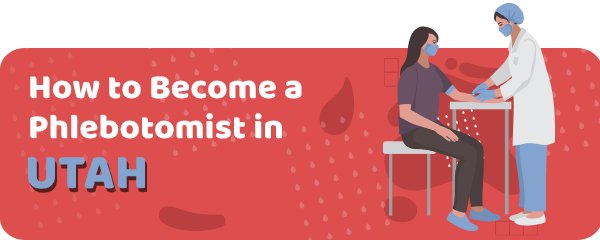 Phlebotomy is a great choice for a career, and in Utah, you can start in only three months.
If you live in Utah, you have plenty of options for training and education, offered by colleges and vocational schools.
Phlebotomists are responsible for drawing blood from the patient.
The procedure is called a venipuncture, and the samples are used in the diagnostic process.
Because phlebotomists are important members of the medical team, they need to be properly trained and familiar with all safety standards and procedures.
You can find many training courses at colleges and vocational schools across Utah.
Sponsored Listings
The career outlook for the phlebotomy field is excellent, and there is a high growth rate for the career in the next several years.
Cities such as Salt Lake City, St. George, Cedar City, Bryce Canyon, Kaysville, and a few others offer the best employment options and salaries for phlebotomy technicians in Utah.
How to Get Certified in Utah
Some states, such as California and Florida, have strict laws related to the certification process.
The state of Utah recognizes National Phlebotomy certification agencies.
Therefore, if you hold certification issued in other states in the US can work without issues in Utah.
In Utah, you are not legally required to have certification.
However, holding a certificate provides you great leverage when it comes to finding a job and negotiating a better salary.
Uncertified phlebotomists can have trouble finding employment unless they have extensive job experience.
Moreover, certification shows as proof that you have completed appropriate training and that you are fully prepared for the role.
Where Can a Phlebotomist Work?
Any healthcare facility or medical laboratory needs someone who is trained to perform the procedure.
There are several possible workplaces for phlebotomists.
National Phlebotomy Agencies
To start work in National Phlebotomy Agency, you will have to get certified.
After you complete phlebotomy training, you will have to pass the certification examination.
In Utah, you can take the test issued by several nationally recognized agencies.
For example, if you choose the National Center for Competency Testing, the exam will consist of 145 questions that you need to answer in 2.5 hours.
Additionally, you will have to provide proof of clinical competence.
Next, the organization American Medical Technologist offer phlebotomy certification.
To achieve it, you will have to show proof of work experience, to pass an oral or written exam.
The renewal cycle is three years.
The American Society for Clinical Pathology offers an examination based-certification.
The renewal period is ten years.
Further, the American Society of Phlebotomy Technicians exam consists of a practical and written exam.
Certification maintenance is annual.
Lastly, you can get certified through the National Phlebotomy Association.
The exam can be taken in written or oral form.
Training Prerequisites in Utah
Utah school set their own prerequisites for the training programs.
Typically, to get accepted to the program, you have to pass a criminal background and drug test.
In some schools, the tuition covers test expenses, while in others, you have to pay extra for it.
Next, you will have to submit high school or GED transcripts.
To get eligible for the certification, you need to complete 40 hours of didactic (classroom training) and at least 40 hours of practical training.
During the training, you will have to complete 100 venipunctures and 10 skin punctures.
The length of the programs differ.
Shorter programs are more intensive and cover basic phlebotomy aspects, while longer programs include the advanced phlebotomy elements as well.
Pick the program that provides you as much practical experience as possible, and the one that fits your schedule and educational standards.
Schools
Let's have a short overview of the best schools in Utah that offer high-quality training in phlebotomy.
For example, Oquirrh Mountain Phlebotomy School LLC offers affordable phlebotomy course, held each several months.
The phlebotomist program at Davis Applied Technology College can be completed in two months and includes 108 hours of training.
Phlebotomy training by Intermountain Healthcare is held across several hospitals across Salt Lake City.
Those interested in accelerated programs can choose Mountainland Applied Technology College.
The training can be completed in five weeks.
Nursing Education Center has two training programs for future phlebotomists.
One is held during the weekends, while the second has classes on workdays.
| School Name | Address |
| --- | --- |
| Oquirrh Mountain Phlebotomy School LLC | Murray (5284 S Commerce Dr. suite C-254, Murray UT 84107); Provo (2035 N. 550 W. Provo, UT 84604); St. George (242 North 200 East, St. George UT, 84770) |
| Davis Applied Technology College | 550 E 300 S, Kaysville, UT, 84037 |
| Dixie State University | 225 S. 700 E., St George, UT 84770 |
| Intermountain Healthcare | Sandy (9660 S. 1300 E., Sandy, UT 84094); American Fork (170 N. 1100 E., American Fork, UT 84003); Tremonton (905 W 1000 N, Tremonton, UT 84337); Salt Lake City (36 So. State Street, Salt Lake City, UT 84111) and many more locations |
| Mountainland Applied Technology College | 2301 West Ashton Blvd., Lehi, UT 84043-4943; 1410 West 1250 South, Orem, UT 84058-2297 |
| Nursing Education Center | PO Box 1135, Bountiful, UT 84011 |
| Phlebotomy Training Specialists | 397 State St.#101, Clearfield, UT 84015; 1300 North 200 East Suite 114F, Logan, Utah 84341; 4546 W. Atherton Drive Suite 203, Taylorsville, UT 84123; 71 West University ParkwaySuite 71, Orem, UT 84058; 511 St. George Blvd Suite F, St. George, UT 84770 |
| Southwest Applied Technology College | 757 West 800 South, Cedar City, UT 84720 |
| Tooele Applied Technology College | 66 W. Vine Street, Tooele, UT |
| The Utah School of Phlebotomy | Salt Lake City (4141 South Highland Drive, Suite 350, Salt Lake City, UT 84124); Provo (865 North Freedom Blvd, Provo, UT 84604) |
Salary
A phlebotomist in Utah makes an average annual salary of $33.532.
Salaries are different across the state and depend on a wide range of factors.
Annual Salary Range: Annual Salary by Location:
| Location | Avg. Annual Salary |
| --- | --- |
| Salt Lake City | $33,633 |
| West Jordan | $33,511 |
| Provo | $32,401 |
| Sandy | $33,541 |
| Orem | $32,401 |
| Ogden | $32,787 |
| Logan | $32,787 |
| Layton | $32,664 |
| Moab | $31,941 |
| Saint George | $36,153 |
Phlebotomy Classes by State
---