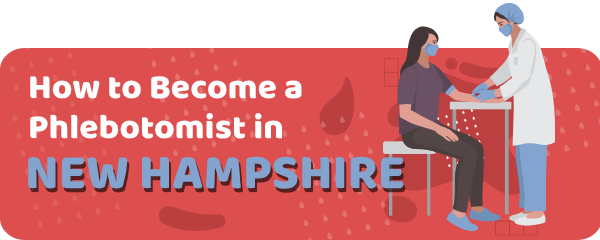 Phlebotomy is an important part of the medical field, and drawing blood from patients by making an incision is a phlebotomy procedure.
Medical workers who perform the procedure are called phlebotomists.
In New Hampshire, aspiring phlebotomists must complete specific and professional training and choose if they will get certified to be allowed to work.
They usually work in hospitals, blood banks, doctor's offices.
In New Hampshire and other US states, the career outlook for this role is great.
Skilled phlebotomists are in high demand across the country.
Sponsored Listings
Cities such as Manchester, Lincoln, Jackson, Plymouth, Whitefield, Concord, and Lebanon are top cities in New Hampshire for phlebotomists.
Training Requirements in New Hampshire
Similar to other states, phlebotomy certification isn't mandatory in New Hampshire.
Still, certification provides better job opportunities and possibly a higher salary.
Many employers prefer phlebotomists certified through accredited organizations.
Additionally, employers appreciate phlebotomists with experience in customer service or related field.
It is because phlebotomists will be in close contact with different people and need to know how to handle different situations.
Also, the majority of the patines will be sick, so phlebotomists are usually those with a strong immune system.
Next, phlebotomists need to be detailed oriented and good at following procedures for cleanliness and sterilization.
Following safety procedures keeps you and the patients at a lower risk of the infection spreading.
National Certification Agencies in New Hampshire
Prospective employers in New Hampshire appreciate certification issued by several agencies.
For example, you can get certified through the National Center for Competency Testing.
The certification is examination-based and you have 2.5 hours to complete 145 test questions.
Next, the American Medical Technologists also offer phlebotomy certification.
The requirements include work experience, oral or written exam and you need to renew your certification every three years.
If you choose the American Society for Clinical Pathology you will have to show proof of training, to pass the oral or written exam, and to renew your certification every ten years.
The renewal can be completed through CEU.
The American Society of Phlebotomy Technicians certifies phlebotomists who pass a practical and written exam.
Lastly, the National Phlebotomy Association offer phlebotomy certification based on an oral or written exam.
Phlebotomy Training in New Hampshire
The simplest way to get hired is to complete approved training and earn the certification.
Also, having a certification in phlebotomy may help you to negotiate a better starting salary.
Usually, phlebotomy training in New Hampshire lasts from three to six months.
Besides, there are also weekend and evening courses so you can earn your certification, even if you are employed at the moment.
Upon application, you have to submit your high schools or GED transcripts and pass criminal background and drug test.
Certification programs usually include at least 40 hours of classroom training and 40 hours of clinical training.
During that time, you will have to perform 100 venipunctures and 10 skin punctures.
When the training and certification process is complete you have the highest chances to get a phlebotomist job in any hospital, clinic, laboratory, or blood bank.
Personal Skills
Phlebotomist role is specific, and there is a set of personal skills that every phlebotomist should have.
Phlebotomists need to be able to communicate with patients and other medical team members effectively.
Because they deal with many different people, phlebotomists need to have basic courtesy and empathy.
Training will also prepare you to assess the patient in the right manner and make him or her feel comfortable during the procedure.
Basic computer skills are also appreciated.
Schools
Currently, aspiring phlebotomists in New Hampshire can choose between two schools for their training programs.
Manchester Community College offers a Phlebotomy certification program.
The program covers topics such as medical terminology, human anatomy, and physiology.
The important part of the program is arterial puncture procedures.
Students will have to learn about related equipment, quality assurance, infection control, and more.
Also, if you choose this program you will have to complete 100 hours of clinical practice.
Next, River Valley Community College in Claremont has a similar program for Certified Phlebotomy Technicians.
The training consists of classroom instructions and clinical internship.
The internship lasts for 120 hours and students who complete the program are eligible to sit for the national certification exam.
| School Name | Address |
| --- | --- |
| Manchester Community College | Great Path, Manchester, Connecticut 06040 |
| River Valley Community College | 1 College Drive, Claremont, NH 03743 |
Sponsored Listings
Salary
The salary of a phlebotomist is different in private and public healthcare facilities.
Certification, education, and experience also affect it.
An average annual salary of a phlebotomist in New Hampshire is $35.526.
Annual Salary Range: Annual Salary by Location:
| Location | Avg. Annual Salary |
| --- | --- |
| Manchester | $36,961 |
| Nashua | $37,941 |
| Concord | $36,121 |
| Derry | $37,410 |
| Rochester | $35,694 |
| Salem | $37,101 |
| Dover | $35,841 |
| Merrimack | $37,941 |
| Londonderry | $37,941 |
| Hudson | $37,941 |
Regional Salary in New Hampshire
| Region | Employed | Avg. Annual Salary | Avg. Hourly Pay | Top 10% Annual Salary | Bottom 10% Annual Salary |
| --- | --- | --- | --- | --- | --- |
| Dover-Durham, NH-ME | 50 | $39,700 | $19.09 | $45,150 | $30,720 |
| Manchester, NH | 170 | $41,070 | $19.74 | $46,620 | $31,960 |
| Portsmouth, NH-ME | 120 | $42,710 | $20.53 | $52,670 | $38,260 |
* Salary information based on the May 2022 Occupational Employment Statistics (OES) Survey for Phlebotomists, OCC Code 31-9097, BLS.
* Employment conditions in your area may vary.
Phlebotomy Classes by State
---