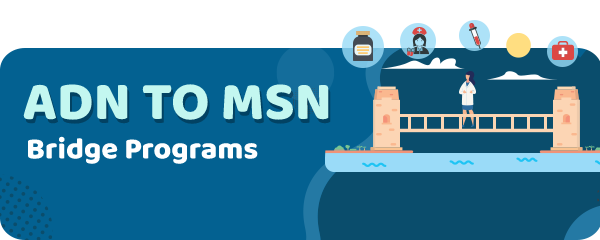 An associate's degree in nursing (ADN) allows registered nurses to perform their duties.
However, if nurses wish to advance their careers they need to advance their education as well.
For most master's programs, applicants should obtain a bachelor's degree first.
But with the bridge programs, students can bypass a bachelor's degree and earn an MSN (Master of Science in Nursing).
With a master's degree in nursing, RNs can take on advanced positions in healthcare facilities.
With the training from the AND-to-MSN programs, nurses can become independent medical providers.
There are multiple career opportunities, including a midwife, nurse practitioner, or nurse anesthetist.
The median wage of RNs is $71,730, but as nurse practitioners, they can earn $113,930 annually.
Advanced care nurses sustain a high demand, and the US Bureau of Labor Statistics (BLS) predicts the employment rate to increase by 26% through 2028.
With the declining number if general care physicians, nurse practitioners are sought-after to provide general medical care.
Each state has various licensure requirements, but many of them continue to expand the list of services that NPs can provide.
University of Mary
The University of Mary is a private Catholic school located in Bismarck, North Dakota and offers an online ADN-to-MSN program.
With this accelerated program, RNs can earn a degree within 20 months.
The online ADN-to-MSN bridge program of the University of Mary stands out because of its focus on nursing management and leadership.
Students take courses in healthcare administration, nursing leadership, and research.
The curriculum includes advanced nursing courses as well as business program courses and 500 hours of practical leadership experience.
To enroll in the program, you need a minimum of 2.75 GPA from your nursing diploma or associates degree from an accredited facility.
You will also need a current RN license and two letters of reference.
In this program, you can study either full- or part-time.
Both options are designed to accommodate working nurses and help them balance work and school.
The University of Mary is accredited by the Higher Learning Commission (HLC).
MCPHS University
The Massachusetts College of Pharmacy and Health Sciences (MCPHS) was established in 1823, and today, it offers various medical programs on-campus in Boston and online.
The ADN-trained nurses qualify for an RN-to-MSN bridge program that focuses on family nurse practitioners.
There is a part-time program designed for working nurses and includes four on-campus meetings as well as clinical experience.
Students can complete clinical hours locally.
The BSN bridge coursework takes one year, after which, students complete coursework for the MSN.
The curriculum of the program incorporates advanced pathophysiology, advanced health assessment, evidence-based practice, and family primary care courses.
To qualify for the program, students should hold an ADN from an accredited school with a minimum GPA of 3.0.
You should also hold a current RN license and pass prerequisite coursework for admissions.
The AND-to-MSN program provides 62 credits and takes three years to complete if you take two courses per semester.
Students can enroll for spring or summer start dates.
MCPHS University is accredited by the New England Commission of Higher Education (NECHE).
Frontier Nursing University
Frontier Nursing University (FNU) is a private graduate school in Hyden, Kentucky, which was founded in 1939.
It focuses exclusively on nursing education and offers an ADN bridge entry option for the MSN program.
The ADN-educated nurses take one year to complete the BSN coursework, and then, enter the MSN program.
Nursing students can then choose a concentration from a psychiatric mental health nurse practitioner, family nurse practitioner, or certified nurse-midwife.
The ADN-to-MSN program is available both full-time and part-time.
The MSN program also includes three brief on-campus residencies and 675 clinical hours.
For nurses considering a doctorate degree in nursing, the FNU program is one of the best.
After obtaining an MSN at this school, nurses will only need 19 additional credits to earn a DNP.
To enroll in the MSN program nurses should hold an ADN with a minimum of 3.0 GPA and have a minimum of one year of experience as a nurse.
The accreditation of the FNU comes from the Southern Association of Colleges and Schools Commission on Colleges (SACSCOC).
Western University
The core specialty of Western University is in healthcare education.
Through its ADN-to-MSN program, RNs can become qualified for clinical and administrative leadership positions or ambulatory care nursing.
With the flexible curriculum, students can finish the program within 2-3 years and can continue working while in the program as well as balance it with their family commitments.
The program at WU is based on self-directed learning activities through the online learning platform.
Students take part in discussions on forums, prepare presentations, and conduct research.
They should also attend two-weekend seminars per semester on-campus.
They take place in Pomona, California.
With these intensive sessions, students can take part in presentations and demonstrations, and interact with their instructors and peers.
Applicants need to have an associate's degree in nursing with a 3.0 GPA as a minimum and a current nursing license.
They also need at least a year of experience in nursing.
Prerequisite courses include microbiology, anatomy, physiology, and nutrition.
The college of graduate nursing is accredited by the Commission on Collegiate Nursing Education.
The programs meet licensing standards for the California Board of Registered Nursing.
WU is accredited by the Western Association of Schools and Colleges (WASC).
Vanderbilt University
Vanderbilt University in Nashville, Tennessee operates offering nursing education since 1908.
Its ASN-to-MSN bridge programs include innovative path for nurses pursuing a more advanced education and career opportunities, as well as those who which to change their careers.
The program covers a pre-specialty curriculum, with which students can pursue more advanced nursing specializations.
They can include emergency nurse practitioner, adult-gerontology, healthcare leadership, family nurse practitioner, mental health nurse practitioner, nursing informatics, and neonatal nurse practitioner.
The program takes from two to three years to complete.
To enroll, applicants need to hold an ADN or BSN degrees in nursing or other fields.
They should have a minimum of 3.0 GPA in undergraduate work.
RNs also need 78 credits that cover physiology and human anatomy, developmental psychology, nutrition, and microbiology.
They also need a valid nursing license and be eligible to practice in their states.
The learning format of the program comprises distance learning with four on-campus sessions per semester.
The clinical hours can be completed locally, and the school helps the students identify clinical sites closest to their home areas.
Nursing programs are accredited by the Commission on Collegiate Nursing Education and approved by the Tennessee Board of Nursing.
The regional accreditation of the university is by the Southern Association of Colleges and Schools Commission on College (SACSCOC).
What to Expect from an Online ADN-to-MSN Bridge Program
ADN-to-MSN programs are based on the clinical experience and expertise of RNs to develop management and leadership abilities.
Many programs also prepare RNs for advanced practice positions such as midwives, nurse anesthetists, or nurse practitioners.
Every school creates a curriculum that meets the state board of nursing requirements as well as from local healthcare providers.
Benefits of Online Learning
With online ADN-to-MSN programs, practicing nurses can continue working while advancing their education.
Online programs have flexible class schedules, and many schools arrange clinical placements close to the local areas of students.
They can continue living and working in their communities with no need to relocate close to a school.
Online programs often employ asynchronous scheduling, which allows students to complete assignments at their own pace.
Other programs feature synchronous courses when students should log on at specific appointed time during the week.
Since nursing programs require practical hours, some schools blend these formats.
In such programs, students can participate in a few sessions on-campus and complete the rest of the coursework online.
Admission Requirements for an Online ADN-to-MSN Program
The requirements for admission vary from program to program.
However, commonly, schools require at least an associate's degree in nursing and a current nursing license.
This ensures that students meet general education requirements and have the expertise required to complete the program.
Some schools accept a minimum of 3.0 GPA in undergraduate courses.
You also need letters of recommendation from supervisors for the bridge program, which demonstrates your work ethic, experience, and professional accomplishments.
Students should also share their professional aspirations and reasons for advancing education.
Many programs also conduct a background check before students can take part in clinical rotations.
RN-to-MSN vs. ADN-to-MSN Programs
When looking for an ADN-to-MSN bridge program, you can come across multiple RN-to-MSN options.
These programs have the same curricula and feature a direct path to MSN, bypassing the bachelor's degree.
On the other hand, RN-to-MSN programs accept RNs with diplomas and associate's degrees.
Concentrations Offered for Nurse Practitioners
Midwifery
These nurses are usually employed in birthing centers, private practices, and hospitals that provide obstetric services.
They work with future mothers developing birthing plans.
They also assist mothers through the entire labor and childbirth and provide support.
They also educate women in postpartum on such issues as infant care and breastfeeding.
They should be able to identify complications and call in MD if necessary.
Average Median Salary: $93,564.
Psychiatric Mental Health
These nurses are employed in the mental health area and provide patient assessment and diagnosis, develop treatment plans, and prescribe medications.
They also provide counseling or consultations to other healthcare providers on patient needs.
They can work in outpatient mental health clinics, abuse treatment facilities, and residential treatment centers.
Average Median Salary: $103,199.
Pediatrics
These nurses work with young patients up to 18 years old.
They can be employed in physician's offices, work independently, or with medical groups.
They provide general care services, such as routine screenings, checkups, or treat common childhood illnesses.
They can order lab and imaging tests and prescribe medications.
Average Median Salary: $87,822.
Nurse Anesthetist
These nurses hold advanced roles and administer anesthesia to patients during medical procedures.
They meet with patients before their scheduled procedures and discuss potential side effects and pain management options.
They also have to monitor patients during surgeries.
These nurses can work in outpatient care centers, surgical hospitals, offices of dentists or physicians, as well as pain management specialists.
Average Median Salary: $146,305.
Sample Courses for an ADN-to-MSN Program
Issues in Nursing
This course covers economic, legal, ethical, and political problems that affect the delivery of healthcare for patients and nurses.
It focuses on the longitudinal nature of modern trends and concerns and requires strategy skills and critical thinking.
Students evaluate current professional perspectives via projects, discussions, and case studies.
Advanced Pathophysiology
Advanced pathophysiology studies how underlying diseases are exposed during a lifespan of a person.
Students should be able to identify physical, psychosocial, cognitive, and environmental factors and features of diseases and conditions.
The course requires analytical skills and critical thinking necessary to debunk pathophysiological mechanisms to promote effective clinical decision-making.
Leadership and Health Policy
Leadership and health policy studies the relation between research and policy development.
Students explore the information published by health policy departments to identify implications from the perspective of public health.
Students learn how to improve policies on the local, state, and federal levels through the case study.
This course also includes pertinent principles of organizational change.
Research and Analytic Approaches to Advanced, Evidence-Based Practice
In this course, students examine the research process to learn how systematic frameworks interact with evidence-based practices.
By critiquing published research and developing qualitative or quantitative theories, students improve their analytical skills.
They evaluate literature as well to discover applicable clinical practice methods.
This course also involves statistical methods and reasons for research analysis.
Diagnostic Physical Exams Across the Lifespan
In this course, students study health assessment, human development, and diagnostic history of physical examinations to be able to diagnose patients of all ages.
This course covers pertinent theories, strategies, and principles that are the basis of physical and behavioral science.
They also learn how they can be applied to generate complete health synopses.
Students evaluate cases to determine the best examination procedures at various stages of life.
How Long Does It Take to Complete an Online ADN-to-MSN Bridge Program?
ADN-to-MSN programs allow students to earn a degree within 2 to 3 years and require 48-62 credits.
The duration usually depends on the format students choose, whether it's full-time or part-time.
Some programs require extended clinical practice as well as full-time enrollment.
Some programs employ a cohort model, where students study the curriculum as a group.
In this case, students can take additional classes.
Other schools let students take extra classes according to their schedule, which can accelerate progress.
Clinical Component for Nurse Practitioners
Students should possess some clinical expertise before graduation.
They need to acquire clinical experience that ranges from 200 hours for administrative nurse leadership program to 600 or more for clinical specialties.
The requirements can vary from school to school and from state to state.
If you study in another state, you need to check with the requirements of your state's board of nursing.
Clinical rotations are usually conducted in healthcare settings, such as physician offices, long-term care facilities, or hospitals.
Students work supervised by a nurse preceptor who provides guidance and instruction.
The preceptor reports the performance of students to the nursing school faculty.
All Nursing Bridge Programs