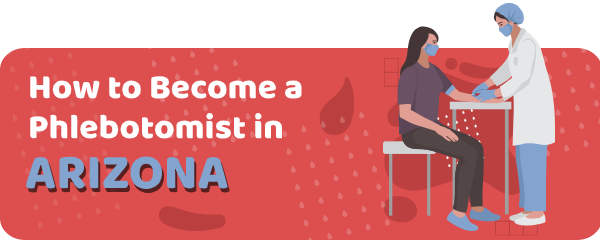 Selecting phlebotomy as your career is an excellent decision, especially if you live in Arizona.
In Arizona, the majority of healthcare facilities are always on the search for skilled and qualified phlebotomists.
Moreover, according to the Bureau of Labor and Statistics, the expected growth rate for the field is 18% in the next several years.
Therefore, you won't make a mistake if you decide to become a phlebotomist in Arizona, as it is very prospective and lucrative career options.
Phlebotomists draw a blood sample from patients.
Samples are further used for diagnostic and blood donation.
Sponsored Listings
Therefore, phlebotomists are important members of healthcare teams, and they can find employment almost in any healthcare facility.
They can work in all hospital departments, private and public clinics, blood banks, medical laboratories, home health agencies, doctor's offices, etc.
The population in the USA is aging.
Therefore, more people are in the need for medical assistance, thus it is useful to start a career in the medical field.
In Arizona, cities such as Phoenix, Grand Canyon, Tempe, Benson, Prescot Valley, Willcox, and a couple of others are an excellent choice for future phlebotomists in terms of salary and career options.
How to Become a Phlebotomist in Arizona?
Phlebotomists in Arizona are under the jurisdiction of the Arizona Department of Health Services.
The Department doesn't require phlebotomist to achieve national certification.
However, phlebotomists are encouraged to complete the certification process as it will be highly beneficial for them.
Becoming a phlebotomist in Arizona is relatively simple.
The most wanted phlebotomists are skilled, friendly, adaptable, and can handle various types of people and situations.
Because phlebotomists are in contact with plenty of sick people, they need to have a strong immune system and excellent communication skills.
Safety protocols and cleanliness are important in the infection prevention process, thus phlebotomists need to be detailed oriented and able to follow strict protocols.
Despite not having official requirements for phlebotomists in Arizona, the simplest way to ensure your job as a phlebotomist is to complete adequate training and get certified.
Employers prefer nationally certified candidates because the certification proves that they have gained the necessary knowledge and skills for the role.
National Phlebotomy Certification Agencies in Arizona
Employers in Arizona prefer candidates who are certified through agencies nationally approved and recognized in the state of Arizona.
You can get certified through the organization of the American Medical Technologists.
For this organization, you will have to show evidence of work experience, pass certification exams, and renew your credentials every three years.
Furthermore, the American Society for Clinical Pathology also certifies phlebotomists in Arizona.
You will have to complete appropriate training or show proof of relevant work experience and to pass a practical exam and written exam.
The renewal cycle is ten years, and the certification can be renewed through CEU.
Moreover, the American Society of Phlebotomy Technicians and the National Phlebotomy Association are also suitable for the certification process in Arizona.
For both organizations, you will have to pass an exam.
Certifications in phlebotomy are different from entry-level credentials.
Phlebotomy certifications are granted because of specialized training completed through accredited institutions.
Getting certified has numerous benefits.
The most practical one is that you are becoming a valuable candidate in the job market.
Every employer will hire certified phlebotomists with over uncertified phlebotomists with similar experiences.
Phlebotomy training programs in Arizona can last from several weeks for shorter courses to several months.
When selecting a school, it is useful to pick the school that emphasizes practical exposure.
Required Skills
Phlebotomists are in close contact with plenty of patients.
Proper diagnosis depends highly on the blood samples, so phlebotomists need to be detailed and precise when following professional techniques and standards.
Moreover, phlebotomists need to be friendly and compassionate, able to handle different situations.
Also, they need to communicate effectively with patients and other healthcare team members.
Schools
There are various training programs in Arizona for future phlebotomists in Arizona.
For example, if you live in Phoenix, you can choose between the following options:
Accord Healthcare Institute
Brookline College
GateWay Community College
Phoenix College
Next, the College of Health Careers has a 40-hour phlebotomy course in Somerton.
Coconino Community College offers a Phlebotomy Certificate Program, that is available on multiple locations in Flagstaff.
Phlebotomy Technician Certificate Program at Eastern Arizona College lasts for one year and includes up to 120 hours of practical training.
| School Name | Address |
| --- | --- |
| Accord Healthcare Institute | 3816 N 27th Ave. Phoenix, AZ 85017 |
| Arizona College (Formerly Arizona College of Allied Health) | 4425 W Olive Ave # 300, Glendale, Arizona 85302-3851 |
| Arizona Medical Training Institute | 1530 N. Country Club, Suite 11, Mesa, AZ 85201 |
| Brookline College | 2445 W Dunlap Ave STE 100, Phoenix, AZ 85021; 5441 E. 22nd Street, Suite 125, Tucson, AZ 85711-5444 |
| College of Health Careers | 950 E. Main Street, Building A, Somerton, AZ 85350 |
| Coconino Community College | Lone Tree Campus- 2800 S. Lone Tree Rd., Flagstaff, AZ 86001-2701 Fourth Street Campus-3000 N. Fourth Street, Flagstaff, AZ 86004-18925 Page Campus/Lake Powell Campus- 475 S. Lake Powell Blvd, P.O. Box 728, Page, AZ, 86040-0728 |
| Eastern Arizona College | 615 N Stadium Avenue, Thatcher, AZ 85552 |
| East Valley Medical College | 205 E Southern Ave, Mesa, Arizona 85210 |
| GateWay Community College | Central City Campus, 1245 East Buckeye Road, Phoenix, AZ 85034; SouthWest Skill Center, 3000 North Dysart Road, Avondale, AZ 85392 |
| Northland Pioneer College | P.O. Box 610, Holbrook AZ 86025-0610 |
| Phlebotomy Services | Various locations across the state |
| Phoenix College | 1202 W. Thomas Road, Phoenix, Arizona 85013 |
| Pima Community College | Desert Vista Campus-4905 E. Broadway Blvd., Tucson, AZ 85709-1010 |
| Pima Medical Institute | Tucson Campus-3350 E. Grant Road, Tucson, AZ 85716 Mesa Campus-957 S. Dobson Road, Mesa, AZ 85202 East Valley Campus-2160 S. Power Road, Mesa, AZ 85209 |
| PTI Health College | 9189 N59TH AVE, GLENDALE, AZ 85302 |
| Yavapai College | 1100 East Sheldon Street, Prescott, Arizona 86301 |
Salary
On average, a phlebotomist in Arizona makes $34.991 per year.
Different factors, such as education, certification, experience, healthcare facility, and others, determine the salary.
Annual Salary Range: Annual Salary by Location:
| Location | Avg. Annual Salary |
| --- | --- |
| Phoenix | $35,070 |
| Tucson | $33,254 |
| Mesa | $34,401 |
| Glendale | $35,070 |
| Scottsdale | $34,401 |
| Chandler | $34,401 |
| Tempe | $34,401 |
| Gilbert | $34,401 |
| Peoria | $34,999 |
| Yuma | $36,278 |
Phlebotomy Classes by State
---