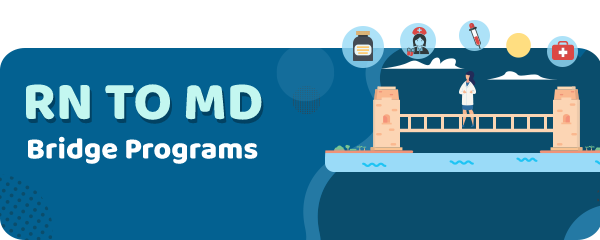 The work in the nursing field can be a transition to the next level in the healthcare area.
Even though not many Registered Nurses (RN) choose to become a Medical Doctor (MD), those who do obtain a lucrative and rewarding career in the leadership roles of healthcare.
How Does an RN Become an MD?
Nurses have greater insight into medicine, clinical and hospital environment, etc. than medical students.
Most medical students come into clinical settings without any experience in the healthcare industry.
For instance, besides their clinical rotations in nursing schools, nurses have several years of experience in a hospital or emergency department (ED) before they enroll in med school.
On the contrary, most medical students don't have any healthcare experience since med schools don't usually require any.
Popular Programs
However, experience as a nurse can't substitute the required education and training needed for the medical school.
RNs with BSN are closer to meeting the requirements of the med school than those with ADN.
However, the educational path is still long.
According to the Association of American Medical Colleges (AAMC), nurses who serve or served in the military are usually specialized for med school admittance.
Education Requirements
BSN-educated nurses will have completed basic chemistry, anatomy, and physiology.
To be considered for a medical school program, more in-depth coursework is required.
The minimal requirement at most schools includes a Bachelor of Science (B.S.) or Bachelor of Arts (B.A.).
Most accredited medical schools' premedical requirements include:
General Chemistry (with lab) at least 8 semester hours.
Biology (with lab) at least 8 semester hours.
Organic Chemistry (with lab) at least 4 semester hours.
Humanities (English, history, foreign language, etc.) at least 24 semester hours.
Biochemistry at least 4 semester hours.
Physics (with lab) at least 8-semester units.
Mathematics (Calculus and/or statistics) at least 8 semester hours.
Many programs require applicants to provide evidence of the following core characteristics:
Excellence in academic studies.
Teamwork ability.
Leadership.
Service to others.
This can be provided through interviews directly with the institution as well as letters of recommendation.
Medical school applicants should also pass the exam called the Medical College Admissions Test (MCAT), which tests the knowledge and comprehension of the courses listed above.
AAMC, the developer and administrator of the test, occasionally updates the focus and format of the MCAT.
In 2015, the MCAT average score was 500, while students of the Ivy League colleges, such as Harvard Medical School, had to obtain 518 on average.
However, acceptance to an accredited medical program isn't guaranteed only by the MCAT score.
In this case, nurses may have an advantage.
Medical schools prefer candidates well-versed in all areas.
Nurses with a solid GPA for the bachelor's degree, average MCAT scores, required premedical coursework, and letters of recommendation still have an advantage.
It is their proven ability to work in a team in a highly stressful and diversified environment.
Reputable educational institutions, such as Johns Hopkins University Medical School, seek these characteristics in the applicants.
With advanced technology and simulation, more medical schools offer online programs for potential students.
For example, Oceania University holds online programs with didactic coursework combined with clinical rotations across the county.
At the University of South Florida, you can also find an online medical program via their Morsani College of Medicine.
However, you should keep in mind, that many traditional schools don't accept online studies to meet many requirements.
Residency
After completing the four years of med school, MD has to apply for a residency program to obtain a specialty in a specific medical field.
The first year is considered to be an internship during which an intern rotates through different specialties, such as internal medicine, general surgery, orthopedics, etc.
Otherwise, they rotate through sub-specialties within one specialty field.
Assessing and treating patients alongside other interns and residents, being on-call during the night for potential problems, and attending lectures are the roles of an intern and resident.
The residency lasts for three or more years, after which you move to more intensive training, a fellowship.
MDs in a residency program usually earn a salary ranging between $40,000 to $50,000 per year.
Licensure and Board Certification
Upon completion of residency and fellowship, you have to get a license to practice medicine in each state.
The requirements for licensure require graduation from an accredited med school and a minimum of one year of residency.
This can vary from state to state.
The licensure includes several exams to complete, such as USMLE, as well as letters of recommendation and malpractice background check.
To obtain a board certification is a specialty area, candidates should complete the specialty residency program and pass an examination (typically, both in written and verbal form).
Most boards require you to re-certify every 7-10 years.
In the US, there are 24 medical specialty boards, according to the American Board of Medical Specialties.
Cost of Medical School
Besides the tuition costs of med school, there are additional expenses such as application fees, MCAT and preparation courses,
med school individual fees, as well as travel costs for a med school interview.
Nurses should also keep in mind their credit scores because loan rates and fees will vary depending on the credit scores.
The actual tuition costs vary from school to school.
They can range from $24,843 to $48,843 per year.
Depending on the institution, the total med school debt can be from $122,545 to $224,566.
On average, it stands at $164,776 only for a doctorate.
With the debt of tuition and potential loss of income during medical school, MDs run over $400,00 in debt before starting their careers, according to the studies.
Career Options for MDs
Physicians have limitless career options with general practice and 24 specialty areas.
The demand for MDs is extremely high, especially in rural or under-served areas, such as inner-city.
According to the BLS, the employment rate for physicians and surgeons is projected to grow by 13% by 2026.
In 2016, there were 713,000 job openings available for surgeons and physicians.
RN to MD Wage Comparison
According to the BLS, the salaries of physicians and surgeons are some of the highest among all occupations.
The median wage for an MD is over $208,000 per year.
Physicians with a specialty have an even higher salary.
Anesthesiologists make $266,000 per year on average while a physician earns $187,000 per year.
On the other hand, the median salary for RNs is between $60,000 to $70,000 per year, depending on the environment they work in.
Nurses who choose to become a medical doctor are in for a long and tenuous experience.
The desire to make a higher income isn't enough motivation to spare 12 years or more for a stressful, sleepless, education path with intense courses and a high level of patient care accountability.
They can also face an us-versus-them challenge from their peers who are seeking to become doctors.
Therefore, those nurses who have gone through this fire highly appreciate their experience as a nurse and find it extremely helpful for the med school experience.
All Nursing Bridge Programs