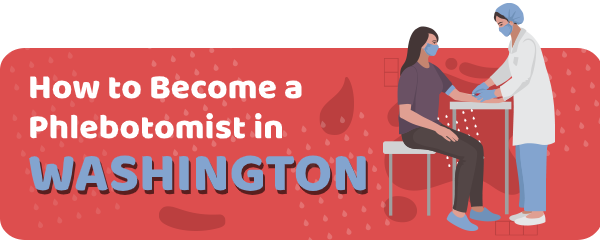 There is a growing demand for skilled phlebotomists all over the country, including Washington State.
Phlebotomist's job includes patient education, blood samples collection, storage, analysis, lab processing, etc.
Although phlebotomist education isn't as long as the education of other medical workers, it demands commitment and time.
In Washington State, there are great training options for phlebotomists.
Phlebotomy Training
You will need to complete appropriate training to become a phlebotomist in Washington.
Because phlebotomists draw and collect blood samples, training, and laboratory knowledge is highly important.
Sponsored Listings
After you graduate from high schools you can enroll in on-the-job training that can last for six months or a year.
The second option is to take the professional phlebotomy academic course.
The course focuses on all elements of phlebotomy and laboratory sciences.
Washington State Department of Health issues certification for phlebotomists.
The certification is necessary for employment in hospitals, private clinics, blood banks, etc.
In Washington State, multiple institutions offer diploma or degree courses in phlebotomy, thus you need to make sure you choose the proper one.
Certification Requirements
Aspiring phlebotomists in Washington State have three paths toward their careers.
They can complete the phlebotomy program offered by the accredited organization, recognized by the U.S. Department of Health.
Next, an individual might complete a training program by a supervised healthcare practitioner.
Lastly, a person is eligible for the certification if he or she completed military training.
Licensing Requirements in Washington State
The basic requirement in Washingon state is fluency in English.
Next, aspiring phlebotomists are obligated to complete high school, or to pass the equivalency exam.
The students need to provide school transcripts or equivalency certification.
Further, students are asked to provide evidence of AIDS education and training.
Additionally, applicants need to answer some personal data questions, to help the institution assess health status.
Also, they are asked to inspect chemical dependency or substance abuse, felony convictions, credentials issues in other states, etc.
Those candidates are required to provide additional documentation.
Skills for the Job
Phlebotomists work closely with doctors, nurse practitioners, and other healthcare workers.
They need to have decent communication skills, to be co-operative and know how to behave in the team.
Next, phlebotomists need to be prepared for work under pressure and long shifts, in case f emergencies.
Additionally, phlebotomists should be compassionate and have basic computer skills.
National Certifications and Out-of-State Candidates
Medical assistants and phlebotomists who are relocating to Washington state might wonder if they are allowed to practice in Washington.
National certification is highly appreciated.
However,  to be legally allowed to perform duties in Washington State as a phlebotomist, you need to earn credentials for the Washington State Department of Health.
If you earn certification through the place of employment, you don't need to complete the recertification process to be allowed to work for another facility.
Certification issued by the Department of Health allows you to practice anywhere in the state.
Certificate Maintenance
In Washington State, phlebotomist needs to renew its certification within a year, for the first year on its birthday.
After the first renewal cycle, a phlebotomist renews its certification every two years.
Schools
In Washington, there are 17 approved phlebotomist training programs.
For example, Bates Technical College offers a phlebotomy program that includes three courses – HIV course, basic and advanced phlebotomy.
Bellevue College offers a 33-credit hour college phlebotomy course.
Bellingham Technical College has a comprehensive phlebotomy training course that includes theory and 100 hours of practice.
Everett Community College is equivalent to 22 credit hours and includes courses in English Composition I, Medical Terminology, Applied A&P, and Phlebotomy.
North Seattle Community College is an excellent choice for aspiring phlebotomists with zero experience.
Pima Medical Institute is a 16.5 credit hour program that can be completed in two semesters.
The program includes theory courses and practical training.
Seattle Vocational Institute has a unique Medical Laboratory Assistant and Phlebotomy Program.
The program lasts for 300 contact hours and 18 credit hours.
Spokane Community College offers a 218-hour Phlebotomy program.
Walla Walla Community College is one of the oldest and most respected educational institutions for phlebotomists training.
Yakima Valley Community College can be completed in two quarters and includes comprehensive theoretical and practical training.
| School Name | Address |
| --- | --- |
| Bates Technical College | Downtown Campus (1101 S. Yakima Ave., Tacoma, WA 98405), Mohler Campus (2320 South 19th Street, Tacoma, WA 98405), South Campus (2201 South 78th Street, Tacoma, WA 98409) |
| Bellevue College | 300 Landerholm Circle SE, Bellevue, WA 98007 |
| Bellingham Technical College | 3028 Lindbergh Ave., Bellingham, WA 98225 |
| Clark College | 1933 Fort Vancouver Way, Vancouver, WA 98663 |
| Centralia College | 600 Centralia College Blvd., Centralia WA 98531-4099 |
| Columbia Basin College | 2600 N. 20th Ave., Pasco, WA 99301 |
| Edmonds Community College | 20000 68th Ave W, Lynnwood, WA 98036 |
| Everett Community College | 2000 Tower Street, Everett, WA 98201 |
| Green River Community College | Auburn (12401 SE 320th Street, Auburn, WA 98092), (110 2nd St SW, Auburn, WA 98001) Enumclaw (1414 Griffin Avenue, Enumclaw, WA 98022) Kent (417 Ramsay Way, Suite 112, Kent, WA 98032) |
| North Seattle Community College | 9600 College Way North, Seattle, WA 98103 |
| Pima Medical Institute | Renton (555 S. Renton Village Place, Renton, WA 98057) Seattle (9709 Third Avenue N.E., Suite 400, Seattle, WA 98115) |
| Renton Technical College | 3000 NE 4th St, Renton, WA 98056 |
| Seattle Vocational Institute | 2120 South Jackson Street, Seattle, WA 98144 |
| Shoreline Community College | 16101 Greenwood Ave. N., Shoreline, WA 98133 |
| Spokane Community College | PO Box 6000, Spokane, WA 99217 |
| Walla Walla Community College | Walla Walla Campus 500 Tausick Way Walla Walla, WA 99362 Clarkston Campus 1470 Bridge Street Clarkston, WA 99403 |
| Yakima Valley Community College | 500 West Main Street, Grandview, WA 98930 |
Salary
The average salary of phlebotomists in Washington State is $37.799 per year.
The salary is above the national average and depends on the living costs in the state, location, facility, experience, etc.
Annual Salary Range:
Annual Salary by Location:
| Location | Avg. Annual Salary |
| --- | --- |
| Seattle | $38,719 |
| Spokane | $35,109 |
| Tacoma | $37,731 |
| Vancouver | $36,897 |
| Bellevue | $38,719 |
| Everett | $37,870 |
| Federal Way | $37,731 |
| Kent | $37,656 |
| Yakima | $35,030 |
| Bellingham | $36,135 |
Phlebotomy Classes by State
---