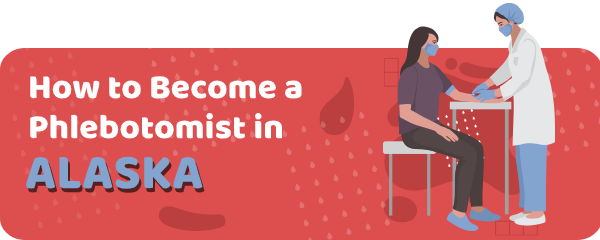 Phlebotomy is an excellent choice for anyone who wants to start a prospective and lucrative career in the medical-allied field.
Phlebotomists are responsible for drawing blood from patients.
Blood samples are further used in the diagnostic process and for blood donation purposes.
Therefore, technicians who perform blood collecting procedures are called phlebotomists.
Phlebotomists need to follow strict safety protocols when performing the procedures.
However, there are several other responsibilities that phlebotomists need to be familiar with when working in any healthcare facility.
Sponsored Listings
Those include various techniques, handling the laboratory equipment, storage, and transport of the samples, patient assessment, data entry, etc.
Cities such as Anchorage, Fairbanks, Juneau, Ketchikan, Sitka, Wasilla, and a couple of other Alaska cities are top paying locations for phlebotomists in this state.
Also, they have plenty of job opportunities for phlebotomists.
If you want to learn how to become a phlebotomist in Alaska, keep reading!
How to Become a Phlebotomist in Alaska?
There is a growing need for all healthcare workers in Alaska, including phlebotomists.
The requirements for becoming one are minimal and include completing a high school or GED and completing appropriate phlebotomy training.
The regulatory body for phlebotomists in Alaska is the Alaska Department of Health and Social Services.
It doesn't require phlebotomists to be certified to get employed, but the Department highly encourages technicians to get the national certification.
Getting certified has many benefits, and some of them include adequate knowledge, excellent practical exposure, better opportunities for employment, higher salary, etc.
Phlebotomy Training Prerequisites In Alaska
Despite not being mandatory, phlebotomy certification is appreciated.
If you want to get certified in Alaska, you will have to enroll in a high-quality training program that will prepare you for the role in the best way.
Make sure that the program is accredited by the National Accrediting Agency for Clinical Laboratory Sciences (NAACLS).
The majority of programs are similar in a way that those have two parts.
The first part usually covers classroom instructions and educates you on human anatomy, medical terminology, blood composition, etc.
Next, the second part of the program is practical expertise and laboratory exercises.
During the practical training, you will have your hands-on all phlebotomists duties that you will perform when you become fully employed.
Those include techniques of blood collection, warming the puncture site, Tourniquet application, handling laboratory equipment, etc.
After you complete the training you can choose to sit for the national certification exam.
Usually, if you choose a certificate program, you won't have issues in passing the exam successfully.
Required Skills
Phlebotomists collect blood samples that are used to identify whether the patients suffer from any disease.
Therefore, they are important members of healthcare teams.
Moreover, phlebotomists work with plenty of different patients and they need to be able to communicate effectively.
Because drawing blood can be stressful for some patients, the best phlebotomists are compassionate and have soothing demeanor.
Furthermore, phlebotomists need to be able to handle different people and different situations.
Because safety and cleanliness are essential in the phlebotomist's job, those who are detail-oriented and well-organized are welcomed in all healthcare facilities.
National Certifying Agencies in Alaska
There are several national certifying agencies in Alaska that offer certification in phlebotomy.
For example, you can get certified through American Medical Technologists organization or the American Society for Clinical Pathology.
The requirements are similar – you have to complete training or have relevant work experience and pass the certification exam.
The difference is in the certification renewal.
If you get certified through the American Medical Technologists, you will have to renew your certification every three years.
Furthermore, if you choose the second option, you have to renew the certification every ten years.
Other options for the certification process in Alaska are the American Society of Phlebotomy Technicians and the National Phlebotomy Association.
Both include the examination and require certification maintenance.
Schools
Future phlebotomists in Alaska have three in-state options for education.
Alaska Career College offers a Phlebotomy Technician Training Program.
It covers all important aspects of phlebotomy – lectures in anatomy, physiology, medical terminology, and all practical elements of phlebotomists' responsibilities.
The University of Alaska Anchorage has an Occupational Endorsement Certificate, Phlebotomist program.
It is equivalent to 29-credit hours and offers a comprehensive education for future technicians.
University of Alaska Fairbanks Community and Technical College has a 38-credit hours training program for future phlebotomists.
| School Name | Address |
| --- | --- |
| Alaska Career College | 1415 E. Tudor Road, Anchorage, AK 99507-1033 |
| University of Alaska Anchorage | Medical Laboratory Science Allied Health Sciences (AHS 169) 3211 Providence Drive, Anchorage, Alaska 99508-8371 |
| University of Alaska Fairbanks Community and Technical College | 604 Barnette Street, Fairbanks, AK 99701 |
Salary
An average salary of a phlebotomist in Alaska is $39.675 per year.
Salary is different in various healthcare facilities and depends on education, certification, experience, etc.
Annual Salary Range: Annual Salary by Location:
| Location | Avg. Annual Salary |
| --- | --- |
| Anchorage | $39,398 |
| Juneau | $39,013 |
| Fairbanks | $39,328 |
| Sitka | $38,482 |
| Ketchikan | $38,482 |
| Kenai | $38,868 |
| Kodiak | $38,868 |
| Bethel | $38,868 |
| Wasilla | $38,868 |
| Barrow | $38,797 |
Phlebotomy Classes by State
---