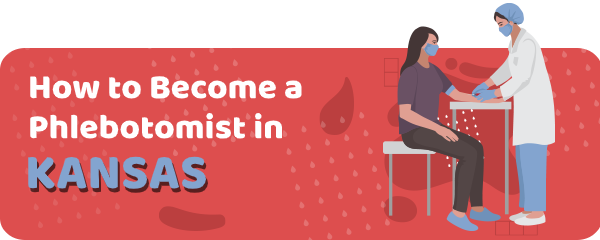 Phlebotomists are an important part of medical teams, and they work with physicians and patients to ensure that the patient gets proper treatment.
Because their primary responsibility is to draw blood from patients that are further used for diagnostic their job is quite important.
For example, the blood can be used to identify whether the patient has HIV or deficiency in iron, mineral counts, and other issues.
In Kansas, to become a phlebotomist, you have minimal requirements to meet.
Those include having a high school diploma or GED.
If you meet those requirements, you are eligible to start training in phlebotomy and gain the necessary knowledge and skills for the role.
Sponsored Listings
The field of phlebotomy is developing rapidly and is expected to have a high growth rate of 18-26% in the next four to 12 years.
Therefore, becoming a phlebotomist in Kansas is an excellent career choice.
Also, if you choose phlebotomy, it can be a starting point for future career advancement and upgrade to a medical assistant or nurse.
Across Kansas, there is a growing demand for skilled phlebotomists, especially in Hutchinson, Kansas City, Lawrence, Manhattan, Salina, Topeka, and other cities.
Phlebotomy Training Prerequisites in Kansas
In Kansas, phlebotomists aren't required to hold official certification to be allowed to work.
However, having a certification is a way to ensure better job opportunities and more lucrative career in the field.
You can find various training programs across the state at hospitals, technical colleges, or vocational schools.
Also, choose programs that are accredited by one of the following institutions:
National Accrediting Agency for Clinical Laboratory Services (NAACLS)
The National Organization for Competency Assurance (NOCA)
The Commission on Accreditation of Allied Health Education Programs (CAAHEP)
To earn a certification in phlebotomy, you will need from four months to a year.
The duration of the process depends on the program and school you choose.
Typically, students need to complete 16 hours of classroom instructions, and 120 hours in practical training.
Also, they need to make as many blood sample packs as they can, on their own.
There are also online phlebotomy courses that last around 40 hours and can be used as prerequisites for practical training.
Elements of a Training Course
There are many training programs in Kansas.
Luckily, you can find descriptions of the courses, thus it is easier to compare them and find the one that provides comprehensive education and meets your needs.
A good phlebotomy course will prepare you to perform all tasks in a safe, proper, and confident manner while providing minimal discomfort to the patient.
Therefore, training needs to include education for patient assessment before the procedure.
It means that you will learn to recognize warning signs that procedure can harm the well-being of the patient and react promptly.
All courses need to include training in proper hand hygiene and gloving procedures.
The highest quality programs teach you how to make the patient feel comfortable, even if he or she has anxiety over venipuncture.
Next, an integral part of all courses should be the proper placement of the patient and the selection of the venipuncture site.
Therefore, students need to learn about three major venipuncture methods and selection of alternative sites for drawing procedure.
Next, students should learn how to apply the Tourniquet properly and how to accurately label specimens.
Last, skilled phlebotomists are trained to assess the patient before leaving.
Required Skills
To become a licensed phlebotomist, you need to develop certain skills.
First of all, there is a set of professional skills you will have to learn during the training course.
Those include proper procedures for blood draws.
Furthermore, phlebotomists need to have great communication skills.
It is because they will deal with lots of different people and different situations.
Therefore, phlebotomists need to be able to handle different age groups, and possible needle fears, as well as any unexpected situations.
Also, phlebotomists work in the laboratory, thus they need to be familiar with the equipment, best lab practice, and EKG skills.
Career Outlook in Kansas
A phlebotomy field is great for career, as the job prospects are very good in all US states, including Kansas.
Phlebotomists can work in hospitals, blood banks, private offices, nursing homes, home health agencies.
Therefore, there are plenty of job opportunities, especially for certified technicians.
However, a phlebotomist may work day and night shifts, be on call on weekends and holidays.
Schools
Several schools in Kansas offer phlebotomy training.
For example, you can choose a Phlebotomy Training Certificate Program at Barton County Community College in Great Bend or Johnson County Community College in Overland Park.
A similar program is available at Fort Scott Community College.
Comprehensive phlebotomy education is available at Manhattan Area Technical College, Delores Homes Training Center, Cowley Community College, etc.
| School Name | Address |
| --- | --- |
| Barton County Community College | 24 NE 30 RD Great Bend, KS 67530 |
| Coffeyville Community College | 400 W 11th Coffeyville, KS 67337 |
| Cowley Community College | 125 S Second St. Arkansas City, KS 67005 |
| Delores Homes Training Center | 7735 Washington Avenue, Suite F, Kansas City, Kansas 66112 |
| Fort Scott Community College | 2108 S. Horton Fort Scott, KS 66701 |
| Johnson County Community College | 12345 College Blvd. Overland Park, KS 66210-1299 |
| Manhattan Area Technical College | Mid-America Nursing & Allied-Health Institute |
| Neosho County Community College | 800 West 14th Street, Chanute, KS 66720; 900 East Logan Street, Ottawa, KS 66067 |
| Washburn Institute of Technology | 5724 SW Huntoon, Topeka, KS 66604 |
Salary
An average salary of a phlebotomist in Kansas is $33.587 per year.
Salaries differ across the state and depend on the facility and education and experience level.
Annual Salary Range: Annual Salary by Location:
| Location | Avg. Annual Salary |
| --- | --- |
| Wichita | $34,083 |
| Overland Park | $34,638 |
| Kansas City | $34,744 |
| Topeka | $33,088 |
| Olathe | $34,544 |
| Lawrence | $33,621 |
| Shawnee | $34,638 |
| Salina | $33,729 |
| Manhattan | $32,734 |
| Hutchinson | $33,729 |
Phlebotomy Classes by State
---