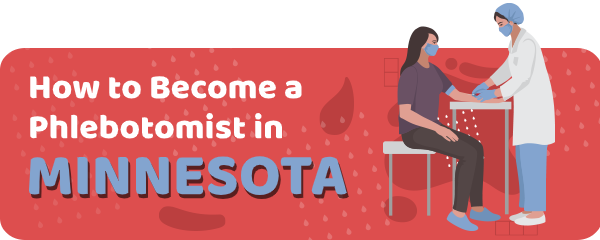 If you are interested in starting a career in the allied-medical field, you can choose phlebotomy.
Many schools in Minnesota offer phlebotomy training programs that can be completed in less than a year at any time.
The role of phlebotomists includes drawing blood samples from patients for identifying illnesses.
The process is called venipuncture.
Therefore, a trained phlebotomist is an important part of the medical team, so it is highly appreciated in all healthcare facilities.
Furthermore, some facilities may set additional requirements such as certification for a job position.
Sponsored Listings
It is important to note that in Minnesota phlebotomists are allowed to without certification.
However, having a certification is great leverage in the job market.
Phlebotomy Training Elements
The majority of training programs for phlebotomists have a similar curriculum.
Each training program needs to include theoretical training and practical experience.
The first thing all phlebotomists learn is pre-analytical assessment.
It means assessing the patient and identifying any possible complications during the venipuncture procedure.
Also, phlebotomists learn how to make the patient feel comfortable during the procedure.
Further, an important part of all phlebotomy courses is hand hygiene and proper gloving procedures.
Phlebotomy training focuses on various steps during the venipuncture procedure.
The first step is selecting the venipuncture site and warming it.
All phlebotomists need to be familiar with alternative venipuncture sites.
Also, they need to know the difference between the three major venipuncture methods.
Those are the winged-infusion system, the evacuated tube system, and the butterfly method.
Lastly, phlebotomists are trained to perform the proper application of the tourniquet.
An important part of their education also includes specimens labeling and patient assessment before leaving.
Training Requirements
Many colleges have phlebotomy training in their program.
However, the best programs are offered by colleges approved by the National Accrediting Agency for Clinical Laboratory Sciences (NAACLS).
Additionally, you can choose the college approved by NOCA or CAAHEP.
The average duration of the phlebotomy training program in Minnesota is three to six months.
To get enrolled in the training program in Minnesota you will have to be at least 18 years old.
Also, some colleges may have an evaluation or additional requirements to check whether the candidate is suitable for a phlebotomy course.
Get Certified in Minnesota
Minnesota doesn't require phlebotomists to be officially certified to get employed.
However, you have better chances to be chosen for the job if you decide to pursue certification.
There are several certification agencies recognized in Minnesota.
The National Phlebotomy Association offers examination-based certification.
The exam can be taken in oral or written form.
Next, the National Center for Competency Testing has a certification examination that consists of 145 questions that you need to answer in less than 2.5 hours.
Additionally, you need to submit proof of clinical competency.
Similarly, the American Society of Phlebotomy Technicians has a practical and written exam, as well as renewal requirements.
The American Medical Technologists also offer certification.
The renewal period is three years.
Lastly, you can get certified through the American Society for Clinical Pathology requires training or work experience, and has written or oral exam.
The renewal period is ten years.
Certification Requirements in Minnesota
To get certified in Minnesota, you will have to meet several requirements.
Certification makes you more attractive to employers and you are expected to:
Submit high school or GED transcripts
Pass a criminal background and drug test
Complete 40 hours of classroom instructions
Complete 40 of practical training
Prove that you can successfully perform 100 venipunctures and 10 skin punctures
Schools in Minnesota
There are plenty of schools that have a phlebotomy training program in Minnesota.
For example, the excellent Phlebotomy Technician Certificate Training Program is available at Alexandria Technical College.
Century College and Central Lakes College are also great options for aspiring phlebotomists in Minnesota.
They have comprehensive training that includes practical and theoretical instructions.
Hennepin County Medical Center includes Phlebotomy Technician Training Program that is suitable for those who want to start their career in the medical field.
Hennepin Technical College offers training programs for phlebotomists that consists of 148 hours of training.
Around 100 hours is practical exposure.
Mayo Clinic is one of the medical institutions with the best reputation.
It offers high-quality 10-week training for future phlebotomists.
Check the table for more information.
| School Name | Address |
| --- | --- |
| Alexandria Technical College | 1601 Jefferson Street Alexandria, MN 56308 |
| Century College | 3300 Century Avenue North White Bear Lake, MN 55110 |
| Central Lakes College | 501 West College Drive • Brainerd, MN 56401 |
| Dakota County Technical College | 1300 145th Street E., Rosemount, MN 55068-2999 |
| Hennepin County Medical Center | 701 Park Avenue Minneapolis, MN 55415 |
| Hennepin Technical College | Brooklyn Park Campus- 9000 Brooklyn Boulevard Brooklyn Park, MN 55445 Eden Prairie Campus- 13100 College View Drive Eden Prairie, MN 55347 |
| Lake Superior College | 2101 Trinity Rd. Duluth, MN 55811 |
| Mayo Clinic | 200 First Street SW Rochester, MN 55905 |
| Minnesota State College Southeast Technical | Red Wing Campus- 308 Pioneer Road Red Wing, MN 55066 Winona Campus- P.O. Box 409 1250 Homer Road Winona, MN 55987 |
| Minnesota State Community and Technical College | Fergus Falls Campus- 1414 College Way Fergus Falls, MN 56537 |
| Minnesota West Community and Technical College | 1314 North Hiawatha Ave Pipestone, MN 56164 |
| Northland Community and Technical College | East Grand Forks Campus- 2022 Central Avenue NE East Grand Forks, MN 56721 Thief River Falls Campus- 1101 Highway One East Thief River Falls, MN 56701 |
| Phlebotomy Training Specialists | 3433 Broadway Street NE, Suite 198, Minneapolis, MN 55413 |
| Ridgewater College | 2101 15th Ave NW, Willmar, MN 56201 |
| Saint Paul College | 60 East Plato Boulevard Saint Paul, MN 55107 |
| South Central College | Fairbault Campus- 1225 Third Street SW Fairbault, MN 55021 |
Salary
An average salary of a phlebotomist in Minnesota is $35.806.
The salary depends on factors such as education, experience, certification, facility, etc.
Annual Salary Range: Annual Salary by Location:
| Location | Avg. Annual Salary |
| --- | --- |
| Minneapolis | $37,224 |
| St. Paul | $37,224 |
| Duluth | $33,198 |
| Rochester | $33,899 |
| Saint Cloud | $33,016 |
| Mankato | $36,909 |
| Brainerd | $32,701 |
| Bemidji | $31,179 |
| Burnsville | $37,119 |
| Winona | $31,820 |
Phlebotomy Classes by State
---