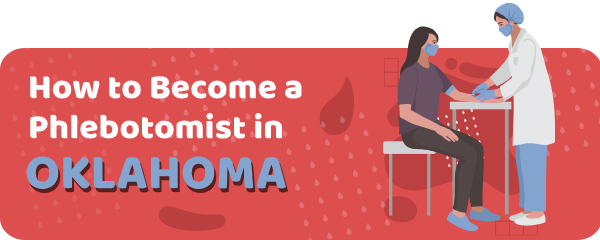 If you are interested in becoming a phlebotomist in Oklahoma, you have plenty of training programs across the state.
Certified Phlebotomy Technicians completed approved accredited training and successfully passed the certification exam.
As a phlebotomist, your primary task will be to collect blood from patients and perform standard protocols for storage and laboratory processing.
Blood samples serve to identify diseases, deficiency, or blood donation purposes.
The typical work setting of a phlebotomist is a hospital, medical clinic, or blood bank.
Because phlebotomists are important in the medical team, they need to be professionally trained.
Sponsored Listings
You can get trained by an employer or undergo a professional training course.
Currently, certification isn't required in the state of Oklahoma.
However, most hospitals and potential employers hire only certified and professionally trained professionals.
The career outlook is very good for future phlebotomists, and Carnegie, Buffalo, Brooksville, Cleveland, Delaware are the top cities for these medical professionals.
Phlebotomist's Daily Tasks
The role of a phlebotomist is much more than collecting blood samples and holding a needle stick.
They have plenty of other duties and those depend on the patient they work with that day.
The basic skills phlebotomist needs to have been collecting specimens and assessing the patient's prior procedure.
There are other tasks phlebotomists are in-charge of daily:
Supplies maintenance
Workspace organizations
Data entry
Handling specimens
Organization of specimen transport
Handling different patients and situations
Because phlebotomists can be found in various work settings, they need to be flexible and ready to adjust.
Phlebotomy Certification in Oklahoma
If you want to start your certification process on the right track, check for the right school.
In Oklahoma, there are plenty of excellent training programs for future phlebotomists, but you should make sure that the institution is accredited.
Accreditation will ensure that the school follows the latest standards in education and that it will make you eligible for the certification and further education.
Some colleges have strict requirements that students need to meet to be accepted to the class.
General requirements in Oklahoma include:
Students need to be 18 years or older to be allowed to take the exam
Students need to complete high school and submit transcripts or GED upon application
Candidates need to submit proof of vaccinations, pass a TB test and have hepatitis vaccines completed
Students need to have medical insurance, as well as malpractice insurance.
Some organizations offer financial aid to phlebotomy students, while others require students to pay tuition 100% upfront.
Compared to some other programs in the medical field, phlebotomy programs are affordable.
Make sure to check what does tuition covers and what the overall expenses are.
Many students start as phlebotomists, and once they are employed, they continue with additional medical education.
You can advance your career and become a medical assistant, nurse, ultrasound technician, etc.
Common Work Settings for Phlebotomists in Oklahoma
All healthcare facilities are in great demand for qualified phlebotomists.
For example, as a phlebotomist, you can work in an emergency room and help treat patients swiftly.
General hospitals are a common workplace for phlebotomists, and they can be seen on several floors, including nursery and NICU.
Also, blood donation centers employ a large number of phlebotomists.
If you find yourself working in the blood donation center, expect a busy shift and dozens of venipunctures performed per one shift.
Next, phlebotomists are often needed in nursing homes.
Skilled phlebotomists who can perform challenging blood draws are appreciated in nursing homes and home health care agencies.
Wherever you start working, you will have to adapt and communicate effectively with team members and patients, to calm them down, and perform the procedure properly.
Schools
Eight schools in Oklahoma have great training programs for aspiring phlebotomists.
Autry Technology Center is located in Enid and has a phlebotomy program that includes 40 hours of clinical work.
Similarly, the program at Central Technology Center in Drumright and Sapulpa also includes 40 hours of clinical rotations.
One of the most affordable programs is available at Great Plains Technology Center in Lawton and it will cost you around $125.
Phlebotomy training at MedNoc Training College consists of 105.5 hours of classroom and laboratory instructions, 64 hours of clinical rotation, and 8 hours for skills demonstration.
Tulsa Community College includes phlebotomy training that is available at multiple locations.
Check the table for more information.
| School Name | Address |
| --- | --- |
| Autry Technology Center | 1201 W Willow Rd, Enid, OK 73703 |
| Central Technology Center | Drumright Campus, 3 CT Circle, Drumright OK Sapulpa Campus, 1720 South Main St, Sapulpa OK |
| Great Plains Technology Center | 4500 W. Lee Blvd., Lawton, OK 73505 |
| MedNoc Training College | 2828 NW 57th Street, Suite 200, Oklahoma City, OK 73112 |
| Moore Norman Technology Center | Norman (4701 12th Avenue NW, Norman, OK 73069) Oklahoma City (13301 S Penn, Oklahoma City, OK 73170) |
| Rose State College | 6420 S.E. 15th Street, Midwest City, OK 73110 |
| Seminole State College | 2701 Boren Boulevard, Seminole, OK 74868 |
| Tulsa Community College | Tulsa (909 South Boston Avenue, Tulsa, OK 74119), (3727 East Apache Street, Tulsa, OK 74115), (10300 East 81st Street, Tulsa, OK 74133), (7505 W 41st Street South, Tulsa, OK 74107), (6111 East Skelly Drive, Tulsa, OK 74135) |
Salary
The salary of a phlebotomist depends on certification, location, facility, skills, experience, etc.
An average salary of a phlebotomist in Oklahoma is $33.269 per year.
Annual Salary Range: Annual Salary by Location:
| Location | Avg. Annual Salary |
| --- | --- |
| Oklahoma City | $33,562 |
| Tulsa | $33,955 |
| Norman | $33,350 |
| Lawton | $30,119 |
| Broken Arrow | $33,849 |
| Edmond | $33,456 |
| Enid | $33,244 |
| Mooreland | $31,469 |
| Stillwater | $33,244 |
| Muskogee | $33,637 |
Phlebotomy Classes by State
---