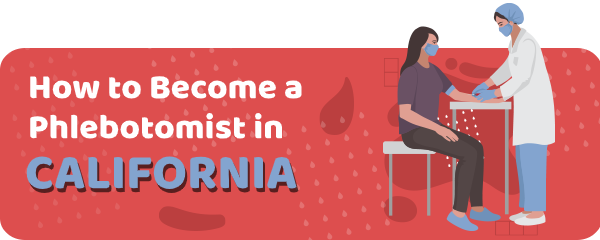 Choosing a career in phlebotomy is an excellent idea because all healthcare facilities across California are in demand for skilled phlebotomists.
California and Louisiana are the only two states in the USA that require phlebotomists to be certified to get employed.
Therefore, if you are interested in building a career in a medical laboratory as a person who draws blood from the patients, you will have to get certified.
However, if you are a professional nurse, doctor, or medical laboratory assistant you don't have to enroll in the training program for the certification.
Phlebotomists perform a variety of tasks daily, thus, completing adequate training is essential.
Some of the phlebotomists' tasks are taking blood samples, handling samples, labeling, cataloging, ordering laboratory supplies, taking proper care of laboratory equipment, data entry, infection prevention protocols, and others.
Sponsored Listings
Phlebotomy Certification in California
The state of California recognizes three types of phlebotomy certifications.
Limited Phlebotomy Technician
Those who have a Limited Phlebotomy Technician certification are allowed to do collect blood only by skin puncture.
To earn this certificate you have to submit a high school diploma or GED.
Next, you have to complete only 20 hours of classroom training and perform 25 skin punctures under supervised as part of your clinical training.
The last step is to apply to the CDPH for certification – Limited Phlebotomy Technician.
Phlebotomy Technician I
The second certification is called Phlebotomy Technician I.
These technicians are allowed to collect samples through venipunctures and skin punctures.
The certification requirements include a high school diploma (or GED), 40 hours of classroom instructions, 40 hours of clinical training.
During the training, you will have to perform 10 skin punctures and 50 venipunctures.
Candidates who have less than 1040 hours of experience, can have their mentors write a letter of recommendation.
IF the CDPH approves it, you may only need to complete 40 hours of classroom training.
Next, those who have more than 1040 hours of experience, will have to complete only 20 hours of classroom training.
All candidates are required to pass the written exam conducted by a CDPH approved certifying organization.
After you pass the test, you can be granted with Phlebotomy Technician I certification.
Phlebotomy Technician II
Phlebotomists granted with the highest certification type – Phlebotomy Technician II are allowed to perform venipunctures, arterial, and skin punctures.
Only CDHP licensed Phlebotomy Technicians I who have at least 1040 hours of experience in the last five years are eligible for the highest certification.
They need to complete at least 20 arterial punctures and provide a written letter by mentors upon Phlebotomy TEchnican II certification.
Certification Maintenance
In California, phlebotomists are required to renew their certifications every two years.
The renewal requirements include the completion of six hours of CES and paying the renewal fee.
To renew their certification Limited Phlebotomy Technicians and Phlebotomy Technicians I need to:
Provide a supervisory review of skin punctures monthly
Document their competency annually
Enroll in continuing education – three hours per year, or six hours every two years
Complete other requirements – wear identification card regularly, visibly post certification in the work setting
Phlebotomy Technicians II are also documented annually for competency, have the same continuing education requirements, and need to have their identifications and certification card visible while they work.
Application Process
In California, the application can be completed online for first-time applicants.
The complete applications include a $100 non-refundable application fee, valid Social Security Number, two photos in passport size, and proper documentation.
The documentation includes transcripts, training and experience documents, examination evidence, etc.
Schools
There are numerous programs for phlebotomists in California.
Programs for Limited Phlebotomy Technicians are available at following schools and institutions:
Allied Medical and Health Services Inc.
Bay Area Medical Academy
For example, Phlebotomy Technician 1 Training Programs can be found at some of the best schools across California.
Those are:
Contra Costa Medical Career College
Downey Adult School
Allied Professional Institute
De Anza College
Other schools offer education for future phlebotomists, and the programs are general and comprehensive.
You can start your education at Trinity School of Health and Allied Sciences where the phlebotomy course includes 40 hours of practical training an internship.
Next, Phlebotomy Certification Program is available at MTI College, National Career Education, National Polytechnic College, Loma Linda University, and plenty of other schools and institutions.
Check the table for more schools and locations.
| School Name | Address |
| --- | --- |
| Allied Medical and Health Services Inc. | 730 S. Central Ave., Ste 208, Glendale CA 91204 |
| Allied Professional Institute | 5199 E Pacific Coast Hwy, Ste 401, Long Beach, CA 90804 |
| Angeles College of Nursing | 3440 Wilshire Blvd., Suite 310, Los Angeles, CA 90010 |
| Bay Area Medical Academy | One Hallidie Plaza, Suite 406, San Francisco, CA 94102 |
| Butte County CTE | 2491 Carmichael Drive, Suite 500, Chico, CA 95928 |
| California Institute of Medical Science | 1315 Shaw, Ste. 102, Clovis, CA |
| California Nurses Educational Institute | 5200 E. Ramon Road Suite I-1, Palm Springs, Ca 92264 |
| Central Coast College | 480 S. Main St. Salinas, CA 93901 |
| Clinical Training Institute | Corporate Office-2775 N. Ventura Road Ste. 208, Oxnard, CA 93036 Bakersfield- 1731 Hasti Acres Dr. Ste. B-4, Bakersfield, CA 93309 Lancaster- 43801 15th Street, West Lancaster, CA 93534 Santa Maria- 521 E. Chapel Street Ste. Santa Maria, CA 93454 Woodland Hills- 21018 Victory Blvd. Woodland Hills, CA 91367 |
| Complete Phlebotomy Training, Inc. | 28125 Bradley Road, Suite #290 Menifee (Sun City), CA 92586 |
| Computer Institute of Technology | 11631 Victory Blvd. Suite 205 North Hollywood, CA 91606 |
| Contra Costa Medical Career College | 4051 Lone Tree Way, Suite C Antioch, CA 94531 |
| Cuesta College | Highway 1, San Luis Obispo, CA 93403; 2800 Buena Vista Drive, Paso Robles, CA 93446; Arroyo Grande High School Office, Rm 913, Corner of Orchard St. and W. Cherry Ave., Arroyo Grande, CA 93420 |
| Crescent College | 5940 Santa Fe Ave. Huntington Park, CA 90255 |
| De Anza College | 21250 Stevens Creek Blvd., Cupertino, CA 95014 |
| Diablo Medical Training | Office of Admissions, 929 Second Street, Suite 16 Brentwood, CA 94513 |
| Downey Adult School | 12340 Woodruff Avenue Downey, CA 90241 |
| Healthcare Career College | 8527 Alondra Blvd, Suite #174, Paramount, CA 90723 |
| Health Career College | 115 Crescent Drive Pleasant Hill, CA 94523 |
| Kaiser Permanente School of Allied Health | 938 Marina Way South Richmond, CA 94804 |
| LA Vocational Institute | 3550 Wilshire Blvd., Suite 809, Los Angeles, CA 90010 |
| Lake Tahoe Community College | 1 College Drive South Lake Tahoe, CA 96150 |
| Liberty Career College | 906 19th Street Bakersfield, CA 93301 |
| Loma Linda University | 11092 Anderson Street Loma Linda, CA 92354 |
| Los Angeles ORT College | 6435 Wilshire Blvd., Los Angeles, CA 90048 |
| Mission Career College | 9731 Magnolia Avenue, Riverside, CA 92503; 2211 Hunts Lane, Suite Q & R, San Bernardino, CA 92408 |
| MTI College | 5221 Madison Avenue Sacramento, CA 95841 |
| National Career Education | 6249 Sunrise Blvd, Citrus Heights, CA 95610 |
| National Polytechnic College | 6249 Sunrise Blvd, Citrus Heights, CA 95610 |
| Palo Verde College | 4105 South Street, Lakewood, CA 90712 |
| QBICS Career College | 1125 E. 17th St. Suite E120 Santa Ana, California 92701 |
| Regan Career Institute | 925 S. Atlantic Blvd, Suite 203-B Monterey Park, CA 91754 |
| Trinity School of Health and Allied Sciences | 1225 West 190th Street, Suite 375, Gardena, California 90248 |
| UCLA Center for Prehospital Care | 10990 Wilshire Blvd. Suite 1450 Los Angeles, CA 90024 |
| Universal Healthcare Careers College | 1625 West Olympic Blvd., Suite 708, Los Angeles, CA 90015 |
| University of California-Irvine | UC Irvine Medical Center 101 The City Drive, Rt. 38 Orange, CA 92868 |
| Wagner Training Institute | 1740 Plum Lane Suite B Redlands, CA 92374 |
Salary
The average salary of certified phlebotomists in California is above the national average for the USA.
It is $39.533.
However, salaries vary across the state and depend on multiple factors.
Annual Salary Range: Annual Salary by Location:
| Location | Avg. Annual Salary |
| --- | --- |
| Los Angeles | $39,841 |
| San Diego | $38,052 |
| San Jose | $44,417 |
| San Francisco | $44,346 |
| Long Beach | $39,462 |
| Fresno | $35,463 |
| Sacramento | $38,255 |
| Oakland | $41,940 |
| Santa Ana | $39,498 |
| Anaheim | $39,551 |
Phlebotomy Classes by State
---