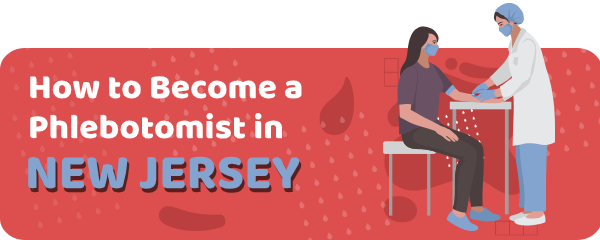 Phlebotomy is a great career choice if you want to start your career in the medical-related field.
It is a field of the clinical laboratory, thus phlebotomists and laboratory technicians work together or vice versa.
In New Jersey, you will need at least an associate degree.
Additionally, you can complete a diploma program and obtain national-level certification.
Certification will ensure that you have better job opportunities and a higher salary.
Still, New Jersey doesn't require phlebotomists to hold national certification prior to employment.
Sponsored Listings
However, certification is preferred by the majority of reputable employers.
Due to current situations, and new diagnostic techniques, there is a higher demand for skilled phlebotomy technicians.
Atlantic City, Newark, Princeton, Wayne, New Brunswick, Cranford, Ruthenfor are top cities in New Jersey for aspiring phlebotomists.
Phlebotomy Training Requirements in New Jersey
Legally, all you need to start working as a phlebotomist in New Jersey is a high school diploma or GED.
On the other hand, if you don't complete training, you will have a hard time finding a suitable job for you.
The majority of healthcare facilities require their phlebotomists to complete a training program at an accredited school.
Despite not being mandatory, certification by a national agency is highly appreciated.
Certification Agencies in New Jersey
If you live in New Jersey, you have several agencies to choose from for your certification.
The National Center for Competency Testing certification includes an examination that consists of 145 test questions.
You have 2.5 hours to complete the test and you have to show written evidence of clinical competency.
Phlebotomy certification is offered at American Medical Technologists.
You need to submit proof of work experience and pass oral or written.
You need to renew your certification through CEU and re-examination.
Further, the American Society for Clinical Pathology offers phlebotomy technician certification (PBT, ASCP).
For the examination offered by ASCP, you need to complete training or submit proof of work experience.
You can choose to pass the written or oral exam, and the renewal cycle through CEU is ten years.
Phlebotomy certification is offered by the American Society of Phlebotomy Technicians.
The examination includes a practical exam and a written exam.
Lastly, you can get certified through the National Phlebotomy Association and you will have to pass an oral or written exam.
Personal Skills
Outgoing and friendly phlebotomists are highly appreciated by most reputable healthcare facilities.
Also, phlebotomists with excellent customer service skills because they are in close contact with plenty of different people.
Therefore, they need to be able to handle different situations and calm people down if they, for example, have some conditions or needle fear.
A very important aspect is following safety procedures and protocols.
Lastly, because phlebotomists will work will sick people, they are expected to have a healthy immune system.
Training Application in New Jersey
The typical phlebotomy training program in New Jersey lasts from three to six months.
Upon application, you need to submit high school or GED transcripts and to pass criminal background and drug test.
To complete the program and obtain your phlebotomy diploma, you need to complete 40 hours of classroom instructions and 40 hours of practical training.
Additionally, all students are required to show proof of completing up to 100 venipunctures and 10 skin punctures.
The difference between shorter and longer phlebotomy training programs is in the intensity.
Shorter programs include classes on several days per week, while longer programs have classes in the evening or on the weekend.
Therefore, a six-month program is a great option for people who are employed.
Schools
In New Jersey, you have a lot of schools to choose from and get proper phlebotomy education.
For example, in Newark, phlebotomy training is available at the Academy of Allied Health Sciences, New Educare Institute of Healthcare, Rutgers School of Health Professions, and Samuel Morris Career Institute.
Next, the ACE Healthcare Training Institute in Dover is also a great option for those who want a comprehensive phlebotomy training.
Students who complete the Allied Health Training Institute are eligible to take the certification exam.
Atlantic Community College has phlebotomy training that includes practical training, laboratory practice, and classroom education.
Check the table for more information on schools with proper phlebotomy training in New Jersey.
| School Name | Address |
| --- | --- |
| Academy of Allied Health Sciences | 24 Commerce Street Federal Trust Bldg Suites #504 & #510 Newark, New Jersey 07102 |
| ACE Healthcare Training Institute | 8 South Morris Street, Suite 202, Dover, NJ 07801; 930 Stuyvesant Avenue, Suite 12, Union, NJ 07083 |
| Allied Health Training Institute | 1750 Zion Road, Suite 106, Northfield, NJ 08225 |
| Advantage Career Institute | 2 Meridian Road, Eatontown, NJ 07724 |
| American Institute of Medical Sciences & Education | 4500 New Brunswick Avenue, Piscataway, NJ 08854 |
| AMG Medical Institute | 175 Market Street, Paterson, NJ 07505 |
| Atlantic Community College | 5100 Black Horse Pike, Mays Landing, NJ 08330 1535 Bacharach Blvd., Atlantic City, NJ 08401 341 Court House-South Dennis Road, Cape May Court House, NJ 08210 |
| AVTECH Institute of Technology | 50 Cragwood Road, South Plainfield, NJ 07080 130 Clinton Road, Fairfield, NJ 07704 613 Hope Road, Eatontown, NJ 07724 |
| Branford Institute | 570 North Broad Street, Elizabeth, NJ 07208 302 Main Street, Paterson, NJ 07505 |
| Brookdale Community College | 765 Newman Springs Road, Lincroft, NJ 07738 |
| Cumberland County College | 10 Buck Street, Millville; Room B1, NJ 08360 |
| Healthcare Training Institute | 1969 Morris Avenue, Union, NJ 07083 |
| New Educare Institute of Healthcare | 24 Commerce Street , Suite 401, Newark, NJ 07102 |
| Ocean County College | College Drive, Toms River, NJ 08754 |
| Rutgers School of Health Professions | 65 Bergen Street, Newark, NJ 07107-1709 |
| Salem County Vocational Technical School | 880 Route 45, Woodstown, NJ08098 |
| Samuel Morris Career Institute | 701 McCarter Highway, Newark New Jersey |
| Warren County Community College | 475 Route 57 West, Washington, NJ 07882 |
| William Paterson University | 300 Pompton RdWayne, New Jersey 07470 |
Salary
Phlebotomists in New Jersey have higher salaries than the national average.
An average annual salary of a phlebotomist in New Jersey is $38.697.
Annual Salary Range: Annual Salary by Location:
| Location | Avg. Annual Salary |
| --- | --- |
| Newark | $39,971 |
| Jersey City | $42,351 |
| Paterson | $40,356 |
| Elizabeth | $39,971 |
| Edison | $39,271 |
| Woodbridge | $39,271 |
| Dover | $40,228 |
| Trenton | $39,551 |
| Camden | $37,598 |
| Ocean City | $37,655 |
Phlebotomy Classes by State
---