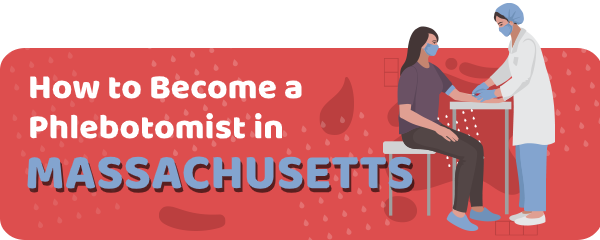 The primary responsibility of a phlebotomist is to draw blood samples from the patients.
The samples are further used in diagnostic tests and for a routine check to set the diagnosis for illnesses of deficiencies.
The role of a phlebotomist is highly important in the medical team.
It helps to determine the disease, and thus, the right treatment for the patient.
In Massachusetts, becoming a phlebotomist is simple, but it does require commitment and time.
Trained and qualified phlebotomists work in healthcare facilities, alongside other team members.
Sponsored Listings
If you live in Massachusetts, you can find an appropriate school for phlebotomy training quickly.
Barnstable, Boston, Essex, Middlesex, Plymouth, Berkshire, Nantucket, and Bristol are great cities for phlebotomists in terms of employment options and salaries.
How to Become a Phlebotomist in Massachusetts?
Massachusetts doesn't require phlebotomists to hold national certification to be allowed to work.
However, the state does recognize national certification programs and encourages aspiring phlebotomists to get certified.
On the other hand, best phlebotomy technicians, whether they hold the certification or not, are friendly and well-organized, flexible, and able to handle different situations and different types of people.
They pay a lot of attention to safety procedures and cleanliness.
Thus, when the procedure is performed correctly, following all protocols and standards, there is no risk for infections spreading.
Still, phlebotomists should have a strong immune system, as they will be in close contact with many people who are ill.
Despite not being mandatory, certification provides you with great leverage for any open job positions.
Healthcare facilities looking for phlebotomists prefer certified professionals because certification proves that you have completed appropriate training and gained the necessary knowledge and skills for the role.
National Certification Agencies Recognised in Massachusetts
The majority of employers in Massachusetts prefer phlebotomy technicians that hold certification issued by some of the nationally approved agencies.
For example, you can get certified through the National Center for Competency Testing.
You will have to submit written evidence of clinical competency and to answer 145 test questions in 2.5 hours.
Next, the organization American Medical Technologist requires work experience and successfully passing the oral or written exam to issue certification.
The renewal period is three years.
Further, you can choose the American Society for Clinical Pathology for your certification agency.
You will have to complete training or to submit evidence of work experience, pass the exam, and renew your certification every ten years.
The American Society of Phlebotomy Technicians is also recognized in Massachusetts.
You have to pass a practical and written exam and to maintain your certification annually through CEUs.
Last, but not least, the certification issued by the National Phlebotomy Association also requires you to pass an oral or written exam to be certified.
Obtaining your certification in phlebotomy is an excellent idea because it has so many perks.
Certification makes you a more valuable job candidate and you will gain the necessary knowledge and skills that will make you confident in performing all procedures.
Usually, phlebotomy courses last from three to six months.
To apply for the course and get certified, you will have to submit your high school or GED transcript and pass a criminal background and drug test.
To get eligible for certification, you need to complete 40 hours of classroom instruction and 40 hours of practical training, as well as prove that you can complete 100 venipunctures and 10 skin punctures.
When choosing a school, keep in mind that a program with more practical training will help you develop your skills sooner.
Generally, there are no legal requirements for phlebotomists in Massachusetts.
Technically, it means that you can get hired after high school.
However, if you don't complete training, you will have a hard time finding a job in phlebotomy.
Also, remember that phlebotomy certification differs from postsecondary certification in a way that you need to complete specialized training from an accredited organization.
Luckily, in Massachusets, there are plenty of available training programs that can help you to get on the right track for developing a career in phlebotomy.
Some may even be an excellent starting point for advancing your career in the future and becoming a medical assistant, nurse, ultrasound technician, or else.
Schools
There are numerous schools in Massachusets that have appropriate training programs for future phlebotomists.
For example, if you live in Fall River you can choose between the phlebotomy course at Health Care Training Services and Coastal Career Academy.
Next, residents of Framingham have a great choice.
In this city, phlebotomy training is available at MassBay Community College, Health Training Center, and Metrowest Health Care Academy.
Middlesex Community College in Lowel offers a Phlebotomy Certificate program as well as Massasoit Community College in Brockton.
Check the table for more schools and information on locations.
| School Name | Address |
| --- | --- |
| Boston College | Service building, room 206, boston college william f. connell school of nursing cushing hall 140 commonwealth avenue chestnut hill, ma 02467 |
| Coastal Career Academy | 288 Plymouth Ave Fall River, MA 02721 |
| Health Care Training Services | 657 Quarry Street Fall River, MA 02723 |
| Health Training Center | Attleboro Campus- 451 Elm Street North Attleboro, MA 02760 Cambridge Campus- 358 Broadway Cambridge, MA 02139 Chelmsford Campus- 296 Chelmsford Street Chelmsford, MA 01824 Framingham Campus- 1671 Worcester Rd Framingham, MA 01701 |
| Massasoit Community College | Brockton Campus-One Massasoit Blvd. Brockton, MA 02302 Canton Campus-900 Randolph Street Canton, MA 02021-1372 |
| MassBay Community College | 19 Flagg Drive Framingham, MA 01702-5928 |
| Metrowest Health Care Academy | 100 Concord Street Suite 2A Framingham, MA 01702;208 Main Street Suite 112 Milford, MA 01757 |
| Middlesex Community College | Lowell Campus- 33 Kearney Square Lowell, MA 01852 |
| Mount Wachusett Community College | 444 Green Street Gardner, MA 01440 |
| Norhtheast Metropolitan Community Education | 100 Hemlock Road Wakefield, MA 01880 |
| North Shore Community College | 1 Ferncroft Road, Danvers, MA 01923 |
| Phlebotomy and EKG Training Program | 38 11th Avenue Haverhill, MA 01830 |
| Phlebotomy Services | Various locations across the state |
| Quincy College | 1250 Hancock Street Quincy Center, MA 02169 |
| Quinsigamond Community College | 670 West Boylston Street Worcester, MA 01606-2092 |
| Roxbury Community College | Roxbury Community College. 1234 Columbus Avenue, Roxbury Crossing, MA 02120 |
| Smith Vocational Adult Community Education | 80 Locust Street, Northampton, MA 01060 |
| Spectrum Healthcare Training Center | 330 Lynnway, Suite 112 Lynn, Massachusetts 01901 |
| Springfield Technical Community College | One Armory Square Suite 16/131 Springfield, MA 01102-9000 |
| The Fieldstone School | Worcester Office 90 Madison Street Suite 200 (2nd floor) Worcester, MA 01608; Fitchburg Office 76 Summer Street Suite 025 Fitchburg, MA 01420 |
Salary
An average salary of a phlebotomist in Massachusetts per year is $38.507.
It is beyond the national average, but the salary varies across the state and facilities.
Annual Salary Range: Annual Salary by Location:
| Location | Avg. Annual Salary |
| --- | --- |
| Boston | $39,947 |
| Worcester | $37,268 |
| Springfield | $36,985 |
| Lowell | $38,577 |
| Cambridge | $39,947 |
| Brockton | $38,330 |
| New Bedford | $37,303 |
| Fall River | $37,303 |
| Lynn | $39,947 |
| Quincy | $39,947 |
Phlebotomy Classes by State
---