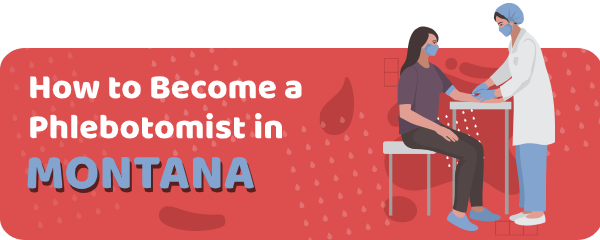 If you live in Montana and you want to start a career in the medical field, enrolling in phlebotomy is a great idea.
Phlebotomists draw blood samples from patients, that are used for diagnostic tests, donation, and blood transfusion.
Therefore, phlebotomists are highly important for proper treatment.
It is expected from phlebotomists to complete a degree or certificate program and gain the necessary knowledge and skills for the role.
However, the majority of US states don't require phlebotomists to be officially certified.
Same, phlebotomists in Montana are not required to hold national certification, but it is highly useful.
Sponsored Listings
Thus, there are excellent certificate programs across Montana where you can learn all you need to properly complete your tasks and pass the certification exams.
Cities, such as Billings, Missoula, Kalispell, Gardiner, and others are in higher demand for certified phlebotomists.
Phlebotomy Training in Montana
To become a phlebotomist you will have to undergo specialized training.
Phlebotomy is more than being familiar with the needle stick.
Rather, phlebotomists need to be knowledgable in human anatomy, various collection methods, safety procedures, etc.
Also, it is important to learn how to calm and handle challenging patients.
In Montana, you can find a lot of accredited schools that have appropriate courses specially designed for aspiring phlebotomists.
The courses are relatively similar, but some may be an integral part of a medical assistant program.
If you want to advance your career in the future, choosing a medical assistant program with a phlebotomy course is an excellent starting point as well.
Usually, phlebotomy training consists of classroom instructions and clinical training.
Practical experience is quite important and those with previous work experience may qualify for the certification without the official course.
Most commonly, the schools offer phlebotomy training that includes instructions in the following topics:
CPR training
Emergency training
Venipuncture procedures
Micro-capillary methods
Medical terminology
Safety procedures
Some programs may include other courses as well, while others will have a larger number of clinical hours.
Certification Requirements in Montana
As mentioned before, Montana doesn't require phlebotomy certification.
However, all reputable medical facilities require their phlebotomists to hold national certification.
Only candidates who have extensive work experience can be hired without certification.
There are some certification requirements each candidate needs to complete to get certified.
First of all, candidates are required to complete high school or equivalency test.
Next, candidates need to be able to read and speak in English and communicate effectively with coworkers and patients.
Candidates need to complete an appropriate training program at an accredited school.
Certification Exam in Montana
Aspiring certified phlebotomists in Montana need to pass the American Society for Clinical Pathology (ASCP) exam.
In Montana, the test can be taken at several recognized and approved organizations.
Those are:
American Society of Clinical Pathologists (ASCP)
American Medical Technologists (AMT)
National Center for Competency Testing (NCCT)
The benefits of getting certified include boosting your marketability.
Certification serves as proof that you have enough knowledge and skills to perform all phlebotomists tasks.
Additionally, certification allows you to work across all states, and to be nationally recognized.
However, you should check to see the requirements for each city in which you plan to relocate.
Phlebotomists License Maintenance
The phlebotomy license expires after two years.
Maintenance is highly important because if you fail to do so, your job position will be at risk.
Additionally, if you have an expired license for a long time, you might have to take a refresher course for renewal.
Schools
Montana has several excellent schools that offer comprehensive phlebotomy training.
Flathead Valley Community College offers a phlebotomy course that can be completed in three months.
The Helena College University of Montana has a phlebotomy program that includes 90 hours of practical training.
Certificate of Phlebotomy is available at The Lifelong Learning Center in Missoula.
Miles Community College has a similar program that prepares students to complete the certification exam and start working on entry points as soon as possible.
Montana State University has a convenient program, suitable for those who want to start their phlebotomists soon.
Phlebotomy training can be completed in only one month.
It also prepares the students to successfully pass the national certification exam.
| School Name | Address |
| --- | --- |
| Flathead Valley Community College | Kalispell (777 Grandview Drive, Kalispell, MT 59901) Libby (225 Commerce Way, Libby, MT 59923) |
| Helena College University of Montana | 1115 North Roberts Street, Helena, MT 59601 |
| The Lifelong Learning Center | 310 South Curtis Street, Missoula, MT 59801 |
| Miles Community College | (2715 Dickinson Street, Miles City, MT 59301 |
| Montana State University | PO Box 172435, Bozeman, MT 59717 |
Sponsored Listings
Salary
The field of phlebotomy is expected to have a high growth rate in the next several years.
An average annual salary of a phlebotomist in Montana is $31.728.
Annual Salary Range: Annual Salary by Location:
| Location | Avg. Annual Salary |
| --- | --- |
| Billings | $33,520 |
| Missoula | $28,928 |
| Great Falls | $30,346 |
| Butte | $28,928 |
| Bozeman | $28,928 |
| Helena | $29,453 |
| Kalispell | $31,063 |
| Havre | $29,821 |
| Anaconda | $28,928 |
| Miles City | $32,995 |
Regional Salary in Montana
| Region | Employed | Avg. Annual Salary | Avg. Hourly Pay | Top 10% Annual Salary | Bottom 10% Annual Salary |
| --- | --- | --- | --- | --- | --- |
| Billings, MT | 130 | $38,650 | $18.58 | $46,240 | $32,160 |
| Great Falls, MT | 40 | $36,850 | $17.71 | $43,100 | $28,400 |
| Missoula, MT | 70 | $35,470 | $17.06 | $44,870 | $29,210 |
* Salary information based on the May 2022 Occupational Employment Statistics (OES) Survey for Phlebotomists, OCC Code 31-9097, BLS.
* Employment conditions in your area may vary.
Phlebotomy Classes by State
---