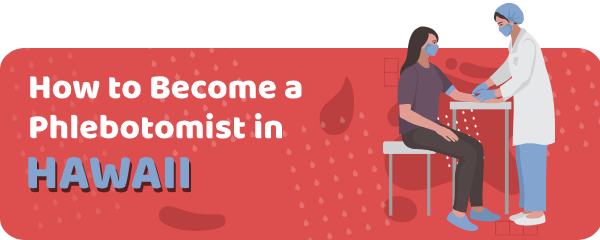 Phlebotomists are responsible for drawing blood samples from patients.
Samples are further used in diagnostic processes of illnesses and deficiencies.
In the state of Hawaii, there is no official requirement for phlebotomists in terms of certification.
On the other hand, having a certification in Hawaii ensures better job opportunities, a higher salary, and a more secure position at any health care facility.
In Hawaii, you can find schools and colleges that have an adequate training course in phlebotomy.
After you complete the course, you will have to pass the certification exam prepared at one of the national agencies recognized in Hawaii.
Sponsored Listings
In general, phlebotomy is an excellent career choice and a lucrative career with plenty of opportunities.
In the Hawaii Islands, cities such as Honolulu, Oahu, Volcano, Waimea, and a few others are top locations for phlebotomists.
Necessary Training
Anyone who wishes to get an entry-level job as a phlebotomist will have to complete a diploma or certification program.
Programs are similar in terms that they include classroom education that covers phlebotomy foundations and practical training.
During classroom instructions, you will have to focus on human anatomy, venipuncture techniques, safety procedures and protocols, patient assessment, etc.
Some schools also cover topics in non-medical subjects, including computer skills, communication, and physiology.
To become eligible for the national certification exam in Hawaii, every student needs to complete a minimum of 120 hours in classroom education and perform at least 100 venipunctures.
Training Requirements in Hawaii
It is relatively simple to become a phlebotomist in Hawaii.
There are no legal requirements, so healthcare facilities seek flexible and compassionate people who are well-organized and detail-oriented.
Phlebotomists need to be able to handle different situations and different types of people.
Additionally, because phlebotomists will be in contact with sick people, they need to have a strong immune system.
Very important parts of a phlebotomist's job are safety procedures and cleanliness so phlebotomists need to follow strict protocols.
The Hawaii Divison of Professional Regulation states that phlebotomy certification isn't mandatory in this state.
Still, you might have trouble finding a job if you don't obtain your certification.
Certification in phlebotomy ensures that you have completed appropriate training, developed necessary skills, and knowledge for the role.
Therefore, many healthcare facilities prefer certified over uncertified phlebotomists.
Once you are certified, you can apply for positions within hospitals, private and public clinics, blood banks, laboratories, home health agencies, etc.
Phlebotomy Certification Agencies in Hawaii
Employers in Hawaii prefer candidates certified through several agencies.
The first one is the National Center for Competency Testing.
The exam consists of 145 test questions and you have 2.5 hours to complete the test.
Additionally, you need to submit evidence of clinical competence.
Next, you can get certified through American Medical Technologists.
For the AMT, you need to complete an oral or written exam and to have relevant work experience.
The certification needs to be renewed every three years.
Next, you can choose the American Society for Clinical Pathology.
You will have to complete training or show proof of clinical experience, pass the exam, and to renew your certification every ten years.
The American Society Phlebotomy Technicians also certifies phlebotomists in Hawaii who pass practical and written exams.
Lastly, you can get certified at the National Phlebotomy Association.
You will have to pass the exam as well.
Getting certified is highly beneficial in Hawaii, and most importantly you will gain the necessary skills and knowledge to make you confidently perform your phlebotomist's duties.
Required Skills
As a phlebotomist, you will have to be knowledgable about various blood collection techniques and procedures, including safety procedures and protocols.
Phlebotomists need to know about laboratory equipment, cleaning sites properly, and keeping patient records properly.
Also, a phlebotomist needs to have excellent verbal and written communication.
Schools
Several schools in Hawaii offer phlebotomy training.
Hawaii Institute of Healthcare and Training Services, for example, has intense 40-hour training for future phlebotomists.
You can get proper education at Hawaii Medical Training Center, and the program lasts for six weeks.
The program at Hawaii Technical Institute covers blood drawing procedures, safety guidelines, and protocols, laboratory practice, and more.
National Phlebotomy Certification Preparatory Program is available at Healthcare Training and Career Consultants Inc.
Check the table for more information.
| School Name | Address |
| --- | --- |
| Hawaii Institute of Healthcare and Training Services | 1059 Kilauea Ave. Unit B Hilo, HI 96720 |
| Hawaii Medical Training Center | Dillingham Business Center, 1425 Dillingham Boulevard Suite 205-B, Honolulu, HI 96817 |
| Hawaii Technical Institute | 1130 North Nimitz Hwy. Ste A-226 Honolulu, HI 96817 |
| Healthcare Training and Career Consultants Inc. | Honolulu Branch- 2130 North King St., Suite 7 Honolulu, HI 96819 Maui Branch-Hale Makua Nursing Facility Wailuku Maui, HI 96793 |
| Professional Health Educators | 1286 Kalani St, B-204, Honolulu, HI 96817 At City Square; 94-877 Farrington Hwy. #B, Waipahu, HI 96797 |
| University of Hawaii Kapi'olani Community College | 4303 Diamond Head Road Honolulu, HI 96816 |
Salary
A phlebotomist in Hawaii can earn an average annual salary of $37.133, which is above the national average.
Salary differs across the state and depends on experience, certification, employers, and other factors.
Annual Salary Range: Annual Salary by Location:
| Location | Avg. Annual Salary |
| --- | --- |
| Honolulu | $36,900 |
| Hilo | $36,652 |
| Kailua | $36,900 |
| Kaneohe | $36,900 |
| Waipahu | $36,883 |
| Pearl City | $36,900 |
| Kahului | $36,652 |
| Mililani | $36,834 |
| Lahaina | $36,652 |
| Kihei | $36,652 |
Phlebotomy Classes by State
---