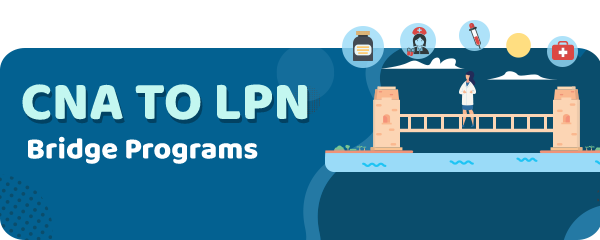 If you are a CNA ready to move your career to the next level, you can benefit from a CNA to LPN bridge program.
With it, you can explore better aspects of the nursing area and make more money.
Some colleges allow you to transfer college credits earned in the CNA to LPN program and, therefore, shorten the duration and coursework of the program.
You will be trained as a Licensed Practical Nurse through clinical experience and classroom sessions.
Students can find such programs at vocational schools and community colleges.
Some hold an online CPA to LPN Bridge program as well.
About the CNA to LPN Programs
The CNA to LPN program covers the fundamentals of nursing, anatomy, pharmacology, first aid, psychology, and surgical nursing.
Communication and computer subjects are covered as well.
The length of the program can vary depending on the school.
However, on average, it takes about two years.
Who Is a CNA
CNAs are Certified Nursing Assistants who work under the supervision of the senior doctors, LPNs, or RNs to help fulfill the needs of patients.
They are entry-level nurses, but they perform important functions.
They bring food to patients, bathe and dress them, keep their rooms clean, take vital signs and monitor the condition of a patient.
They also deal with setting up the medical equipment and assist doctors during procedures.
CNAs help patients with the activities which they can't do on their own.
Most nurses start their careers in the healthcare area as CNAs, which gives them the experience to handle difficult situations that can come up in the profession.
How to Become an LPN When You Are a CNA
For a CNA program, you need a high school diploma.
These programs can be completed within 2 weeks, or take 12 weeks if they are weekend-based or part-time.
LPN's work implies more power and responsibility.
Students should learn skills and have command over certain subjects.
They should learn such topics as medication administration, patients assessment, wound care, and catheter insertion.
CNA transitioning to LPNs always have some advantage over other students without any nursing background.
LPNs should possess critical thinking and problem-solving skills.
In the chosen school, you should be able to develop these skills together with academic knowledge.
Besides, the school should be state-approved and have a good NCLEX-PN pass rate.
Many are wondering if an LPN can legally work as a CNA.
Each state has different regulations on that.
An LPN can usually work as a CNA only under the condition stating that they should be CNA or MA certified.
In many states, though, LPN can work as CNAs without a certification.
Practitioners, however, should meet the standards of their license.
Difference Between CNA and LPN
Both positions have similar responsibilities and work settings, such as nursing homes, home health care, or medical facilities.
There are multiple differences between the professions related to certification, licenses, and responsibilities, however.
CNAs assist the nursing staff and do some basic nursing duties supervised by Registered Nurses or LPNs.
However, LPNs have additional tasks that they do under the supervision of RNs.
The training program for LPNs is longer than the CNA program.
Also, their salary is significantly higher.
LPN vs. CNA Licensing & Certification
Upon completion of the state-approved and accredited LPN program, the candidates should qualify for the National Council Licensure Examination (NCLEX-PN).
As they pass it, they can start working as an LPN.
On the other hand, CNAs should pass a state competency exam to be eligible to practice.
The criteria for the exam can vary from state to state, but it usually includes the minimum number of CNA training hours and a high school diploma or GED.
The CNA candidate should also demonstrate the TB test results and pass the background check before the exam.
After passing the examination, they are allowed to work as a CNA.
Comparison of Annual Salaries of CNAs and LPNs
According to the US BLS, as of May 2016, the mean salary of a CNA was $26,590.
LPNs made $44,840.
A few major factors influence the salary of both professionals.
They can include the employer, location, level of education, and experience.
However, it is reported that the salary of a CNA is lower than of an LPN.
Nurses can benefit from their CNA experience to acquire more education and get a higher-paying nursing job.
The salary comparison of CNAs and LPNs by state:
Alabama: CNA: $22,150; LPN: $36,100; Increase: 62.97%.
Alaska: CNA: $37,300; LPN: $54,400; Increase: 45.8%.
Arizona: CNA: $28,890; LPN: $49,970; Increase: 72.9%.
Arkansas: CNA: $22,070; LPN: $36,370; Increase: 64.7%.
California: CNA: $31,110; LPN: $51,870; Increase: 66.7%.
Colorado: CNA: $29,380; LPN: $47,530; Increase: 61.7%.
Connecticut: CNA: $31,890; LPN: $55,630; Increase: 74.4%.
Delaware: CNA: $28,360; LPN: $49,410; Increase: 74.2%.
District of Columbia: CNA: $32,680; LPN: $53,100; Increase: 62.5%.
Florida: CNA: $24,510; LPN: $42,320; Increase: 72.6%.
Georgia: CNA: $22,650; LPN: $38,820; Increase: 71.4%.
Hawaii: CNA: $30,780; LPN: $46,820; Increase: 52.1%.
Idaho: CNA: $24,340; LPN: $39,870; Increase: 63.8%.
Illinois: CNA $26,080; LPN: $47,190; 80.9%.
Indiana: CNA: $24,330; LPN: $40,730; 67.4%.
Iowa: CNA: $26,300; LPN: $39,730; Increase: 51.06%.
Kansas: CNA: $23,990; LPN: $40,040; Increase: 66.9%.
Kentucky: CNA: $24,480; LPN: $39,180; Increase: 60.04%.
Louisiana: CNA: $20,910; LPN: $37,960; Increase: 81.55.
Maine: CNA: $25,210; LPN: $42,410; Increase: 68.2%.
Maryland: CNA: $28,740; LPN: $51,140; Increase: 77.9%.
Massachusetts: CNA: $30,130; LPN: $54,160; increase: 79.7%.
Michigan: CNA: $27,990; LPN: $45,530; Increase: 62.66%.
Minnesota: CNA: $28,670; LPN: $42,440; Increase: 48.02%.
Mississippi: CNA: $21,290; LPN: $36,730; Increase: 72.5%.
Missouri: CNA: $23,880; LPN: $38,380; Increase: 60.72%.
Montana: CNA: $25,200; LPN: $39,490; Increase: 56.7%.
Nebraska: CNA: $25,330; LPN: $39,710; Increase: 56.7%.
Nevada: CNA: $32,710; LPN: $52,630; Increase: 60.8%.
New Hampshire: CNA: $29,740; LPN: $47,800; Increase: 60.7%.
New Jersey: CNA: $28,310; LPN: $53,300; Increase: 88.2%.
New Mexico: CNA: $26,750; LPN: $46,760; Increase: 74.8%.
New York: CNA: $33,390; LPN: $46,500; Increase: 39.2%.
North Carolina: CNA: $23,030; LPN: $41,940; Increase: 74.02%.
North Dakota: CNA: $29,520; LPN: $41,250; Increase: 39.7%.
Ohio: CNA: $25,150; LPN: $41,060; Increase: 63.2%.
Oklahoma: CNA: $22,890; LPN: $38,590; Increase: 68.5%.
Oregon: CNA: $30,140; LPN: $49,160; Increase: 63.1%.
Pennsylvania: CNA: $28,460; LPN: $44,570; Increase: 56.6%.
Puerto Rico: CNA: $19,400; LPN: $22,540; Increase: 16.2%.
Rhode Island: CNA: $29,090; LPN: $55,230; Increase: 89.8%.
South Carolina: CNA: $24,100; LPN: $39,410; Increase: 63.5%.
South Dakota: CNA: $24,290; LPN: $36,270; Increase: 49.3%.
Tennessee: CNA: $22,920; LPN: $37,270; Increase: 62.6%.
Texas: CNA: $24,550; LPN: $45,130; Increase: 83.8%.
Utah: CNA: $23,960; LPN: $43,110; Increase: 79.9%.
Vermont: CNA: $27,600; LPN: $45,830; Increase: 66.05%.
Virgin Islands: CNA: $24,560; LPN: $42,600; Increase: 73.5%.
Virginia: CNA: $25,100; LPN: $41,190; Increase: 64.1%.
Washington: CNA: $29,430; LPN: $49,980; Increase: 69.8%.
West Virginia: CNA: $24,080; LPN: $35,680; Increase: 48.1%.
Wisconsin: CNA: $27,420; LPN: $43,140: Increase: 57.3%.
Wyoming: CNA: $28,020; LPN: $44,080; Increase: 57.3%.
CNA to LPN Program Advantages
The CNAs joining the CNA to LPN program have an advantage over the students entering the LPN school directly.
The experience as a CNA gives them a better understanding of the nursing environment.
The duration of a program can be different from one college to another.
The benefits of CNA to LPN programs include:
Higher salary:


As stated above, the LPNs have a higher salary compared to the CNAs.
They make 59% more on average than the nursing assistants.

Increased knowledge:


Unlike CNA programs, the LPNs study specialty topics such as mental health, geriatrics, nutrition, medical administration, and focus more on clinical practice.

Further education:


LPNs have a lot more career prospects than CNAs.
The aspirants can then move up their career by taking the RN to BSN program.

Job satisfaction:


According to the Journal of Nursing Management survey, the nursing assistants working for a long time weren't satisfied with the job.
The CNA job is a stepping stone in the industry, and the candidates can expand their knowledge and advance their careers by enrolling in the LPN or other programs.
The LPNs don't have such a problem as there are multiple opportunities for growth in the area.
They can earn certifications in dementia, nephrology, or developmental disabilities.
CNA to LPN Transition
In some states, CNAs can transfer their credits to the LPN program.
Before going to a CNA to LPN bridge program, students should consider the following:
Select the Type of Program
Students should decide what kind of certification they opt for, a diploma, certificate, or associate's degree.
To obtain a diploma or certificate, they will enroll in courses that take almost a year to complete.
The associate's degree course lasts for two years.
The associate's degree is more beneficial, as, with it, you can transfer the credits to the RN to BSN program if you wish to study for an RN later on.
Review the State-Specific Education Requirements
As soon as a student picked the type of the course they wish to apply to, they should consider the course requirements of the state or college.
Typically, most colleges require the candidates to complete credits in Anatomy, Physiology, Math, Lifespan Psychology, and English.
To get the admission, the entrance test called TEAS (Test of Essential Academic Skills) should be completed.
Complete the Accredited Nursing Program
After students complete the required conditions of the college and get accepted to the program, they will study various subjects.
They include adult and child nursing, basic medical principles, and medical administration.
Attaining the Licensure
Upon completion of the program, students should apply for the licensure exam.
They should obtain the minimum score to get the license.
If they score less than the minimum requirement, they can take the test again after 45 days.
Working as an LPN
As they start working as an LNP, the candidates need to achieve a certain number of continuing education units required by the state.
This is necessary to keep the licensure active.
Admission Requirements
Admission requirements can differ depending on the school.
However, there are some basic criteria that have to be fulfilled.
The candidate should be at least 18 years of age.
Submission of college transcripts.
Proof of CNA program completion.
Documents showing good work history as a CNA.
Admission application and application fees.
The overall GPA should not be less than 2.0.
How Much Does It Cost
The CNA to LPN program costs can vary depending on the college.
The tuition fees range from $750 to $2,250.
There may be additional expenses involved such as books, supplies, uniforms, and labs.
Duration of the Program
CNA to LPN programs can take from nine to twelve months.
The training is usually divided into three sections: classroom studies, labs, and clinical practice.
The clinical experience can be gained in clinics, hospitals, and medical institutions.
Online CNA to LPN Programs
As an equivalent to traditional courses, an accredited online CNA to LPN program can deliver academic studies.
Students keep in touch with professors through online forum discussions, chats, real-time video lectures, and collaborative wikis.
The biggest advantages of the online program are convenience and flexibility.
Additionally, you can save on extra expenses for uniforms and transportations.
Also, students can spend more time on studies instead of worrying about those things.
Most colleges allow students to complete the tasks at their convenience.
However, some professors may require a particular time to be logged.
Course Curriculum
The curriculum of an online program doesn't differ from the traditional courses.
Aspiring LPNs will learn various subjects in theory and clinical sessions.
Medical Administration
Students learn the medicine and dosages of drugs that should be given to patients.
Communication in Nursing
LPNs should communicate with patients and their families.
Besides, practical nurses interact with senior doctors and health care teams on a regular basis.
They should learn medical terms and how to interact with people.
Health Assessment
Students should assess patients' conditions at different stages.
They also learn the methods of obtaining health histories of patients.
Clinical Skill Lab
Candidates should learn how to apply their theoretical knowledge in practice.
They learn such skills as decision-making and how to handle medical equipment.
Pathophysiology
This knowledge helps students determine the reaction of the body to diseases physiologically.
Besides, they learn the risk factors and pathophysiological processes.
Gerontology
LPNs learn the methods of treatment of elderly patients.
To provide proper care, they need to consider biological and emotional factors.
Career Scope After Being an LPN
After completing the LPN course, nurses have wider opportunities for employment.
Practical nurses can be employed in postpartum care, emergency rooms, or other health departments.
Although, you can also take additional courses and move up the career ladder.
The courses include:
Nursing Practitioner (NP).
Clinical Specialist Nurse (CSN).
Bachelor of Science in Nursing (BSN).
Certified Registered Nurse Anesthetist (CRNA).
Advanced Nursing Practice (ANP).
Certified Nurse Midwife (CNM).
All Nursing Bridge Programs