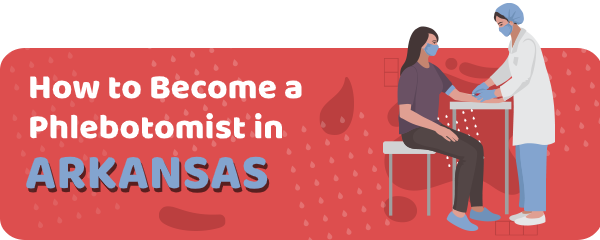 Phlebotomy technicians are responsible for drawing blood samples from the patients and the samples are used in the diagnostic process or for blood donation purposes.
Phlebotomists can work in various healthcare settings – hospitals, clinics, public community centers, private offices, insurance companies, etc.
To be able to perform the procedure properly, a phlebotomist needs to be knowledgeable about different techniques and methods of drawing blood.
Also, a technician must be familiar with diagnostic testing, safety policies, strict protocols for infection prevention, and much more.
Certification isn't mandatory in Arkansas, but it is useful.
Therefore, if you want to become a phlebotomist in Arkansas, you can enroll in some of the state-approved programs at accredited colleges or vocational schools to get a proper education.
Sponsored Listings
After you complete the program, you can pass the exam and get your certification.
The best training programs for phlebotomists in Arkansas are Conway, Fayetteville, Fort Smith, Hot Springs, Jonesboro, Little Rock, and several other cities.
How to Become a Phlebotomist in Arkansas?
Luckily, it is relatively straightforward to become a phlebotomist in Arkansas.
The most appreciated phlebotomy technicians are easy-going, friendly, and adaptable; they can handle different people and situations and work in various work settings.
Phlebotomists will be in close contact with sick people, thus it is useful to have a strong immune system if you want to work as a phlebotomist.
Next, phlebotomists need to pay attention to details and follow strict safety protocols and procedures.
To get the best possible education in the phlebotomy filed, you should enroll in the program approved by the Arkansas State Board of Certification (ASCP).
That way you can be sure that the program covers all aspects of modern phlebotomy.
Still, certification isn't mandatory, but you will have better job opportunities if you get certified.
Certification serves as proof to your potential employers that you have gained the necessary knowledge and skills and that you can start working with patients.
Certification Organizations in Arkansas
There are several organizations in Arkansas that are suitable for phlebotomists' certification.
For example, if you choose the National Center for Competency Testing, you will have to pass the certification exam.
It consists of 145 test questions that you need to answer in 2.5 hours.
Next, you can choose the organization American Medical Technologist.
You will also have to pass the exam, available in written or oral form, and to renew your credentials every three years.
Furthermore, the American Society for Clinical Pathology also certifies phlebotomists in Arkansas thorough examination.
The renewal period is ten years.
The American Society of Phlebotomy Technicians and the National Phlebotomy Association are also recognized in Arkansas.
Getting certified has great advantages, and most importantly, you will find the appropriate job easier.
Training Information
Training programs in Arkansas can last from three to six months, or longer.
To get accepted to the program, you will have to submit high school or GED transcripts and to pass criminal background and drug test.
Programs that include 40 hours of classroom education and 40 hours of practical training, alongside 100 venipunctures and 10 skin punctures will make you eligible for the certification examination.
When choosing a school, you should focus on practical experience.
Therefore, pick the schools that offer the most comprehensive and extensive practical exposure as possible.
Long and short programs in Arkansas are different in their intensity.
For example, shorter programs are intense and have classes every day.
On the other hand, longer programs can cover more advanced aspects of phlebotomy and have classes on the weekend or in the evenings.
Schools
More than ten schools in Arkansas offer phlebotomy training.
Program available at Arkansas College Of Health Careers can be completed in only five weeks.
Next, Arkansas Northeastern College has a phlebotomy program that emphasizes practical training and includes 120 hours of clinical internship.
Arkansas State University-Mountain is also a great choice for your education.
The available program for phlebotomists is equivalent to seven credit hours and covers all essential aspects of phlebotomy.
The Phlebotomy program at Arkansas Tech University-Ozark Campus offers a comprehensive education for future technicians and includes CPR training.
Phlebotomy Certificate of Proficiency at Black River Technical College is a 13-credit hour program.
The comprehensive training for phlebotomists available at  North Arkansas College consists of five courses that cover phlebotomy theoretical foundations and practical techniques.
| School Name | Address |
| --- | --- |
| Arkansas College Of Health Careers | 9714 West Markham, Little Rock, AR 72205 |
| Arkansas Northeastern College | 2501 South Division Street, Blytheville, Arkansas 72351 |
| Arkansas State University-Mountain | 1600 South College Street, Mountain Home, AR 72653 |
| Arkansas State University - Newport | 5504 Krueger Dr, Jonesboro, AR 72401 |
| Arkansas Tech University-Ozark Campus | 1700 Helberg Lane, Ozark, AR 72949 |
| Black River Technical College | P.O. Box 468, 1410 Highway 304 East, Pocahontas, AR 72455; 1 Black River Drive, Paragould, AR 72450 |
| North Arkansas College | 1515 Pioneer Drive, Harrison, AR 72601 |
| Petra Allied Health | 3889 Willowood Ave., Springdale, AR 72762; Greenpointe Center, 4300 Rogers Ave, Suite 42, Ft. Smith, AR 72903 |
| Phillips Community College | 1210 Rice Belt, DeWitt, AR 72042;1000 Campus Drive; P.O. Box 785, Helena-West Helena, AR 72342; 2807 Hwy. 165 South, Stuttgart, AR 72160 |
| Southeast Arkansas College | 1900 Hazel Street, Pine Bluff, AR 71603 |
| South Arkansas Community College | 300 South West Avenue, El Dorado, AR 71730; 3696 East Main Street, El Dorado, AR 71730 |
| University of Arkansas | 1 University of Arkansas, Fayetteville, AR 72701 |
Sponsored Listings
Salary
An average salary of a phlebotomist in Arkansas is $32.641 per year.
Salary depends on the city, employer, education, certification, etc.
Annual Salary Range: Annual Salary by Location:
| Location | Avg. Annual Salary |
| --- | --- |
| Little Rock | $32,894 |
| Fort Smith | $30,777 |
| North Little Rock | $32,894 |
| Fayetteville | $31,899 |
| Jonesboro | $32,550 |
| Pine Bluff | $31,676 |
| Springdale | $31,899 |
| Conway | $32,576 |
| Rogers | $31,708 |
| Hot Springs | $32,576 |
Regional Salary in Arkansas
| Region | Employed | Avg. Annual Salary | Avg. Hourly Pay | Top 10% Annual Salary | Bottom 10% Annual Salary |
| --- | --- | --- | --- | --- | --- |
| Fayetteville-Springdale-Rogers, AR-MO | 200 | $36,110 | $17.36 | $44,760 | $30,440 |
| Fort Smith, AR-OK | 100 | $32,460 | $15.61 | $38,680 | $27,380 |
| Jonesboro, AR | 70 | $34,090 | $16.39 | $40,570 | $29,700 |
| Little Rock-North Little Rock-Conway, AR | 390 | $35,110 | $16.88 | $39,070 | $29,200 |
* Salary information based on the May 2022 Occupational Employment Statistics (OES) Survey for Phlebotomists, OCC Code 31-9097, BLS.
* Employment conditions in your area may vary.
Phlebotomy Classes by State
---