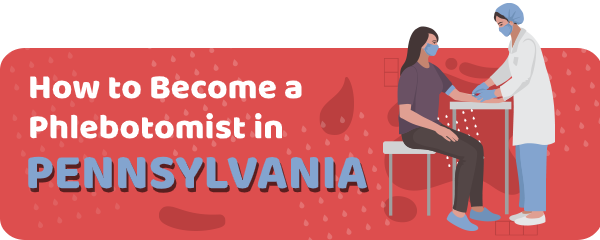 Are you interested in starting a medical career in Pennsylvania?
Then, you can become a phlebotomist and start your career in medical-allied filed on the right track.
The phlebotomist is a great career choice for anyone interested in working in a hospital setting, laboratory, physician's offices, or blood banks.
The primary task of a phlebotomist is to draw blood samples from patients for diagnostic purposes.
Blood tests can show if the patient suffers from some illnesses, diseases, deficiencies, etc.
Also, results from blood tests serve to prevent the development of certain conditions.
Sponsored Listings
In Pennsylvania, there are many certifications and training programs for future phlebotomists.
There is a growing need for phlebotomists all around the country, thus there are plenty of open job positions for qualified technicians.
Also, the career outlook in the field of phlebotomy looks excellent.
There is a huge growth rate expected for the phlebotomy in the next two to ten years.
Philadelphia, Pittsburgh, Lancaster, Erie, Danville, Denver, and Frackville have the best opportunities for phlebotomists in terms of employment and salary.
Responsibilities of a Phlebotomist
The primary responsibility of a phlebotomist is to draw blood.
However, phlebotomy is more than just blood collection.
Phlebotomists collect other specimens such as urine and tissue samples.
After collection, phlebotomist handle, store, and organize transport of the samples following strict procedures.
Also, phlebotomy technicians need to be knowledgeable about safety guidelines that will keep safe the patient and the technician from the infection spreading.
They also need to be familiar with the cleanliness procedures and all sanitary supplies, laboratory equipment handling, and best practices.
Because they work in a medical field, phlebotomists need to know basic medical terminology, so that they can follow the physician's instructions properly.
Data entry and clerical work are integral parts of the phlebotomist's duties.
Because the phlebotomist job is important and complex in some ways, you should take proper training, that will prepare you for the role.
This is why taking a phlebotomy training course is so important.
Job Opportunities for Phlebotomists
Having a certification in phlebotomy puts you on the right track for getting the best positions in healthcare facilities.
Therefore, if you decide to pursue your certification, you will have less trouble finding an adequate job for you in the field.
You can apply for the job in any healthcare facility, including the following:
All hospitals departments (ER, NICU, surgery pre-op, etc.)
Urgent care clinics
Blood laboratory
Home health agencies
Community clinics
Doctor's offices
Mobile clinics
Nursing homes
Skilled and qualified phlebotomists are highly appreciated across the state.
How to Get Certified in Phlebotomy in Pennsylvania?
There are certain steps you need to complete to earn your phlebotomy certification.
The first step is to find an appropriate and approved phlebotomy training course at some of the colleges and vocational schools in the state.
The programs cover similar topics and have similar curriculums, but some are tailored to prepare you for the certification examination.
The majority of them consist of theoretical lectures, laboratory exercises, and clinical rotations.
You can even find online theoretical lectures as part of some programs.
You should also find out what the prerequisites are for the schools.
The largest portion of the schools has a minimum of prerequisites.
Those include being older than 18 years and having a high school diploma.
Additionally, some schools require the students to have CPR certification and prove of being up to date with their immunizations.
Generally, during the program, you will complete a minimum of 100 blood draws on patients.
National Certification in Pennsylvania
Pennsylvania doesn't require phlebotomists to hold national certification to be allowed to work.
However, phlebotomists are highly encouraged to obtain their certifications.
The certification should be obtained through one of the national certification agencies recognized in Pennsylvania:
American Medical Technologists
American Society of Clinical Pathologists
National Center for Competency Testing
National Health Career Association
The certification process includes completing an appropriate program and passing the adequate certification exam.
Once you are granted with phlebotomy certification, you will have to maintain it and renew it occasionally.
The renewal cycle is different and depends on the certification agency, but the minimum duration is two years.
You need to keep track of the renewal date if you want to skip troubles at work and even, negotiate a salary increase.
Schools
There are plenty of school options for your phlebotomy training in Pennsylvania.
For example, you can find the following schools in Pittsburgh:
Institute of Medical and Business Careers (IMBC)
Phlebotomy Training Center
Community College of Allegheny County
Next, you can choose a Phlebotomy certificate program at Bucks Community College or Community College of Philadelphia.
Harcum College, Harrisburg Area Community College, Lackawanna College also offer comprehensive training for future phlebotomists.
| School Name | Address |
| --- | --- |
| Bucks Community College | 275 Swamp Road, Newton, PA 18940 |
| Butler County Community College | PO Box 1203, Butler, PA 16003 |
| Community College of Allegheny County | 800 Allegheny Avenue, Pittsburgh, PA 15233 |
| Community College of Beaver County | Monaca (1 Campus Drive, Monaca, PA 15061); Beaver Falls (125 Cessna Drive, Beaver Falls, PA 15010) |
| Community College of Philadelphia | 1700 Spring Garden Street, Philadelphia, PA 19130 |
| Delaware County Community College | 901 S. Media Line Rd, Media, PA 19063 |
| Fortis Institute | Forty Fort (166 Slocum Street, Forty Fort, PA 18704); Scranton (517 Ash Street, Scranton, PA 18509) |
| Harcum College | 750 Montgomery Ave. Bryn Mawr, PA 19010-3476 |
| Harrisburg Area Community College | Harrisburg (1 HACC Drive, Harrisburg, PA 17110); also available at Gettysburg, Lancaster, Lebanon and York Campuses |
| Institute of Medical and Business Careers (IMBC) | 5739 W 26th Street Erie, PA 16506; 133 Jefferson Road Pittsburgh, PA 15235 |
| Lackawanna College | 501 Vine Street, Scranton, PA 18509 |
| McCann School of Business & Technology | Allentown (2200 N Irving Street, Allentown, PA 18109); Carlisle (346 York Rd, Carlisle, PA 17013); Dickson City (2227 Scranton Carbondale HWY, Dickson City, PA 18519); Hazle Twp (370 Maplewood Drive, Hazle Twp, PA 18202); Pottsville (2650 Woodglen Road, Pottsville, PA 17901); Sunbury (1147 N 4th Street, Sunbury, PA 17801); Wilkes-Barre (264 Highland Park Boulevard, Wilkes-Barre, PA 18702) |
| Montgomery County Community College | Blue Bell (340 DeKalb Pike, Blue Bell, PA 19422) Pottstown (101 College Drive, Pottstown, PA 19464) |
| Phlebotomy Institute of Central PA | 125 Puddintown Road, State College, PA 16803 |
| Phlebotomy Training Center | PO Box 8184, Pittsburgh, PA 15217 |
| Reading Area Community College | 10 South Second Street, Reading, PA 19603 |
| Venango College - Clarion University | 840 Wood Street, Clarion, PA 16214 |
Salary
An average salary of a phlebotomist in Pennsylvania per year is 35.321$.
Salary depends on facility type, education, experience, certification, etc.
Annual Salary Range: Annual Salary by Location:
| Location | Avg. Annual Salary |
| --- | --- |
| Philadelphia | $38,018 |
| Pittsburgh | $34,861 |
| Allentown | $35,286 |
| Erie | $32,692 |
| Upper Darby | $38,018 |
| Reading | $35,105 |
| Scranton | $32,667 |
| Bethlehem | $35,286 |
| Merion Station | $38,018 |
| Bensalem | $39,969 |
Phlebotomy Classes by State
---