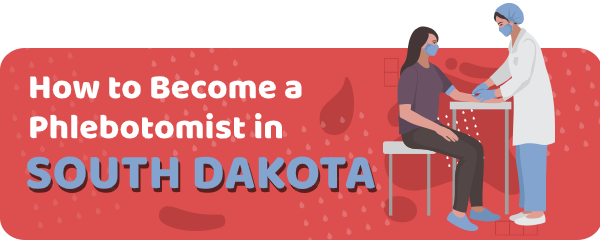 The field of phlebotomy is one of the fastest-growing career fields in the USA.
Earning a certification in phlebotomy is much shorter than in other medical fields, but still, takes time and a great deal of commitment.
If you live in South Dakota and you want to pursue a career as phlebotomists, there are a few things you should know about training, skills, schools, certifications, etc.
Steps Towards Phlebotomists Career
First of all, you need to become familiar with job requirements and descriptions in your state.
If taking blood makes you uncomfortable, then you should choose something else.
The next step is to find appropriate training that will fit your schedule and expectations.
Sponsored Listings
Some colleges offer training that will make you eligible to pass the certification exam, while other schools have a two-year associate degree program.
Further, once you complete the training, and internship program you will have to sit for the certification examination.
The examination evaluates your theoretical and practical knowledge.
Training Selection
You might wonder how to pick the proper training if you have so many options.
If you are employed or have to take care of your family, you can consider enrolling in an evening course, weekend course, or online education.
That way you can continue with your daily tasks and still get a proper education in phlebotomy.
The courses often have defined prerequisites.
On the other hand, some programs require you to be over 18 and a high school diploma.
Other programs may include the following prerequisites:
A valid CPR certification
Passing the drug and criminal background test
Proof of immunizations
Some students may need to get some boosters if they missed some vaccinations.
If you are looking for an educational program for phlebotomy in South Dakota, make sure that the program is properly accredited.
Accredited programs ensure that you receive the best training and education that will prepare you for the job.
Training
There are plenty of training options for phlebotomists in South Dakota offered by clinics and vocational schools.
The duration of the program varies, and for example, the certification program may last from nine to 12 months.
After you complete the program, you need to go through the certification process offered by the American Society of Clinical Pathology.
There are several areas you need to be trained in for your phlebotomist career.
Those include:
Basic medical terminology
Patient care
Procedures for drawing blood from fingers, veins, and other areas like on the heels of infants
Safety procedures
Infection control
Handling of specimens
Patient privacy and potential legal concerns
Additionally, the part of the course may be drawing blood from the actual patients.
To pass the course, you will need to draw blood from 100 patients under supervision.
Required Skills
Patient management is one of the primary skills in phlebotomy.
The phlebotomist needs to be friendly and compassionate while performing its tasks.
The required skills include venipuncture, bandaging, and lab samples preservation.
Moreover, the phlebotomist needs to have knowledge about human anatomy and physiology, to be familiar with veins and alternate entry points.
Additionally, the phlebotomists need to know about laboratory best practice and data security, puncture site identification, etc.
Schools
Let's have a short overview of educational institutions that offer phlebotomist programs.
Two schools offer appropriate training for phlebotomists in South Dakota.
The Southeast Technical Institue in Sioux Falls offers a Phlebotomy/Patient Care Technician Diploma Program for aspiring phlebotomists.
The program focuses on drawing blood specimens procedures, transport, testing for diseases, and illnesses.
Also, the students will learn how to apply tourniquets to arms, locate veins, swab puncture areas, insert needles, etc.
Some of the courses include Computer Essentials, Basic Anatomy, Health Care Human Relations, Patient Care Techniques I, Patient Care Technique, etc.
Those who complete the course may work in hospitals and blood banks.
The second option is Western Dakota Tech in Rapid City.
The institution offers a Phlebotomy/Laboratory Assistant Program.
The program includes education in collecting, transporting, handling, testing, analyzing blood specimens.
Also, those who complete the program will be trained in infection control, equipment identification, safety policies, and procedures, communication skills, etc.
The program is equivalent to 33 credit hours and lasts nine months.
The work setting for the students who complete the program can be hospitals, clinics, physicians' offices, blood banks, medical laboratories, etc.
| School Name | Address |
| --- | --- |
| Southeast Technical Institute | 2320 N Career Ave, Sioux Falls, SD 57107 |
| Western Dakota Tech | 800 Mickelson Drive, Rapid City, SD 57703 |
Salary
The living costs in South Dakota are relatively low, compared to some other states.
Location, education, skills, and experience as well as living costs affect the salary of a phlebotomist.
The average annual salary of phlebotomists in South Dakota is $29,961.
The salary is below the national average for the USA.
Annual Salary Range:
Annual Salary by Location:
| Location | Avg. Annual Salary |
| --- | --- |
| Sioux Falls | $30,296 |
| Rapid City | $30,717 |
| Aberdeen | $28,845 |
| Watertown | $30,487 |
| Brookings | $30,487 |
| Mitchell | $30,487 |
| Pierre | $29,375 |
| Yankton | $29,807 |
| Huron | $29,666 |
| Vermillion | $29,128 |
Phlebotomy Classes by State
---