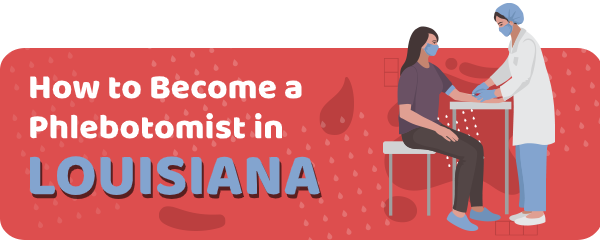 The career of a phlebotomist in the state of Louisiana is one of the most prospect careers in this part of the USA.
Current trends in Louisiana and other states, lead to the growing demand for phlebotomists in all healthcare facilities, including hospitals, laboratories, and private offices.
The role of phlebotomists includes tasks such as drawing, collecting, storing, and testing patients' blood samples.
Some states don't require phlebotomists to be certified to get employment, but the state of Louisiana does require.
Aspiring phlebotomists in Louisiana need to complete training, approved by the Louisiana State Board of Medical Examiners.
Luckily, there are plenty of appropriate courses available at vocational schools and colleges in Louisiana.
Sponsored Listings
Prerequisites for a Phlebotomy Training
Louisiana and two other states require phlebotomists to be certified to get allowed to work.
The training for a phlebotomy technician in Louisiana usually lasts around 12 weeks.
However, it may be different due to different schedules at colleges.
There are two approved and recognized certification organizations in Louisiana.
Those are:
The American Society of Clinical Pathologists
The National Phlebotomy Association
Both organizations set their own prerequisites for practical hours requirement and number of performed venipunctures.
Therefore, the American Society of Clinical Pathologists requires a student to complete at least 40 hours of classroom instructions, 100 hours of practical tasks, and to perform 100 successful venipunctures.
The requirements of the National Phlebotomy Association are slightly different.
Thus, students need to complete 160 hours of classroom instructions and enroll in the internship program to be certified through the NPA.
Necessary Skills
To become a phlebotomist, you will need to develop a specific skill set.
Phlebotomists need to be skilled in various methods of drawing blood, including alternative methods.
Next, they need to be able to properly manage, store, and transport blood samples.
Also, phlebotomists need to have basic computer skills, to be able to update a patient's medical records.
Additionally, a phlebotomist needs to be able to communicate properly and to handle potential emergencies and calm the patient, if necessary.
Where can a Phlebotomist Work in Louisiana?
In all states, the phlebotomists are highly appreciated and there is a growing demand for skilled phlebotomists.
That is why they have plenty of employment options.
For example, a phlebotomist may work in various hospital and clinic departments.
Therefore, a phlebotomist may work in the ER, NICU, or in surgery pre-op.
Next, community health centers also need phlebotomists who will work with patients of all ages.
Compassionate phlebotomists are highly respected in nursing homes.
Phlebotomists working in nursing homes need to be skilled in taking blood from patients with thin veins.
That is why proper training is very important.
Additionally, phlebotomists can get employed at blood donation centers and they will have a busy schedule working with plenty of patients daily.
Urgent care facilities and home health care services often need qualified phlebotomists.
The certification is an excellent entry ticket for the majority of healthcare facilities that need phlebotomists.
The benefits of getting certified include the ability to be recognized and work in the majority of US states.
Additionally, bear in mind that you need to renew your phlebotomy certification every two years to be able to work.
Schools
Aspiring phlebotomists in Louisiana has a wide range of schools with great training.
For example, Acadiana Area Career College includes comprehensive phlebotomy training that covers venipuncture procedures, CPR, medical terminology, etc.
Phlebotomist training at Bossier Parish Community College consists of a preclinical and clinical portion of the program.
Crescent City Career Institute also has a high-quality program for future phlebotomy technicians.
The phlebotomy training at Delgado Community College can be completed in one semester and is equivalent to the 12 total credit hours.
Delta School of Business and Technology (Delta Tech)is a common choice for many phlebotomy students because of the convenient curriculum.
Fletcher Technical Community College has 16-credit phlebotomy training.
Next, the Phlebotomy technician program at Healthcare Training Institute coves anatomy, physiology, phlebotomy practice, infection control, venipuncture procedures, etc.
Lake Charles Memorial Health System offers an eight-week training program for phlebotomists with a focus on practical experience.
Northwest Louisiana Technical College has a Technical Competency Area (TCA) certificate program.
Find more information on phlebotomy training in the table.
| School Name | Address |
| --- | --- |
| Acadiana Area Career College | 505 Loire Avenue Lafayette, LA 70507 |
| Ayers Career College | 8820 Jewella Avenue | Shreveport, Louisiana 71108 |
| Bossier Parish Community College | 6220 East Texas Bossier City, LA 71111 |
| Crescent City Career Institute | 429 Wall Blvd Gretna, LA 70056 |
| Delgado Community College | City Park Campus-615 City Park Avenue New Orleans, LA 70199 West Bank Campus-2600 General Meyer Avenue New Orleans, LA 70114 |
| Delta School of Business and Technology (Delta Tech) | 517 Broad Street Lake Charles, LA 70601 |
| Fletcher Technical Community College | 1407 Highway 311 Schriever, LA 70395 |
| Franciscan Missionaries of Our Lady University | 5414 Brittany Drive Baton Rouge, LA 70808 |
| Healthcare Training Institute | 322 Williams Blvd., Kenner, LA 70062 |
| Lake Charles Memorial Health System | 1701 Oak Park Boulevard, Lake Charles, LA 70601 |
| Northwest Louisiana Technical College | Mansfield Campus-943 Oxford Road P.O. Box 1236 Mansfield, LA 71052 Natchitoches Campus- 6587 Highway 1 Bypass P. O. Box 657 Natchitoches, LA 71457 Minden/Main Campus- 814 Constable Street P.O. Box 835 Minden, LA 71058-0835 |
| Southern University at Shreveport | Martin Luther King Jr. Drive Shreveport, LA 71107 |
| St. Agatha Career School | 7078 Read Blvd. New Orleans, LA 70127 |
| Unitech Training Academy | Lake Charles Campus-2827 4th Avenue Lake Charles, LA 70601 Lafayette Campus-3605 Ambassador Caffery Pkwy. Lafayette, LA 70503 Hourna Campus-1227 Grand Caillou Road Houma, LA 70363 Alexandria Campus-7228 England Drive Building 1912 Alexandria, LA 71303 |
| University of Louisiana at Monroe | 700 University Ave., Monroe, LA 71209 |
Salary
An average annual salary of a phlebotomist in Louisiana is $33.906.
The salary is calculated using factors such as education and experience level, certification, facility policies, etc.
Annual Salary Range:
Annual Salary by Location:
| Location | Avg. Annual Salary |
| --- | --- |
| New Orleans | $35,135 |
| Baton Rouge | $32,908 |
| Shreveport | $32,539 |
| Lafayette | $32,517 |
| Lake Charles | $32,072 |
| Kenner | $35,116 |
| Bossier City | $32,539 |
| Monroe | $32,370 |
| Alexandria | $31,357 |
| New Iberia | $32,329 |
Phlebotomy Classes by State
---