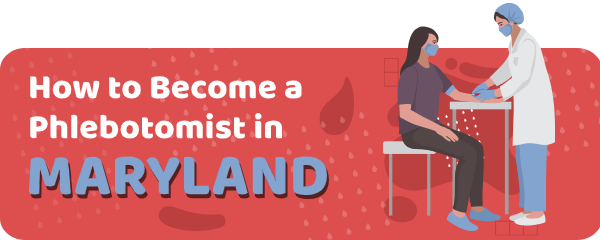 Becoming a phlebotomist in Maryland is an excellent idea.
There are excellent job opportunities in the field and Maryland is one of the wealthiest states, so the salary of a phlebotomist is higher than a national average.
Phlebotomists need to be skilled in various procedures that include drawing blood from the patients, testing samples, handling them, transporting them, and storing.
Additionally, they must be familiar with human anatomy and physiology and can handle emergencies.
Keep reading to learn more about how to become a phlebotomist in Maryland.
Phlebotomists Requirements in Maryland
You will need a specific skill set to become a phlebotomist.
Sponsored Listings
Generally, phlebotomists are expected to be friendly and flexible, and able to handle various types of people.
Therefore, customer service skills are very useful for the phlebotomists' role.
Generally, phlebotomists need to be healthy and to have a strong immune system, because they will be in contact with people who have different conditions and illnesses.
Knowing about safety procedures is a must to prevent spreading illnesses.
Maryland state regulations don't require phlebotomists to be certified to get employed.
However, the majority of healthcare facilities require phlebotomists to have an official certificate.
In Maryland, most employers don't provide on-site training, so you will have to enroll in some training program at an accredited school.
The certification allows you to work in blood banks, hospitals, clinics, and anywhere else where you need to collect and prepare samples for laboratory work.
Certification Agencies in Maryland
National certification in Maryland can be obtained through several agencies.
Those are:
National Center for Competency Testing – the test consists of 145 questions, which you have to complete it in 2.5 hours
American Medical Technologists – to take the test you need to have work experience
American Society for Clinical Pathology – offers PBT and ASCP certification, and require training or work experience
American Society of Phlebotomy Technicians – to get certified you will have to pass the practical exam
National Phlebotomy Association the test can be taken in written or in oral form
Phlebotomy Certification Requirements in Maryland
Future phlebotomists need to complete a diploma program for the role.
Usually, the phlebotomist programs take three to six months to complete, but there are longer courses as well.
All students are required to submit high school or GED transcripts.
In Maryland, passing a background check and drug test is mandatory to be admitted to the program.
Next, students are expected to complete 40 hours of classroom instruction and 40 hours of practical training.
Lastly, students need to prove that they are capable of do perform 100 venipunctures and ten skin punctures to become eligible for the certification.
In general, phlebotomy certification differs from postsecondary certifications – entry-level credentials.
It is because phlebotomists are required to pass specialized training in an accredited organization.
In Maryland, students have several programs to choose from for phlebotomy education.
Pick the program that matches your geographic location, or the program that suits your education expectations.
There are many phlebotomy training programs available in Maryland so your choices should be focused on where you live and what level of training you want to receive. Please see the listings below for schools providing accredited training programs for phlebotomy certification Maryland.
Schools in Maryland
There are plenty of schools in Maryland that offer suitable training for aspiring phlebotomists.
For example, Allegany College of Maryland offers great training that covers a variety of topics such as laboratory practice, sample handling, performing cardiograms, venipunctures procedures, etc.
Carroll Community College and Frederick Community College have courses that prepare students for taking the national certification exam.
The Phlebotomy Technician Training Program at the College of Southern Maryland can be completed in less than a year.
Hagerstown Community College includes a phlebotomists program that is equivalent to 15 credit hours.
Students who enroll in the phlebotomist training at Montgomery College become eligible to sit for the national exam.
Stein Academy is an excellent school for medical workers of all profiles.
Wor-Wic Community College offers training for future phlebotomists that are divided into three sections.
Prince George's Community College, Harford Community College, and Frederick Community College are also great options.
The phlebotomist workshops are part of the program at Doctor's Help institution.
Check the table for more information.
| School Name | Address |
| --- | --- |
| Allegany College of Maryland | Cumberland Campus-12401 Willowbrook Road Cumberland, MD 21502 |
| Allied Health, LLC | 2500 N. Rolling Road Windsor Mill, MD 21244 Suite 202 |
| Anne Arundel Community College | 101 College Parkway Arnold, MD 21012-1895 |
| Carroll Community College | 1601 Washington Road Westminster, MD 21157 |
| Chesapeake College | P.O. Box 8 Wye Mills, MD 21679 |
| College of Southern Maryland | 8730 Mitchell Road PO Box 910 La Plata, MD 20646-0910 |
| Community College of Baltimore County | 7201 Rossville Boulevard, Baltimore, MD 21237-3899; 11101 McCormick Road, Baltimore, MD 21031; Liberty Center, 3637 Offutt Road, Randallstown, MD 21133 |
| Doctor's Help | Southern MD-Gateway East Medical Building-6188 Oxon Hill Road National Harbor, MD 20745 Baltimore- Saint Agnes Hospital Medical Center-3455 Wilkens Ave Baltimore, MD 21229 |
| Frederick Community College | 7932 Opposumtown Pike Frederick, MD 21702 |
| Gandhi Health Career Services | 1400 Reisterstown, RD Suite B. Pikesville, MD 21208 |
| Hagerstown Community College | 11400 Robinwood Drive Hagerstown, MD 21742 |
| Harford Community College | 401 Thomas Run Road Bel Air, MD |
| Montgomery College | Takoma Park/ Silver Spring Campus Health Sciences Institute 7977 Georgia Avenue Silver Spring, MD 20910 |
| Prince George's Community College | 301 Largo Road Largo, MD 20774-2199 |
| Stein Academy | 600 Reisterstown Rd Baltimore, MD 21208 |
| Wor-Wic Community College | 32000 Campus Drive Salisbury, MD 21804 |
Sponsored Listings
Salary
Maryland is one of the top paying states for all medical workers, including phlebotomists.
Therefore, the average annual salary of a phlebotomist in Maryland is $36.491.
Annual Salary Range:
Annual Salary by Location:
| Location | Avg. Annual Salary |
| --- | --- |
| Baltimore | $36,383 |
| Frederick | $37,877 |
| Gaithersburg | $39,062 |
| Bowie | $39,086 |
| Rockville | $39,121 |
| Hagerstown | $35,848 |
| Annapolis | $37,405 |
| College Park | $39,168 |
| Salisbury | $37,654 |
| Cumberland | $32,476 |
Regional Salary in Maryland
| Region | Employed | Avg. Annual Salary | Avg. Hourly Pay | Top 10% Annual Salary | Bottom 10% Annual Salary |
| --- | --- | --- | --- | --- | --- |
| Baltimore-Columbia-Towson, MD | 1,520 | $43,000 | $20.67 | $49,990 | $34,420 |
| Cumberland, MD-WV | 60 | $34,570 | $16.62 | $37,100 | $30,750 |
| Hagerstown-Martinsburg, MD-WV | 70 | $40,410 | $19.43 | $45,090 | $32,060 |
| Salisbury, MD-DE | 150 | $39,200 | $18.85 | $46,920 | $36,240 |
* Salary information based on the May 2022 Occupational Employment Statistics (OES) Survey for Phlebotomists, OCC Code 31-9097, BLS.
* Employment conditions in your area may vary.
Phlebotomy Classes by State
---