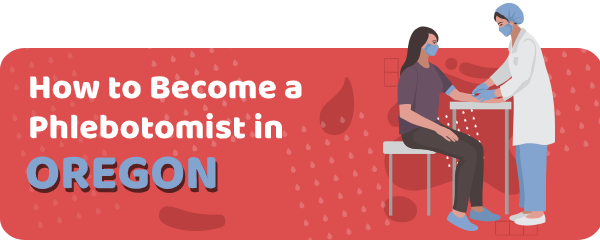 If you want to start a career in Oregon and you are not afraid of blood, then choosing phlebotomy might be a great decision.
Phlebotomsit's primary duty is to draw blood samples from the patients.
Further, the samples are assessed for different diagnostic tests.
Therefore, they can be used to diagnose and choose proper treatment for various diseases, illnesses, and deficiencies.
Because phlebotomist are highly important for the proper treatment, they need to be skilled and qualified for the role.
Phlebotomists have lots of possible work settings, and according to website Indeed.com, there are 75+ open positions for phlebotomists in Oregon.
Sponsored Listings
Cities such as Portland, Eugene, Salem, Gresham, Bend, Springfield, and a few others are excellent locations for future phlebotomists.
The career outlook for phlebotomists looks great, and there is a high growth rate expected for the field in the next several years.
If you want to learn how to become a phlebotomist in Oregon, keep reading!
How to Become a Phlebotomist in Oregon?
Starting your career as a phlebotomist in the state of Oregon is relatively simple.
The most appreciated phlebotomy technicians are easy-going, friendly, and cooperative.
They can deal with different people and handle various situations.
Importantly, phlebotomists pay attention to details, safety procedures, and cleanliness.
Also, because phlebotomists are in close contact with lots of sick people, having a strong immune system is highly appreciated.
Phlebotomy certification isn't mandatory in Oregon.
However, getting certified in Oregon is useful for many reasons.
Certification proves that you have completed appropriate training and that you have gained the necessary knowledge and skills for the role.
Also, the majority of reputable healthcare facilities prefer to hire certified phlebotomists.
Therefore, if you have lots of experience in working as a phlebotomist, nowadays you might have issues in the job finding process.
Students who complete the training course, pass the certification exam, and receive their certification can apply for job positions at hospitals, medical laboratories, blood banks, home health agencies, community clinics, etc.
National Certification Agencies in Oregon
Several national certification agencies are recognized in Oregon.
Therefore, if you decide to get certified, make sure to complete the process at one of the following agencies.
For example, to get certified through the National Center for Competency Testing, you will have to answer 145 questions in less than 2.5 hours.
Also, you will have to provide proof of clinical competency.
Next, the organization American Medical Technologists also certifies phlebotomists.
It requires passing the written or oral exam, and the renewal cycle is three years.
Further, the American Society for Clinical Pathology is also a suitable choice.
In this agency, the renewal cycle is ten years.
The last two options for phlebotomy certifications are the American Society of Phlebotomy Technicians and the National Phlebotomy Association.
Get Certified in Oregon
Obtaining your certification in Oregon is useful because you are becoming much valuable candidate.
To get eligible for the certification, you will have to complete a diploma program.
The duration of the program depends on the school and course intensity.
Phlebotomy training in Oregon usually lasts from three to six months.
However, some comprehensive courses may last longer.
In general, to get accepted to the program you need to submit your high school or GED transcripts.
Also, students need to pass a background check and drug test.
To get eligible for the certification, you need to complete at least 40 hours of classroom instructions and 40 hours of practical training.
During that time, you will have to perform 100 venipunctures and 10 skin punctures.
It is important to pick the school that emphasizes practical exposure as much as possible.
Despite not having legal requirements for phlebotomists, those who try to find a job after high school graduation without training will experience difficulties.
All healthcare agencies prefer those who have completed some kind of phlebotomy training, and especially those who hold national certification issued by a recognized agency.
Professional phlebotomy certification is different from entry-level credentials because it certifies that you have completed necessary and specialized training through an accredited organization.
In Oregon, there are numerous training courses.
When choosing a program, you should read detailed descriptions to find the one that fits your schedule, meet your educational standards, and include many hours of clinical rotations and laboratory exercises.
Make sure to take the course at an accredited school.
Schools
Abdill Career College, Inc. offers a great program for future phlebotomists in Medford.
Students who complete Lane Community College are eligible to take the certification examination.
If you want an accelerated, short-term phlebotomy program, you can study at Linn-Benton Community College.
Great options for phlebotomy education are programs at Oregon Medical Training, Inc., Portland Community College, and Rogue Community College.
Check the table for more information.
| School Name | Address |
| --- | --- |
| Abdill Career College, Inc. | 843 E. Main Street, Medford, OR 97504 |
| Lane Community College | 1059 Willamette St., Eugene, OR 97401 |
| Linn-Benton Community College | 6500 Pacific Blvd. SW, Albany, OR 97321 |
| Oregon Medical Training, Inc. | 1126 Gateway Loop, Springfield, OR 97477 |
| Portland Community College | 1626 SE Water Ave, Room 114, Portland, OR 97214 |
| Rogue Community College | Redwood Campus, 3345 Redwood Hwy., Grants Pass, OR 97527; Riverside Campus, 117 S. Central, Medford, OR 97501; Table Rock Campus, 7800 Pacific Ave., White City, OR 97503 |
| Rogue Valley Phlebotomy School | PO Box 189, Medford, OR 97501 |
| Southwestern Oregon Community College | 1988 Newmark Avenue, Coos Bay, OR 97420 |
| West Coast Phlebotomy, Inc. | 1678 Beavercreek Rd., Suite N, Oregon City, OR 97045 |
Salary
An average salary of a phlebotomist in Oregon is $35.251 per year.
The salary depends on various elements – location, experience, facility type, certification, etc.
Annual Salary Range: Annual Salary by Location:
| Location | Avg. Annual Salary |
| --- | --- |
| Portland | $36,992 |
| Eugene | $34,691 |
| Salem | $35,707 |
| Gresham | $36,945 |
| Beaverton | $36,992 |
| Hillsboro | $36,874 |
| Medford | $33,158 |
| Springfield | $34,436 |
| Bend | $34,210 |
| Corvallis | $34,875 |
Phlebotomy Classes by State
---