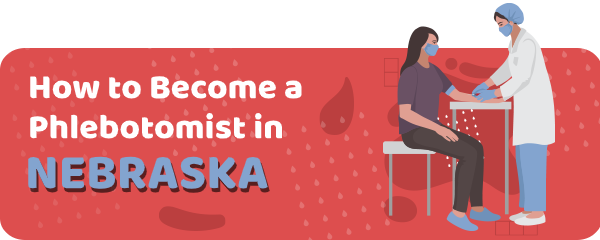 Starting a career in the medical field as phlebotomists is a great idea in all states, including Nebraska.
You can start your education immediately, through some of the programs available across the state.
Phlebotomists are in charge of drawing blood from patients and collecting blood samples.
The samples are further used for identifying illnesses and diseases.
Phlebotomists are often employed in hospitals, clinics, and blood banks.
All health care facilities prefer phlebotomists who have completed specialized training or hold national certification issued by some of the approved agencies in Nebraska.
Sponsored Listings
Cities such as Omaha, Ainsworth, Cambridge, Dakota City, Fairbury, Henderson, and Lincoln are in higher demand for phlebotomists.
Phlebotomist Requirements in Nebraska
Nebraska state regulations don't have special requirements for becoming phlebotomists.
Moreover, you don't even need to hold certification to get employed.
On the other hand, if you decide to skip certification, you can expect to have trouble finding a job.
It isn't impossible to get employed as a phlebotomist without certification, but it is challenging.
Therefore, it is highly useful to complete the certification program and prepare for the certification exam.
Additionally, you should choose only programs offered at accredited schools.
In general, phlebotomy is a suitable career option for people who are friendly, patient, and easy-going.
Great customer service skills are highly appreciated for phlebotomists because phlebotomists deal with different people and handle different situations.
Next, people with a low immune system may want to skip phlebotomy as a career, because phlebotomists are in close contact with ill people.
Therefore, it is highly important to follow the safety procedures and guidelines to avoid infections spreading.
The majority of Nebraska phlebotomists work in blood banks, medical laboratories, hospitals, and private clinics.
Certification Agencies in Nebraska
Employers in Nebraska accept certification issued by several national agencies.
For example, the certification at the National Center for Competency Testing is exam-based and includes 145 test questions.
For this certificate, you need to show proof of clinical competency.
Next, the American Medical Technologists offer phlebotomy certifications as well.
You can also get certified through the American Society for Clinical Pathology as well.
The certification needs to be renewed every ten years.
Lastly, the American Society of Phlebotomy Technicians and the National Phlebotomy Association also offer a phlebotomy certificate.
A certified phlebotomist is a better candidate for the role and can negotiate a higher starting salary.
The simplest way to get certified is to pass the diploma program training in Nebraska and pass the certification exam.
The programs usually last from three to six months.
Most commonly, the training includes 40 hours of classroom instructions and at least 40 hours of practical training.
Additionally, 100 venipunctures and 10 skin punctures are integral parts of all Nebraska training.
The last step is passing the national exam.
To apply, you will have to submit your high school or GED transcripts and pass a criminal background and drug test.
Phlebotomists' skills
The phlebotomist role is focused on practical skills but includes theoretical knowledge as well.
Phlebotomists are required to have a solid knowledge of various entry points, human anatomy, and physiology, etc.
They need to be familiar with laboratory best practices and safety procedures.
Phlebotomists need to be friendly and cooperative as they will be part of a larger medical filed.
Because they will work with different people types, they need to be able to calm them to perform the drawing correctly.
Schools
There are several schools with appropriate phlebotomy training courses in Nebraska.
Bryan College of Health Sciences has an excellent phlebotomy training course.
The program covers all important filed including human anatomy, physiology, phlebotomy procedures, specimen handling, safety guidelines, and policies.
The College is located in Lincoln and has an education tradition long almost one century.
The second school with phlebotomy training in Nebraska is Nebraska Methodist College,
The College offers a Certificate program for future phlebotomists.
It is located in Omaha and includes accelerated training and standard training.
Therefore, the accelerated training lasts for five weeks, while the standard program version is nine weeks long.
The program covers classroom instructions and practical training.
The tuition is under $900.
| School Name | Address |
| --- | --- |
| Bryan College of Health Sciences | 1535 S. 52nd Street, Lincoln, NE 68506 |
| Nebraska Methodist College | 720 N 87th Street, Omaha, NE 68114 |
Sponsored Listings
Salary
The salary is different in private clinics and public healthcare facilities.
Other factors that affect the phlebotomist salary are education and experience level, certification, and location.
The average salary of a phlebotomist in Nebraska is $32.096 per year.
Annual Salary Range: Annual Salary by Location:
| Location | Avg. Annual Salary |
| --- | --- |
| Omaha | $33,091 |
| Lincoln | $33,300 |
| Bellevue | $33,461 |
| Grand Island | $32,840 |
| Kearney | $32,840 |
| Fremont | $32,962 |
| Hastings | $32,840 |
| North Platte | $31,840 |
| Norfolk | $29,128 |
| Columbus | $32,840 |
Regional Salary in Nebraska
| Region | Employed | Avg. Annual Salary | Avg. Hourly Pay | Top 10% Annual Salary | Bottom 10% Annual Salary |
| --- | --- | --- | --- | --- | --- |
| Lincoln, NE | 190 | $35,340 | $16.99 | $42,610 | $30,900 |
| Omaha-Council Bluffs, NE-IA | 420 | $37,490 | $18.02 | $45,380 | $31,260 |
* Salary information based on the May 2022 Occupational Employment Statistics (OES) Survey for Phlebotomists, OCC Code 31-9097, BLS.
* Employment conditions in your area may vary.
Phlebotomy Classes by State
---