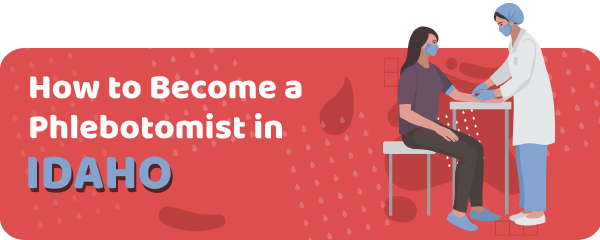 Starting a career as a phlebotomist or phlebotomy technician is an excellent idea for someone who wants to work in the medical-allied field.
Also, phlebotomy is a great choice for those who want to have chances to improve knowledge and advance careers in the future.
Phlebotomists draw and handle blood samples from patients, that are further used for diagnostic tests.
Therefore, they can work in various environments, such as all hospital departments, clinical laboratories, blood banks, community service centers, doctor's offices, etc.
If you want to learn how to become a phlebotomist in Idaho, keep reading.
Get Certified in Idaho
Sponsored Listings
First of all, if you live in Idaho, you are not required to hold national certification to get allowed to work on a phlebotomist position.
However, obtaining a certification is an excellent idea to boost your marketability and your employment options.
Also, a national phlebotomy certification will help you to arrange a higher salary.
Many employers actually prefer certified phlebotomists, over uncertified technicians.
Even if you have years of experience behind you, you might still have difficulties in finding a new job if you don't have certification.
To become eligible for the certification, you will have to complete appropriate phlebotomy training held by any of the accredited institutions in the state.
Accredited institutions offer phlebotomy training courses that cover both theoretical and practical instructions.
Therefore, you will have theoretical foundations and necessary experience for the role.
Phlebotomy programs include clinical externships that will be highly valuable for your future career.
In Idaho, accredited programs usually cover several important topics.
Those are CPR training, safety procedures. laboratory protocols, micro-capillary techniques, and venipunctures.
Additionally, phlebotomists are taught about anatomy, physiology, and basic medical terminology.
Some programs in Idaho might cover more advanced aspects of phlebotomy as well.
Also, several medical assistant programs include the phlebotomy training course.
Therefore, if you plan to advance your career in the future, phlebotomy is an excellent way to start.
Phlebotomy Certification Requirements in Idaho
The primary certification requirement is to complete appropriate phlebotomy training.
However, to become certified you will have to meet several other requirements.
Phlebotomists who have high levels of patient interactions, impressive communication skills, and the ability to communicate effectively in English are highly appreciated.
Those who have a soothing demeanor and know how to make the patient feel comfortable and relaxed are always in high demand across the country.
Next, phlebotomists need to have extensive knowledge of blood collection techniques, laboratory procedures, needles, and laboratory equipment.
Get Certified in Idaho
To earn your certification in Idaho, you have to successfully pass the exam by the American Society for Clinical Pathology.
Several nationally-recognized organizations are in charge of the certification process in the state of Idaho.
Those are:
American Medical Technologists (AMT)
American Society of Clinical Pathologists (ASCP)
National Health Care Association (NHA)
National Center for Competency Testing (NCCT)
Having a phlebotomy certification provides you excellent leverage when it comes to uncertified candidates that haven't passed the training.
 Phlebotomist License Renewal
Students who pass the exam and are awarded a phlebotomy license can work with the license for two years.
The renewal on time is highly important because, when the license expires, a phlebotomist might lose his or her job.
Additionally, those who let their licenses lapse may have to take a refresher course.
Having a certification makes you eligible to work in any medical facility in the state, but also to work outside the state, in facilities across the country.
Therefore, if you plan to move in the next period make sure to check license verification process steps.
Schools in Idaho
Training programs for phlebotomists are available at colleges and vocational schools across the state.
College of Southern Idaho offers a great program that consists of 100 clinical hours and 60 classroom hours.
College of Western Idaho, on the other hand, is an intensive program and includes 64 classroom hours and 40 hours of clinical rotations.
The program can be completed in eight weeks.
Students who choose Idaho State University Workforce Training are eligible for the certification exam.
Phlebotomy on Campus Training Program at Lewis-Clark State College includes 60 hours of classroom training and 120 hours of clinical rotation.
Check the table for more information on schools and locations in Idaho.
| School Name | Address |
| --- | --- |
| College of Southern Idaho | 315 Falls Avenue PO Box 1238 Twin Falls, ID 83303-1238 |
| College of Western Idaho | CWI at Boise State University-1464 University Dr. Boise, ID 83706 CWI Eagle River- 485 E. Riverside Drive Eagle, ID 83616 |
| Emergency Medicine Academy | 6055 Corporal Lane, Boise, ID 83704 |
| Idaho State University Workforce Training | 921 South 8th Avenue Pocatello, ID 83209 |
| Lewis-Clark State College | 1920 3rd Avenue North Lewiston, ID 83501 |
| North Idaho State College | 525 W Clearwater Loop Post Falls, ID 83854 |
| RMDC Phlebotomy School | 3910 Washington Parkway, Idaho Falls, ID 83404 |
Sponsored Listings
Salary
A phlebotomist in Idaho earns an average annual salary of $33.404.
Salary varies across the state and depends on multiple factors.
Annual Salary Range: Annual Salary by Location:
| Location | Avg. Annual Salary |
| --- | --- |
| Boise | $33,580 |
| Nampa | $33,226 |
| Pocatello | $30,756 |
| Idaho Falls | $32,173 |
| Meridian | $33,545 |
| Coeur d'Alene | $34,826 |
| Twin Falls | $30,650 |
| Lewiston | $34,943 |
| Caldwell | $33,191 |
| Moscow | $34,826 |
Regional Salary in Idaho
| Region | Employed | Avg. Annual Salary | Avg. Hourly Pay | Top 10% Annual Salary | Bottom 10% Annual Salary |
| --- | --- | --- | --- | --- | --- |
| Boise City, ID | 350 | $44,590 | $21.44 | $80,820 | $30,300 |
| Idaho Falls, ID | 80 | $42,190 | $20.28 | $58,850 | $35,110 |
| Lewiston, ID-WA | 80 | $41,360 | $19.89 | $47,750 | $36,660 |
* Salary information based on the May 2022 Occupational Employment Statistics (OES) Survey for Phlebotomists, OCC Code 31-9097, BLS.
* Employment conditions in your area may vary.
Phlebotomy Classes by State
---