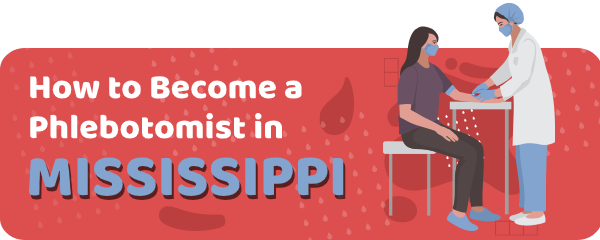 The job of a phlebotomist is performing a procedure called blood draw or venipuncture.
The purpose of the procedure is to inspect specific patients' conditions or blood donations.
If you live in Mississippi and you want to pursue a career as a phlebotomist, several training options will prepare you for the role.
Let's have a brief overview of requirements, schools, and skills you need to pursue to become a phlebotomist in Mississippi.
Requirements
Some states require aspiring phlebotomists to obtain a certification based on local guidelines, while others accept the national certification.
In Mississippi, phlebotomists aren't required to hold a certification before working on patients.
Sponsored Listings
Also, the state doesn't monitor phlebotomy certifications within its borders.
It is expected from phlebotomists to complete a training course before applying for the job in any medical institution.
The course will help you to pass the phlebotomy certification exam in the state of Mississippi.
Required Prerequisites for Training Course in Mississippi
The majority of educational institutions in Mississippi requires aspiring phlebotomists to meet prerequisites.
The general prerequisites in Mississippi are:
Age – 18 years or more
Completed high school education or equivalency exam
CPR certification issued by the American Red Cross
Proof of current immunization
Additionally, some schools require the students to complete a criminal background check.
Additionally, students are required to have good computer skills, and communication skills as well.
Phlebotomists Education in Mississippi
The program duration can vary and last from four to 24 months.
Vocational schools offer a shorter course and the students get a diploma after they complete the course.
Longer courses, starting from 12 months, are offered at colleges and students earn a degree after course completion.
However, you should check if the school is properly accredited.
For example, phlebotomists schools need to be accredited by the National Accrediting Agency for Clinical Laboratory Sciences (NAACLS).
Generally, the course includes theory and practical sessions.
The practical phlebotomy sessions are conducted in the clinic.
The courses cover topics such as human anatomy, physiology, blood collection techniques, sample management, but also patient management and best laboratory practices.
Required Skills
Phlebotomists need to have certain skills set to be good at their job.
The skillset includes technical skills and mental skills.
A phlebotomist needs to be familiar with veins, bandaging after blood draw procedure, blood collection techniques, as well as human anatomy and physiology.
Also, phlebotomists must be friendly and compassionate with patients.
Computer skills are always a plus in the phlebotomist role.
How to Pick the Right Phlebotomists Course in Mississippi
First of all, you need to make sure that you have chosen the course that will allow you to take the certification exam that is accepted in the state.
Research about requirements, schedules, equipment, facility, etc.
Also, it will be useful to research the facility as much as you can.
For example, check whether the equipment used for training is up-to-date and currently used in modern medical laboratories.
Moreover, find out whether you need to buy some supplies, and determine the budget for it.
Additionally, find out what are the total costs of the program, including laboratory fees and supplies.
Lastly, make sure that the program is accredited through some of the nationally approved accreditation agencies.
Some of the certification agencies in Mississippi are:
American Medical Technologists
American Society of Clinical Pathologists
National Center for Competency Testing
National Health Career Association
Schools
There are seven phlebotomy courses in Mississippi.
Coahoma Community College in Clarksdale offers Phlebotomy/EKG Training Program that lasts two semesters and provides certification for the students who complete it.
East Mississippi Community College and its Phlebotomy Training Program focus on technical procedures of the blood draw and proper patient management and compassionate approach.
Hinds Community College in Raymond has two phlebotomy programs – standard program and accelerated track.
Medical Certification Agency has convenient workshops for aspiring phlebotomists across the state.
For example, the workshop may include a phlebotomy and EKG workshop designed to prepare a student with a specific skill set.
Mississippi Gulf Coast Community College includes an intensive 140-hour course that prepares students for immediate employment once the program is completed.
The course includes 100 hours of clinical practice.
Northeast Mississippi Community College offers a Phlebotomy Program in an 8-week form course.
The University of Southern Mississippi has two options for aspiring phlebotomists in Mississippi.
One is a noncredit training course, and the other is an undergraduate credit program.
| School Name | Address |
| --- | --- |
| Coahoma Community College | 3240 Friars Point Road Clarksdale, MS 38614 |
| East Mississippi Community College | Main Campus-1512 Kemper Street PO Box 158 Scooba, MS 39358 Golden Triangle-8731 South Frontage Road PO Box 100 Mayhew, MS 39753 |
| Hinds Community College | PO Box1100 Raymond, MS 39154 |
| Medical Certification Agency | The location varies, check for the latest information on the workshop location on the website of the Agency. |
| Mississippi Gulf Coast Community College | Perkinston Campus-PO Box 548 (ground address 51 Main St) Perkinston, MS 39573 Jackson County Campus-PO Box 100 (ground address 2300 Highway 90) Gautier, MS 39553 Jefferson Davis Campus- 2226 Switzer Rd. Gulfport, MS 39507 Community Campus-10298 Express Dr. Gulfport, MS 39503 |
| Northeast Mississippi Community College | 101 Cunningham Boulevard, Booneville, Mississippi 38829 |
| University of Southern Mississippi | 118 College Drive Hattiesburg, MS 39406-0001 |
Sponsored Listings
Salary
The salary of a phlebotomist depends on skills, facility, and location, experience.
An average yearly salary of phlebotomists in Mississippi is $30,791.
Annual Salary Range:
Annual Salary by Location:
| Location | Avg. Annual Salary |
| --- | --- |
| Jackson | $31,652 |
| Gulfport | $31,120 |
| Biloxi | $31,368 |
| Hattiesburg | $30,926 |
| Greenville | $31,464 |
| Meridian | $31,363 |
| Tupelo | $29,857 |
| Southaven | $32,748 |
| Vicksburg | $31,334 |
| Pascagoula | $31,117 |
Regional Salary in Mississippi
| Region | Employed | Avg. Annual Salary | Avg. Hourly Pay | Top 10% Annual Salary | Bottom 10% Annual Salary |
| --- | --- | --- | --- | --- | --- |
| Gulfport-Biloxi-Pascagoula, MS | 140 | $35,320 | $16.98 | $43,760 | $24,420 |
| Hattiesburg, MS | 40 | $35,850 | $17.24 | $38,610 | $28,490 |
| Jackson, MS | 240 | $35,120 | $16.89 | $43,870 | $23,330 |
* Salary information based on the May 2022 Occupational Employment Statistics (OES) Survey for Phlebotomists, OCC Code 31-9097, BLS.
* Employment conditions in your area may vary.
Phlebotomy Classes by State
---