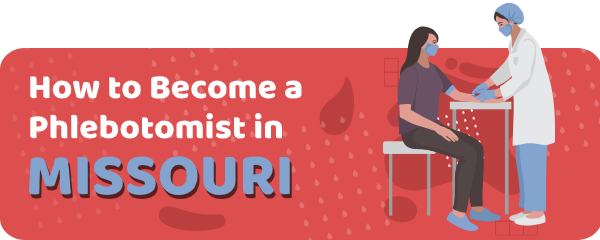 There are plenty of options to become a phlebotomist in Missouri.
Becoming a certified phlebotomist in Missouri is an excellent way to start your career in the medical field on the right track.
The process isn't long and doesn't include high costs for tuition.
Course for aspiring phlebotomists can last from four to six weeks.
The process includes elementary training and certification exam preparation.
Also, if you are interested in obtaining an associate's degree, you can complete the process in just 20 months.
Sponsored Listings
Phlebotomists draw blood from patients in a process called venipuncture.
Next, the blood is used to identify any possible diseases and deficiencies.
Also, the draw can be performed for donations.
Phlebotomists work in hospitals, private clinics, laboratories, blood banks, etc.
In Missouri, there is a large number of appropriate courses and accredited colleges.
Some programs may last longer than others, and it depends on the program curriculum.
Get Certified in Missouri
Missouri doesn't require that phlebotomists have official certification for work.
Technically, you can start working with patients as soon as you complete high school.
However, even though certification isn't mandatory, it is highly appreciated.
Therefore, there are excellent reasons to get phlebotomy certification in Missouri.
For example, a phlebotomy training course will prepare you and teach you about all industry-standard methods for venipuncture.
Also, the important part of the training is learning about safety procedures and protocols that serve to protect you and the patients from infection spreading.
If you enroll in a suitable training program, you will gain the necessary experience that will make you confident to work with patients.
Additionally, training will help you to assess patients and help them feel calm during the procedures.
Importantly, you have higher employment chances if you are certified.
It is because most employers require or prefer certified phlebotomists.
Having a certification is proof that you have completed the required courses to pass the exam.
Additionally, certification may help you to negotiate a higher salary.
 Phlebotomist Training
Training for future phlebotomists provides you comprehensive knowledge of the phlebotomist's role, tasks, procedures, and more.
It ensures that you have your hands-on practical experience that is very important for proper education.
Also, you will be exposed to different patients and learn how to handle different situations.
The duration of the course varies and depends on school requirements and class timetable.
Sometimes, it can last from eight weeks to 12 months.
The coursework includes classroom instructions and clinical training.
The classroom instructions cover a variety of topics that are important for the job.
Therefore, you will learn about human anatomy, medical terminology, techniques for venipunctures, safety policies, and procedures.
Additionally, you will be prepared to perform all administrative tasks for the role.
Phlebotomists training will prepare you well for the associate's degree.
There are several things to decide on when starting your career.
First of all, you need to choose a school, to decide whether you want online classes or traditional education, etc.
Also, remember to find the accredited program.
Certification Exam
Proper training and theoretical instructions can prepare you to successfully pass the certification exam.
However, you can still feel a bit intimidated if you don't know what to expect.
Therefore, learning as much as you can about the certification exam will help you to relax and do the best you can.
The typical, phlebotomy certification exam is available in electronic form.
However, some agencies may offer a written exam.
The electronic test uses advanced technology to adjust the next question and keep your appropriate skills level.
Therefore, if you answer correctly, you can expect the next question to be slightly more challenging and vice versa.
You can find plenty of online exams that will help you prepare better for the examination.
Schools
There are several schools in Missouri available for aspiring phlebotomists.
For example, Bell Brown Medical Institute offers a 64-hour Phlebotomy Technician Training Program.
Kansas City School of Phlebotomy has high-quality practical training that will prepare future phlebotomists for real work.
Lex La-Ray includes a comprehensive 180-hour phlebotomy training program that includes 80 hours of classroom instructions.
Moberly Area Community College has a Phlebotomy Training Program, which is equivalent to two credit hours.
Additionally, students with work experience can apply for Credit by Examination.
Check the table for more information.
| School Name | Address |
| --- | --- |
| Bell Brown Medical Institute | 470 Howdershell Road in Florissant, Missouri |
| Kansas City School of Phlebotomy | 2838 Warwick Trfy., Kansas City, MO 64108 |
| Lex La-Ray | 2323 High School Drive, Lexington, MO 64067 |
| Metropolitan Community College | 3200 Broadway Kansas City, MO 64111 |
| Moberly Area Community College | 2900 Doreli Lane Mexico, MO 65265 |
| Ozarks Technical Community College | 1001 E. Chestnut Expressway Springfield, MO 65802 |
| Saint Luke's Hospital | Kansas City |
| Southeast Missouri State University | One University Plaza MS 6850 Cape Girardeau, MO 63701 |
| St. Charles Community College | 4601 Mid Rivers Mall Drive Cottleville, MO 63376 |
| St. Louis Community College | Florissant Valley Campus-3400 Pershall Road-St. Louis, MO 63135 Forest Park Campus-5600 Oakland Ave.St. Louis, MO 63110 Meramec Campus-11333 Big Bend Road St. Louis, MO 63122 Wildwood Campus- 2645 Generations Drive Wildwood, MO 63040 |
| St. Louis School of Phlebotomy | 6717 Vernon Ave., St. Louis, MO 63130 |
| SoutheastHEALTH | 2001 William Street Cape Girardeau, MO 63703 |
Salary
A phlebotomist in Missouri may earn an average annual salary of $33.356.
The phlebotomy field is one of the medical fields with the largest growth rate in the next few years.
Annual Salary Range: Annual Salary by Location:
| Location | Avg. Annual Salary |
| --- | --- |
| Kansas City | $34,361 |
| St. Louis | $34,462 |
| Springfield | $33,788 |
| Independence | $34,323 |
| Columbia | $34,091 |
| St. Joseph | $34,034 |
| Lee's Summit | $34,230 |
| St. Charles | $34,275 |
| St. Peters | $34,201 |
| Florissant | $34,406 |
Phlebotomy Classes by State
---