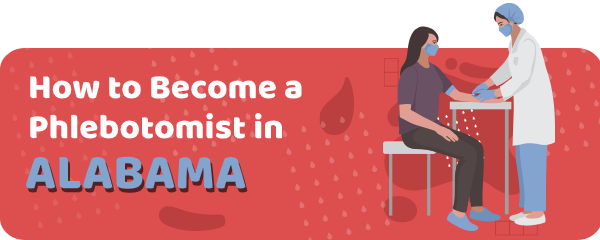 Phlebotomy is an excellent choice for a career for many reasons.
The need for phlebotomists across Alabama who will work in various medical labs and testing centers is on the rise.
Phlebotomy is the act of drawing blood from the patients, and the technician who performs the procedure is called phlebotomists.
Licensed phlebotomy technicians are highly appreciated in all healthcare facilities.
They have completed adequate training in phlebotomy and are capable of performing venipunctures and various laboratory functions.
There is a specific skill set required for a future phlebotomist, and they are expected to be flexible and ready to work different shifts.
Sponsored Listings
In Alabama, the top cities for phlebotomists in terms of salary and employment options are Birmingham, Montgomery, Huntsville, Auburn, and several others.
Keep reading to learn all useful information on how to start working as a phlebotomist in Alabama.
Basic Information about Phlebotomists in Alabama
Phlebotomists in Alabama are under the jurisdiction of the Alabama Department of Public Health.
The certification in phlebotomy isn't required but is recommended.
It is because almost all employers in the state of Alabama prefer to hire certified phlebotomists.
To start working as a phlebotomist in Alabama, you will need to have a high school diploma or GED and complete adequate training.
Enrolling in an approved program and passing an exam to get certified serves as proof that you have enough knowledge and necessary skills to work as phlebotomists.
Additionally, certified phlebotomists can secure their positions in all healthcare facilities across Alabama, and even work in other states that recognize national certification.
Additionally, certified phlebotomists in Alabama can have higher salaries than uncertified technicians.
Even if you have extensive experience in phlebotomy, you will still struggle to find an appropriate job position without certification.
Get Certified in Alabama
There are several appropriate organizations that are in charge of certifying phlebotomists.
For example, the American Medical Technologists offer phlebotomy certification, and require applicants to have work experience, pass the oral or written exam.
The certification issued by the American Medical Technologists needs to be renewed every three years.
Next, the American Society for Clinical Pathology certifies phlebotomists in Alabama.
You will have to submit evidence of training or work experience, pass the exam.
Your certification needs to be renewed every then year if you achieved it through the American Society for Clinical Pathology.
Next, if you pass the practical and written exam conducted by the American Society of Phlebotomy Technicians, you can be granted phlebotomy certification.
Lastly, you can get certified through the National Phlebotomy Association.
The procedure is similar to other agencies, and you are required to pass an oral or written exam.
Generally, getting certified has numerous advantages, but most importantly, you will have enough knowledge for the role and become a valuable candidate in the job market.
Phlebotomy training in Alabama can last from several weeks to several months.
When choosing a program, try to find the one that provides plenty of practical experience.
Required Skills
Aside from professional skills and knowledge, phlebotomists are expected to have some interpersonal skills.
Those include excellent communication skills because they will in contact with numerous patients and other members of the healthcare team.
Phlebotomists need to be compassionate and flexible, able to calm the patient and handle different situations.
It is important to learn how to explain the procedure to the patient, to help him or her calm down.
Phlebotomists who can perform venipuncture causing minimal discomfort to the patients are highly appreciated across Alabama.
Job Outlook
The growth rate for phlebotomists is expected to rise by 20% in the next ten years.
Therefore, it is a highly prospective and lucrative profession for everyone who wants to start a career in the medical field.
Additionally, phlebotomy is an excellent starting point for those who want to improve their knowledge and advance their career in the future.
After several years of working as a phlebotomist, many technicians choose to become medical assistants, nurses, ultrasound technicians, etc.
Schools
There are various schools in Alabama that offer phlebotomy training.
For example, you can get adequate knowledge if you enroll in the Phlebotomy Technician Training Program at Auburn University.
Next, the phlebotomy course at Calhoun Community College lasts for one semester and is great in terms of practical experience.
You can also choose programs at Gadsden State Community College, Northeast Alabama Community College, and St. Vincent's- Jeremiah's Hope Academy and expect comprehensive education that covers theory and practical aspects of phlebotomy.
| School Name | Address |
| --- | --- |
| Auburn University | (Office of Professional and Continuing Education) 301 OD Smith Hall, 135 S College St., Auburn, Alabama 36849 |
| Calhoun Community College | Decatur Campus, 6250 Hwy. 31 North, Tanner, AL 35671 |
| DCH School of Phlebotomy | DCH Regional Medical Center, 809 University Blvd. E., Tuscaloosa AL, 35401-2029 |
| Gadsden State Community College | 1001 George Wallace Dr., Gadsden, AL 35903 |
| Jefferson State Community College | Jefferson Campus, 2601 Carson Road, Birmingham, Alabama 35215 |
| Lawson State Community College | 1100 Ninth Avenue SW, Bessemer, AL 35022 |
| Northeast Alabama Community College | P.O. Box 159, Rainsville, Alabama 35986 |
| Phlebotomy Ink | 1512 Centerpoint pkwy Suite 201 Birmingham , AL , 35215; 223 North Street West, Talladega, Al 35160 |
| St. Vincent's- Jeremiah's Hope Academy | 2800 University Boulevard, Suite 234, Birmingham, Alabama 35233 |
| Wallace State Community College | 1141 Wallace Drive,Dothan, AL 36303 |
Salary
An average salary of a phlebotomist in Alabama is $33.162 per year.
The salary depends on different factors, such as city, employer, certification, experience, etc.
Annual Salary Range: Annual Salary by Location:
| Location | Avg. Annual Salary |
| --- | --- |
| Birmingham | $33,509 |
| Mobile | $32,761 |
| Montgomery | $31,740 |
| Huntsville | $33,481 |
| Tuscaloosa | $33,181 |
| Dothan | $31,315 |
| Decatur | $32,457 |
| Auburn | $31,728 |
| Gadsden | $33,212 |
| Alabaster | $33,321 |
Phlebotomy Classes by State
---