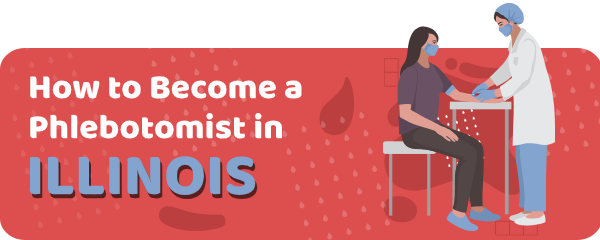 Phlebotomy is a medical field that includes collection and blood samples testing.
It is the elementary responsibility of the phlebotomist; he or she has other tasks.
Those may include records update, samples transport and storing, taking care of the laboratory equipment, etc.
To become a phlebotomist, one must undergo appropriate training.
In Illinois, phlebotomy is seen as one of the largest growing medical fields.
Therefore, it is an excellent idea to become a phlebotomist in this state.
Sponsored Listings
Requirements for Phlebotomy Training in Illinois
If you are Illinois resident, or you plan to relocate to this state, there are several things you need to know to become a certified phlebotomist.
The only educational requirement you need to meet prior phlebotomist education is to finish high school or GED.
The informal requirement includes some personal characteristics such as being able to deal with different people in a friendly manner.
Adaptability is also appreciated.
Phlebotomy is not recommended for people with lower immune systems, because the technicians commonly work with ill people and are at higher risk of infection and viruses.
Being familiar with safety procedures and taking necessary precautions is also a must.
Additionally, phlebotomists need to be detail-oriented
The American Medical Technologists are listed by the Department of Illinois Veterans Affairs for phlebotomy certification in Illinois.
To get certified, you will need to obtain relevant work experience, to pass the oral or written exam.
Credentials need to be renewed every three years through CEUs and re-examination.
The certification title is a Registered Phlebotomy Technician (RPT).
In Illinois, employers require phlebotomists to be nationally certified for all positions in laboratories, blood banks, hospitals, etc.
Certification Agencies in Illinois
There are several other certification agencies recognized and approved in Illinois.
For example, the National Center for Competency Testing issues tests with 145 questions for national certification.
The American Society for Clinical Pathology offers a Phlebotomy Technician (PBT, ASCP) certification.
The certification needs to be renewed every ten years and can be renewed through CEU.
The National Phlebotomy Association also issue an exam-based certification that can be taken in written or oral form.
Nationally certified phlebotomists in Illinois have better chances for employment across the state.
Phlebotomy Training Programs Requirements in Illinois
Schools in Illinois have general requirements for the training programs.
Candidates need to submit high school or GED transcripts and to pass criminal background and drug tests.
To become eligible for the certification, students need to complete up to 40 hours of classroom instructions and 40 hours of practical training.
Also, all applicants need to prove that they can perform 100 venipunctures and ten skin collections.
Bear in mind that you don't need official certificates and training to be allowed to work as a phlebotomist.
But, there is no employer that will hire you without training or certification.
Necessary Skills
Phlebotomists need to be familiar with the correct and safe procedures for collecting blood.
The same applies to blood samples' transport and storage.
Additionally, phlebotomists need to have excellent communication skills, to have the patience for challenging patients, and to have great interpersonal skills.
That way, they can work in close relationships with the patients and coworkers without any issues.
Lastly, phlebotomists need to know about handling emergency situations and about laboratory equipment.
Schools in Illinois
There are plenty of schools in Illinois that have phlebotomy training.
Black Hawk College has an excellent training program for phlebotomists that can be completed in 10-12 weeks.
Phlebotomy training at College of DuPage includes EKG training alongside phlebotomist procedures.
College of Lake County includes phlebotomy training that is equivalent to 224 total hours that include practical experience and classroom instructions.
Elgin Community College offers Basic Vocational Certificate in Phlebotomy.
Harper College has phlebotomy training that is equivalent to 8 credit hours.
Illinois Central College has various locations and is admits a large number of future phlebotomists.
Illinois Valley Community College is also a great option for phlebotomists who want to start their career in medicine.
Students who complete the training at Joliet Junior College need to perform 150 venipunctures and complete 120 hours in clinical practice.
Moraine Valley Community College has a 9-credit program that can be completed as a part-time program as well.
Check the table for more information.
| School Name | Address |
| --- | --- |
| Black Hawk College | 6600 34th Ave. Moline, IL 61265 |
| City Colleges of Chicago-Malcolm X College | 1900 W. Van Buren St. Chicago, IL 60612 |
| College of DuPage | 425 Fawell Blvd. Glen Ellyn, IL 60137 |
| College of Lake County | 19351 West Washington Street Grayslake, IL 60030-1198 |
| Elgin Community College | 1700 Spartan Drive Elgin, IL 60123-7193 |
| EnVaNa Healthcare Training Center | 500 E. Ogden Ave. Suite 208 Naperville, IL 60563 |
| Harper College | 1200 W. Algonquin Road Palatine, IL 60067 |
| Illinois Central College | East Peoria Campus- 1 Campus Dr. East Peoria, IL 61635-0001 Downtown Campus- 115 SW Adams St. Peoria, IL 61635-0001 ICC North Campus-5407 N University St. Peoria, IL 61635-0001 |
| Illinois Valley Community College | 815 North Orlando Smith Road Oglesby, IL 61348 |
| Joliet Junior College | 1215 Houbolt Road Joliet, IL 60431-8938 |
| Lincoln Land Community College | 5250 Shepherd Road Springfield, IL 62794-9256 |
| Moraine Valley Community College | 9000 W. College Pkwy., Palos Hills IL 60465-2478 |
| Oakton Community College | Des Plaines Campus- 1600 East Golf Road Des Plaines, IL 60016 Skokie Campus- 7701 North Lincoln Avenue Skokie, IL 60077 |
| Olney Central College- An Illinois Eastern Community College | 305 North West Street Olney, IL 62450-1099 Frontier Community College-2 Frontier Drive Fairfield, IL 62837-2601 |
| Rend Lake College | 468 N. Ken Gray Parkway, Ina, IL 62846 |
| Richland Community College | One College Park Decatur, IL 62521 |
| South Suburban College | 15800 South State Street South Holland, IL 60473-1200 |
| Southwestern Illinois College | Belleville Campus- 2500 Carlyle Ave. Belleville, IL 62221 Red Bud Campus- 500 W. South Fourth St. Red Bud, IL 62278 Sam Wolf Granite City Campus- 4950 Maryville Road Granite City, IL 62040 |
| Stars Academy School of Phlebotomy | Hill Creek Plaza, 8077 W. 95th Street Hickory Hills, IL 60457 |
| Waubonsee Community College | Aurora Campus- 18 S. River Street Aurora, IL 60506-4134 Copley Campus- 2060 Ogden Avenue Aurora, IL 60504-7222 Plano Campus-100 Waubonsee Drive Plano, IL 60545 Sugar Grove Campus-Route 47 at Waubonsee Drive Sugar Grove, IL 60554-9454 |
Salary
The salary of an entry-level phlebotomist differs from an experienced phlebotomist technician.
An average annual salary of a phlebotomist in Illinois is $36.348.
Annual Salary Range:
Annual Salary by Location:
| Location | Avg. Annual Salary |
| --- | --- |
| Chicago | $37,516 |
| Rockford | $35,035 |
| Aurora | $37,184 |
| Naperville | $36,756 |
| Peoria | $34,185 |
| Springfield | $32,667 |
| Joliet | $36,454 |
| Elgin | $36,911 |
| Waukegan | $35,380 |
| Cicero | $37,516 |
Phlebotomy Classes by State
---