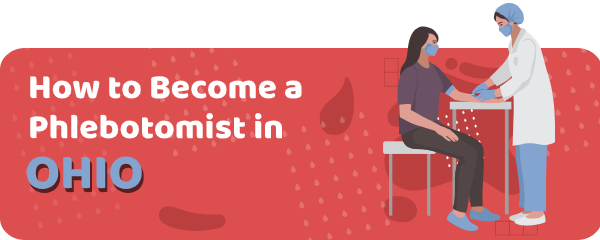 If you want to start a career in the medical-related field, phlebotomy is a great option.
Aspiring phlebotomists in Ohio have simple procedures to earn their credentials.
There are plenty of vocational training programs and colleges available for future phlebotomy technicians.
Phlebotomy is a procedure of drawing blood samples from a patient.
The samples are further used for diagnostic and identification of issues and diseases.
Also, phlebotomists take blood for donation purposes in blood banks.
Sponsored Listings
Therefore, phlebotomists usually work in hospitals, private medical clinics, and blood banks.
In Ohio, there aren't specific regulations for phlebotomists' employment.
It means that you don't have to earn a specific certification, but you will have to have specific skills and knowledge to be qualified for the role.
Additionally, almost every reputable employer will hire only certified phlebotomists that obtained their certifications from accredited institutions.
Phlebotomy is expected to have a high growth rate in the next few years.
Cities such as Cleveland, Toledo, Youngstown, Cincinnati, Canton, Akron, Dayton, and Columbus have excellent job opportunities for phlebotomists.
Where Can a Phlebotomist Work?
If you decided to get certified, you have various work settings you can choose from in Ohio.
It is certainly, one of the perks of a career in phlebotomy – having many job opportunities.
Phlebotomists can work in hospitals of all sizes.
In general, all medical facilities are always in the need for skilled and qualified phlebotomists that are flexible and can work in different departments.
If you choose to work in a hospital, you can expect to have late shifts in the ER, hours in surgery pre-op, or even in NICUs.
Next, phlebotomists are also employed in community health centers and they work with people of all ages there and having numerous health concerns.
Private practice offices usually employ phlebotomists so there is no delay in the treatment of the patient.
Therefore, phlebotomists can work in general medicine, pediatrics, oncology, etc.
Nursing homes and blood banks are also on the list of common work settings for certified phlebotomists.
Certification gives you the freedom to choose and accept the position you want because you can work in any medical facility in the state.
Also, nationally certified phlebotomists can work across the country as well.
However, remember to renew your certification every two years.
How to Become a Certified Phlebotomist?
To earn your certification, you need to pass a certification examination issued by one of the nationally recognized agencies in Ohio.
Further, you need to complete an approved training course to become eligible to sit for the exam.
Next, you need to have skills and the right expertise in collecting and handling blood samples.
There are plenty of other skills you need to develop, and the proper training will prepare you for the exam.
Program duration varies, but it can take from six weeks for an accelerated version to a full year.
The longer courses are usually more comprehensive, but also more expensive.
Shorter courses are intense and they prepare you for entry phlebotomist position.
Earning your certifications will help you to negotiate a better salary.
Usually, all training programs cover similar topics:
Basic medical terminology
Patient care and soothing techniques
Drawing blood procedures from fingers, veins and alternate spots
Safety procedures
Specimen handling, labeling, and delivery
Legal concerns
Typical phlebotomy course in Ohio includes classroom instructions, laboratory practice, and clinical rotation under supervision.
Practicing for the Certification Exam
You can find numerous online sources that can help you to prepare further for the certification exam.
Also, many students find it useful to complete the practice exam, to help ease the tension around the examination process.
More practice before the examination will make you more confident in your skills, and you have higher chances to pass the exam.
Schools in Ohio
Future phlebotomists in Ohio have a lot of great training programs.
For example, if you live in Columbus you can complete your education at Columbus State Community College or Ohio School of Phlebotomy.
Cuyahoga Community College offers a high-quality Phlebotomy Certification Program that is available at multiple locations.
Edison State Community College in Piqua has a Certification program as well.
Phlebotomy training at Lakeland Community College is equivalent to seven credit hours.
Check the table for more information.
| School Name | Address |
| --- | --- |
| Belmont College | 68094 Hammond Road, St. Clairsville, OH 43950 |
| Butler Tech | 3603 Hamilton-Middletown Road, Hamilton, OH 45011 |
| Cincinnati State Technical and Community College | 10100 Reading Road, Cincinnati, OH 45241 |
| Columbus State Community College | Columbus (550 East Spring St, Columbus, OH 43215) Delaware (5100 Cornerstone Dr., Delaware, OH 43015) |
| Cuyahoga Community College | Warrensville Heights (4400 Richmond Road, Warrensville Heights, OH 44128); Westlake (25425 Center Ridge Road, Westlake, OH 44145) (31001 Clemens Road, Westlake, OH 44145); Highland Hills (4250 Richmond Road, Highland Hills, OH 44122); Cleveland (2900 Community College Ave, Cleveland, OH 44115); Parma (11000 Pleasant Valley Road, Parma, OH 44130); |
| Edison State Community College | 1973 Edison Drive, Piqua, OH 45356 |
| Knox Technical Center | 308 Martinsburg Road, Mount Vernon, OH 43050 |
| Lakeland Community College | 7700 Clocktower Drive, Kirtland, OH 44094 |
| Lorain County Community College | 1005 North Abbe Road, Elyria, OH 44035 |
| National College | Stow (3855 Fishcreek Road, Stow, OH 44224); Youngstown (3487 Belmont Avenue, Youngstown, OH 44505) |
| Northcoast Medical Training Academy | 1832 State Route 59, Kent, OH 44240 |
| Northwest State Community College | 22600 State Route 34, Archbold, OH 43502 |
| Ohio Medical Career College | 1133 South Edwin C. Moses Blvd, Dayton, OH 45417 |
| Ohio School of Phlebotomy | 17 Aldrich Road, Columbus, OH 43214 |
| Pickaway-Ross Career & Technology Center | Chillicothe Campus, 1410 Industrial Drive, Chillicothe, Ohio 45601; Circleville Campus, 424 East Mound Street, Circleville, Ohio 43113 |
| Polaris Career Center | Middleburg Heights (7285 Old Oak Blvd., Middleburg Heights, OH 44130) |
| Rhodes State College | 4240 Campus Drive, Lima, OH 45804 |
| Sinclair Community College | 444 West Third Street, Dayton, OH 45402 |
| Southern State Community College | Hillsboro (100 Hobart Drive, Hillsboro, OH 45133); Washington Court House (1270 US Route 62 SW, Washington Court House, OH 43160); Wilmington (1850 Davids Drive, Wilmington, OH 45177); Sardinia (12681 US Route 62, Sardinia, OH 45171) |
| The Career Center - Adult Technical Training | 21740 State Route 676, Marietta, OH 45750 |
Salary
An average annual salary of a phlebotomist in Ohio is $34,557.
However, the salary depends on location, education, certification, facility, etc.
Annual Salary Range: Annual Salary by Location:
| Location | Avg. Annual Salary |
| --- | --- |
| Columbus | $34,808 |
| Cleveland | $35,115 |
| Cincinnati | $34,610 |
| Toledo | $34,224 |
| Akron | $33,980 |
| Dayton | $34,405 |
| Youngstown | $33,552 |
| Canton | $33,800 |
| Lorain | $34,461 |
| Findlay | $33,409 |
Phlebotomy Classes by State
---