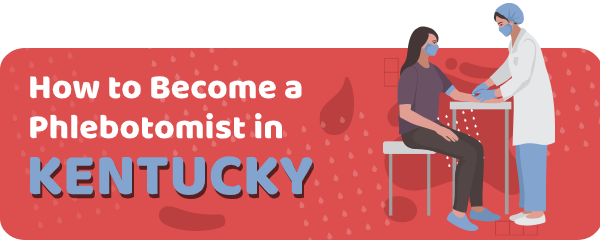 There are several steps you need to complete to start working as a phlebotomist in Kentucky.
A career in the phlebotomy field is an excellent entry point for many medical workers.
Therefore, keep reading to find out more about how to become a phlebotomist in Kentucky.
Training
Because phlebotomists work in the clinical laboratory team and draw blood from the patients, they need to be trained about specimen collection and more.
Phlebotomists need to be familiars with specimen processing, data recording, safety policies, advanced phlebotomy techniques, venipuncture, labeling, etc.
The majority of phlebotomist training includes 120 hours of clinical training and a certain number of classroom instructions.
Sponsored Listings
Certification Information
In Kentucky, state regulations don't require aspiring phlebotomists to hold a national certificate to become legally allowed to work.
However, a certificate is an excellent leverage you can earn, and many employers prefer certified phlebotomists.
Even if you don't plan to work in a hospital or clinic as a phlebotomist, you can still obtain certification to improve your marketability.
The certification prerequisites are similar, but you should still research and make sure you have all the necessary information before you start the application process.
General certification programs prerequisites in Kentucky may include:
Age – 18 or older
Having a high school diploma or GED
Passing a criminal background test
Passing a drug test
Proficiency in the English language
Great communication skills
Additionally, schools may require students to have malpractice insurance, but it depends on the school policy.
Certification Exam
After you complete the appropriate program, you will be eligible to sit for the exam.
Knowing what to expect, might help you to get prepared for it better.
The certification exam is timed, and if you were diligent during the training you won't have issues in completing all the tasks on time.
The phlebotomy certification test is adaptive to the skill level.
Therefore, once you provide the correct answer, the next question will be slightly more difficult than the previous one.
Despite being intimidating, the test is adjusted to the majority of the skills of phlebotomists students develop throughout the training.
Certification Maintenance
After you obtain phlebotomy certification, it is valid for two years.
Therefore, it can bring you a salary increase or better work position in all medical facilities.
After two years, you will have to renew the certification.
Phlebotomists with expired certifications risk losing their job.
Phlebotomists who don't renew their certification for a long period might need to take the refresher course prior to renewal.
However, if that is the case with you, you should know that is very helpful because you will learn more about modern practice.
Phlebotomists Work Settings in Kentucky
There are several places in Kentucky where phlebotomists may find employment.
Phlebotomists draw blood from patients to inspect their conditions for diseases and illnesses and more, so they are in higher demand all across the state.
For example, they can work in nursing homes around Kentucky.
Skilled compassionate phlebotomists are highly appreciated in nursing homes.
Also, they can work in NICUs, children's hospitals, or in pediatrician's offices.
Hospitals are a common work setting for phlebotomists, as well as community clinics and private blood donor bank.
Bear in mind that phlebotomy certification is appreciated in all mentioned healthcare facilities.
Schools
There are quite a lot of training options for aspiring phlebotomists in Kentucky.
For example, Ashland Community and Technical College offer a 6-credit phlebotomist training that lasts for 200 hours.
Next, you can choose similar programs offered at American National University, but it is more adjusted for the education of Phlebotomy + ECG Technician.
Phlebotomy Industry training is available at Big Sandy Community and Technical College and comprehensive training is an option at ATA College.
Campbellsville University also has a great program, and tuition covers all expenses, including malpractice insurance and testing fees.
You can also pick phlebotomy training at Emergency Medical Training Professionals institution, Jefferson Community and Technical College, or Kentucky Health Training, LLC.
Two programs of phlebotomy training are available at the Kentucky School of Phlebotomy.
One is a standard six-week program and the other is accelerated version.
KY Healthcare Training, the Medical Institute of Kentucky and
MedQuest College also has high-quality comprehensive courses for aspiring phlebotomists.
Check the table for more information on phlebotomy schools in Kentucky.
| School Name | Address |
| --- | --- |
| Ashland Community and Technical College | 1400 College Dr Ashland, KY 41101-3617 |
| American National University | 115 East Lexington Avenue, Danville, KY 40422; 2376 Sir Barton Way, Lexington, KY 40509 4205 Dixie Highway, Louisville, KY 40216 50 National College Boulevard, Pikeville, KY 41501 |
| ATA College | 101880 Linn Station Road Suite a-200 Louisville, KY 40223 |
| Big Sandy Community and Technical College | 1 Bert T. Combs Drive Prestonburg, KY 41653 |
| Campbellsville University | 1 University Dr. Campbellsville, KY 42718 |
| Emergency Medical Training Professionals | 1141 Red Mile Road Suite 101 Lexington, KY 40504 |
| Jefferson Community and Technical College | 109 East Broadway Louisville, KY 40202 |
| Kentucky Health Training, LLC. | Lexington Location- 343 Walker Av. Suite 204 Lexington, KY 40504 |
| Kentucky School of Phlebotomy | 1425 Bluegrass Ave., Louisville, KY, 40215 |
| KY Healthcare Training | 343 Waller Ave. #204, Lexington, Ky 40504 |
| The Medical Institute of Kentucky | Lexington Campus-2720 Old Rosebud Road Suite 230 Lexington, KY 40509 Louisville Campus-215 South Hurstbourne Parkway Suite 201 Louisville, KY 40222 Florence Campus-6900 Houston Road Building #600 Suite #24 Florence, KY 41402 |
| MedQuest College | 1575 Winchester Road, Suite 110, Lexington, KY 40505 |
| Sullivan University | Phlebotomy Certificate |
Sponsored Listings
Salary
An average salary of a phlebotomist in Kentucky is $32.936 per year.
Certification, location, and medical facilities affect the salary.
Annual Salary Range:
Annual Salary by Location:
| Location | Avg. Annual Salary |
| --- | --- |
| Lexington | $33,304 |
| Louisville | $33,375 |
| Owensboro | $33,239 |
| Bowling Green | $31,903 |
| Covington | $34,610 |
| Hopkinsville | $31,853 |
| Frankfort | $32,331 |
| Henderson | $33,452 |
| Richmond | $32,992 |
| Paducah | $31,570 |
Regional Salary in Kentucky
| Region | Employed | Avg. Annual Salary | Avg. Hourly Pay | Top 10% Annual Salary | Bottom 10% Annual Salary |
| --- | --- | --- | --- | --- | --- |
| Lexington-Fayette, KY | 330 | $37,520 | $18.04 | $47,880 | $27,660 |
| Louisville/Jefferson County, KY-IN | 930 | $36,730 | $17.66 | $45,340 | $20,900 |
| Owensboro, KY | 90 | $37,200 | $17.88 | $46,570 | $30,070 |
* Salary information based on the May 2022 Occupational Employment Statistics (OES) Survey for Phlebotomists, OCC Code 31-9097, BLS.
* Employment conditions in your area may vary.
Phlebotomy Classes by State
---