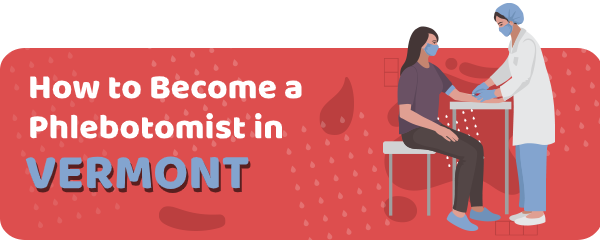 Phlebotomy is on the rise, and therefore, a great choice for a career.
If you live in Vermont, you have an excellent choice of schools for proper phlebotomy training.
The best way to start your career in the medical-allied field is to become a certified phlebotomist.
Moreover, after you gain experience in phlebotomy, you can advance your credentials and improve salary and job opportunities.
The phlebotomist is responsible for drawing blood samples from the patients and sending them to the medical laboratory for analysis.
The samples are used for the identification of diseases, deficiency, but also blood donations.
Sponsored Listings
Therefore, a phlebotomist is an important part of the medical team and highly important for the diagnostic process.
Only California and Louisiana require phlebotomists to be nationally certified to work.
All other states, legally, can employe phlebotomists just after high school.
However, the best way to learn more about phlebotomy and gain the necessary experience is to complete accredited certificate training at the proper institution.
In Vermont, cities such as Burlington, Rutland, Winooski, Newport, Barre, and several others are great locations for a future phlebotomist, in terms of career opportunities and salaries.
Employment Opportunities in Vermont
Almost all roles in healthcare are on-demand, including phlebotomists.
Certification ensures that you have appropriate knowledge and skills, but also it important leverage in the job finding process.
Phlebotomists can work in all hospital departments, ER, surgery pre-op ICU, NICU, etc.
Skilled and compassionate phlebotomists are usually employed in nursing homes.
Urgent care clinics, blood labs, community, and mobile clinics are also a common work setting for phlebotomists.
Moreover, private doctor's offices, pediatricians, oncologists, and other, often employ phlebotomist to prevent the delay in the treatment process.
Skilled phlebotomists, with proper qualifications, are always appreciated in all healthcare facilities.
Getting your Phlebotomy Certification in Vermont
To obtain your phlebotomy certification, you will have to complete several steps.
First of all, you need to complete quality phlebotomy training programs.
You can find these programs at training centers or colleges.
However, only programs at accredited schools will make you eligible for the certification examination.
Next, the training will include theoretical instructions that can be held in the classroom or online.
Make sure to research all schools in Vermont, check the reviews, employment statistics, student's satisfaction rate, class size, etc.
Knowing more about each school will help you to choose the training easier.
Check the program's curriculum, to make sure that the program emphasizes both theory and practical exposure.
While the majority of the programs are similar, they differ in teaching methods.
Therefore, you can find the one that works better for you.
Next, check what the prerequisites are for the school of your choice.
Generally, schools have the authority to set their own prerequisites, but the majority of them only have minimum standards.
Those include being 18 years or older, and having completed high school or passed the equivalency exam.
Additionally, some schools will require you to show proof of CPR training and proof that you are up to date with your immunizations.
Typically, training programs consist of two parts.
The first part covers classroom instructions, while the second part focuses on practical exposure.
Practical training includes clinical and laboratory training.
After the training is complete, you will have completed a minimum of 100 blood draws from real patients.
The duration of the program varies, and you can choose accelerated programs that are more intense and last shorter, or standard programs that can take you several months to complete.
Either way, you should find the one that fits your schedule and your educational expectations.
Schools
Several great schools in Vermont offer training in phlebotomy.
For example, the Center for Technology in Essex offers a phlebotomy program developed by Vermont Technical College.
The course includes classroom instructions, laboratory exercises, clinical observation, and practical training.
Next, Institute for American Apprenticeships at Vermont HITEC has high-quality, comprehensive training that covers all phlebotomy aspects.
The program lasts for 1052 hours and includes comprehensive lectures in anatomy, physiology, and excellent practical training.
If you are looking for something shorter, you can choose an 84-hour training program at Lyndon Institute.
River Bend Career and Technical Center offers a training course in phlebotomy that consists of 12 intense sessions.
The program at the University of Vermont Medical Center can be completed in eight weeks.
| School Name | Address |
| --- | --- |
| Center for Technology, Essex | 2 Educational Drive, Suite 200 , Essex Junction, VT 05452 |
| Institute for American Apprenticeships at Vermont HITEC | 156 Commerce Street, PO Box 1548, Williston, Vermont 05495 |
| Lyndon Institute | P.O. Box 127, Lyndon Center, VT 05850 |
| River Bend Career and Technical Center | 36 Oxbow Drive, Bradford , Vermont 05033 |
| University of Vermont Medical Center | 111 Colchester Avenue, Burlington, Vermont 05401 |
Salary
An average salary of a phlebotomist in Vermont is $33.706 per year.
Salary depends on various factors, such as education, certification, experience, healthcare facility, etc.
Annual Salary Range: Annual Salary by Location:
| Location | Avg. Annual Salary |
| --- | --- |
| Burlington | $34,465 |
| Essex | $34,850 |
| Rutland | $35,163 |
| Colchester | $34,850 |
| South Burlington | $34,850 |
| Bennington | $35,805 |
| Brattleboro | $35,877 |
| Hartford | $36,277 |
| Milton | $34,829 |
| Barre | $34,532 |
Phlebotomy Classes by State
---