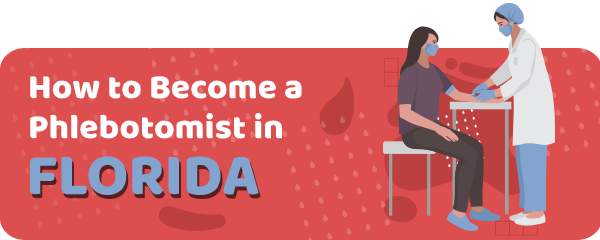 Phlebotomy is an excellent starting point for aspiring medical workers in Florida.
Because the majority of Florida residents are in the elder category, there is a growing demand for licensed phlebotomists in Florida.
The role of certified phlebotomists includes tasks such as blood samples collection for disease identification, illnesses, or nutrient deficiency.
Phlebotomists also store, update medical records, and process the samples taken from the patient.
The phlebotomist career is very prospective.
The 70% of phlebotomy job listings in Florida seek certified phlebotomists.
Sponsored Listings
Keep reading to find out more about how to become a phlebotomist in Florida.
Training
Phlebotomists in Florida need to obtain a Bachelor's degree or Associate degree to remain competitive in the job market.
The four-year program includes plenty of hours of practical exposures.
In the second year, students are prepared to sit for the national certification exam.
In Florida, the American Society for Clinical Pathologists administers the exam.
There are several certification levels recognized in Florida.
The highest-paid certification level is ASCP Certified Donor Phlebotomy Technician.
Required Skills
Phlebotomists need to be detail-oriented and able to perform excellently under pressure.
The problem-solving mind is highly appreciated compassion.
Phlebotomists need to be able to calm stressed patients and perform proper blood collection procedures.
Next, teamwork and the ability to work long hours and weekends are also useful for the role of phlebotomists.
Basic computer skills and knowledge about lab equipment is important as well.
Training Course Elements
There are several training courses available for aspiring phlebotomists in Florida.
The majority of them cover similar topics.
Those include theoretical knowledge and practical skills.
For example, training can include identification of the pre-analytical complications in blood collection.
It means proper patient assessment and identification of any factors that could affect the patient negatively.
The important part of the training is becoming familiar with proper hang hygiene and gloving procedures.
One portion of the training focuses on learning how to make the patient comfortable and how to calm stressed patients with needle fears.
Next, training includes learning about proper placement of the patient and selection of the venipuncture site.
All phlebotomy courses teach patients about three major venipuncture methods – the butterfly method, winged-infusion, and the evacuated tube system.
Additionally, training needs to include teaching about proper tourniquet application, specimens labeling, and assessment of the patient prior to leaving.
Certification Requirements in Florida
To earn the certification, you need to have a high school diploma or GED.
Next, applicants are required to complete phlebotomy training approved by the state.
The programs must include 40 hours of classroom training and 40 hours of practical experience.
Lastly, students are required to perform 50 venipunctures and 10 skin punctures under supervision.
Certification Renewal
The certification renewal cycle in Florida is two years.
The renewal requirements include completing six hours of CES and paying the renewal fee.
It is highly important to be prompt and renew the certification on time.
That way, you can maintain your marketability and increase your salary level.
Bear in mind that state regulations in Florida don't require phlebotomists to be nationally certified.
However, there are plenty of benefits to national certification.
Approved Certification Agencies in  Florida
There are several certification agencies in Florida.
Some require work experience and allow you to take the test in written or in oral form.
The agencies are:

National Center for Competency Testing
American Medical Technologists
American Society for Clinical Pathology
American Society of Phlebotomy Technicians
Schools
Plenty of colleges in Florida have proper phlebotomy training.
For example, Phlebotomy Certification Class is available at the Cambridge Institute of Allied Health and Technology.
Eastern Florida State College has a six-week phlebotomy training program.
Indian River State College offers a comprehensive, 165 clock hour phlebotomy training programs with high educational standards.
Miami Dade College has a convenient training for future phlebotomists that focus equally on practical skills and theoretical knowledge.
The Phlebotomy course at Sheridan Technical College is available as a full-time and part-time option.
A diploma program for future phlebotomists is part of the Ultimate Medical Academy programs.
You can also study at the Phlebotomy Learning Center of Orlando, Robert Morgan Educational Center & Technical College, Marion Technical College, Lorenzo Walker Technical College, or others.
| School Name | Address |
| --- | --- |
| Cambridge Institute of Allied Health and Technology | Altamonte Springs Campus- 460 East Altamonte Dr. Altamonte Springs, FL 32701 |
| Eastern Florida State College | 1519 Clearlake Road, Cocoa, FL 32922 |
| Erwin Technical College | 2010 E. Hillsborough Avenue, Tampa, Florida 33610. |
| Express Training Services | Ft. Myers- 1469 Colonial Blvd., Suite 202 Ft. Myers, FL 33907 Naples-2520 Davis Blvd., Suite 200 Naples, FL 34104 Vero Beach- 1655 27th St., Suite I Vero Beach, FL 32960 Ocala- 1601 NE 25th Ave, Suite 101 Ocala, FL 34470 Gainesville- 3911 Newberry Rd., Suite B Gainesville, FL 32607 Pensacola- 4900 Bayou Blvd., Suite 111 Pensacola, FL 32503 |
| Florida Gateway College | 149 SE College Place, Lake City, FL 32025 |
| Indian River State College | 3209 Virginia Avenue, Fort Pierce FL 34981 |
| Lake Technical Center | 2001 Kurt Street, Eustis FL 32726 |
| Lindsey Hopkins Technical College | 750 NW 20th St, Miami, FL 33127 |
| Lorenzo Walker Technical College | 3702 Estey Avenue, Naples, Florida 34104 |
| Marion Technical College | 1014 SW 7TH Road, Ocala, FL 34471 |
| Miami Dade College | 950 NW 20th St., Miami, FL 33127 |
| North Florida Medical Institute | 8824 Arlington Expressway Jacksonville, FL 32211 |
| Pasco-Hernando State College | 10230 Ridge Road, New Port Richey, FL |
| Pensacola State College | 1000 College Blvd. Pensacola, FL 32504 |
| Phlebotomy Learning Center of Orlando | 611 N. Wymore Road, Suite 207, Winter Park, FL 32789 |
| Robert Morgan Educational Center & Technical College | 18180 SW 122 Avenue – Miami, FL 33177; 5780 NW 158 Street – Miami Lakes, FL 33014 |
| Sheridan Technical College | 5400 Sheridan Street Hollywood, Florida 33021; 20251 Stirling Road, Pembroke Pines, Florida 33332 |
| South Dade Technical College | 28300 S.W. 152nd Avenue, Leisure City, FL 33033 |
| South Florida State College | 600 West College Drive, Avon Park, FL 33825 |
| Ultimate Medical Academy | Clearwater Campus- 1255 Cleveland Street Clearwater, FL 33756 |
Salary
An average salary of a phlebotomist in Florida $33.622.
However, the salary depends on location, experience, certification, etc.
Annual Salary Range:
Annual Salary by Location:
| Location | Avg. Annual Salary |
| --- | --- |
| Jacksonville | $33,403 |
| Miami | $34,454 |
| Tampa | $33,722 |
| St. Petersburg | $33,693 |
| Hialeah | $34,189 |
| Orlando | $33,668 |
| Fort Lauderdale | $34,369 |
| Tallahassee | $32,100 |
| Hollywood | $34,369 |
| Pembroke Pines | $34,146 |
Phlebotomy Classes by State
---