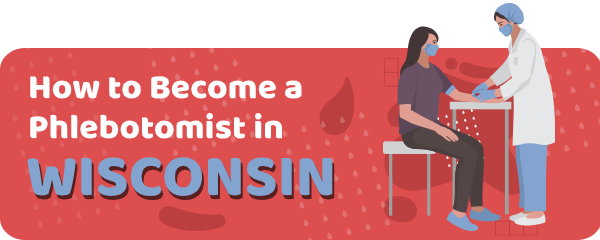 Choosing a career as a phlebotomist is a great idea because the employment options are growing very fast in Wisconsin.
There are several ways to start your career.
You can start by completing a phlebotomy training that lasts from four to six weeks.
Also, you can earn an associate of applied science degree in around 20 months.
Even though the certification isn't officially required for the job of a phlebotomist, having a technical certification is highly appreciated.
The certification is called CPT – Certified Phlebotomy Technician.
Sponsored Listings
However, some healthcare facility requires its employers to have additional certifications.
Training
There are multiple training options for aspiring phlebotomists in Wisconsin.
Technical schools and colleges throughout the state offer appropriate programs for students.
Clinics focus on practical experience, while vocational schools equally cover practical and theoretical knowledge.
Training courses are divided into multiple credits.
Students, who complete programs within vocational schools, usually earn an Associate degree, Bachelor's degree, or exam preparation for CPT certification.
Students in Wisconsin need to be up to date with vaccinations, have health insurance, and hold malpractice insurance.
Required Skills
The phlebotomist training will prepare students and improve their various skills.
You can expect to improve your skills in the following field:
Medical terminology
Collection of non-blood specimens
Data entry and basic computer skills
Safety and disease prevention methods
Venipuncture methods
Patient care and privacy
For many students, phlebotomy is usually the initial step towards a career in the nursing field.
After gaining experience, students may choose to improve their skills and knowledge and improve their career to become medical assistants, nurses, or else.
Certification Requirements
Even though Wisconsin doesn't require certification, phlebotomists with certification have better job opportunities.
Also, medical facilities prefer the hire certified phlebotomists.
You can earn the certification after you pass the certification exam issued by an approved certifying agency.
Students become qualified for the exam after meeting several requirements:
Completing an accredited program
Competition of at least 100 phlebotomy collections or having at least a year of experience of work in a clinical setting, or completing an LPN or RN program
Being 18 years or older
The exam is computer-based, and those who successfully pass the test are awarded certification.
The validity of certification is two years, and the renewal cycle is also two years.
Phlebotomists Work Setting
Aspiring phlebotomists can expect the 25% growth rate in the next several years.
Phlebotomists usually work in hospitals or community clinics.
Additionally, they can be found in diagnostic labs, blood donor centers, or private practice offices.
There are plenty of job opportunities for phlebotomists in the state of Wisconsin.
Schools
When choosing a phlebotomist program in Wisconsin it is important to verify that the school is properly accredited.
Some schools have their set of prerequisites and individual assistance with program tuition.
There are 11 phlebotomy educational programs in Wisconsin.
For example, Blackhawk Technical College in Janesville offers a comprehensive phlebotomy training program.
Students can complete it in two semesters, and the program is equivalent to 17-18 college credit.
Also, students who complete it are eligible to sit for the national examination and earn the certification.
The phlebotomy course at Madison Area Technical College includes two courses – Introduction to Phlebotomy and Phlebotomy Techniques.
Mid-State Technical College in Marshfield offers a Phlebotomy Technician Degree Program.
Students can complete it in less than a year and is equivalent to 24 credits.
Also, because the program is accredited from the National Accrediting Agency for Clinical Laboratory Sciences, students are eligible to sit for the national certification.
The phlebotomist course at Milwaukee Area Technical College can be completed in one semester.
After program completion students are prepared to properly and effectively draw blood, process specimens, and perform other phlebotomists' duties.
The program is equivalent to 18 credits.
Some of the courses are Basic Lab Skills, Phlebotomy, Communication Skills, Medical Terminology, Introduction to Computing for Health Care, etc.
Next, Moraine Park Technical College in Fon du Lac prepares students for national certification.
The program lasts two semesters.
Nicolet College in Rhinelander offers a phlebotomy training that lasts one semester and includes 100 clinical phlebotomy experiences.
Further, Northcentral Technical College is located in Green Bay and has a high-quality certification course.
Waukesha County Technical College has a 16-credit phlebotomy program.
Lastly, there are great training programs offered at Wisconsin Indianhead Technical College and Western Technical College.
| School Name | Address |
| --- | --- |
| Blackhawk Technical College | 6004 S County Road G, Janesville, WI 53546 |
| Madison Area Technical College | 1701 Wright Street, Madison, WI 53704 |
| Mid-State Technical College | 2600 West 5th Street, Marshfield, WI 54449 |
| Milwaukee Area Technical College | 700 W. State Street, Milwaukee, WI 53233 |
| Moraine Park Technical College | 235 North National Avenue, Fon du Lac, WI 54936 |
| Nicolet College | 5364 College Drive, Rhinelander, WI 54501 |
| Northcentral Technical College | 1000 W. Campus Drive, Wausau, WI 54401 |
| Northeast Wisconsin Technical College | 2740 West Mason Street, Green Bay, WI 54307 |
| Waukesha County Technical College | 800 Main St., Pewaukee, WI 53072 |
| Western Technical College | 400 Seventh Street North, La Crosse, WI 54601 |
| Wisconsin Indianhead Technical College | 1019 S. Knowles Ave. New Richmond, WI 54017 1900 College Drive, Rice Lake, WI |
Salary
The average annual salary of the phlebotomists in Wisconsin is $34.861.
The location, healthcare facility, experience, certification, etc. affect the final paycheck.
Annual Salary Range:
Annual Salary by Location:
| Location | Avg. Annual Salary |
| --- | --- |
| Milwaukee | $35,027 |
| Madison | $34,826 |
| Green Bay | $33,952 |
| Kenosha | $34,698 |
| Racine | $34,698 |
| Appleton | $33,959 |
| Waukesha | $34,895 |
| Oshkosh | $33,739 |
| Eau Claire | $32,757 |
| Lake Geneva | $34,595 |
Phlebotomy Classes by State
---