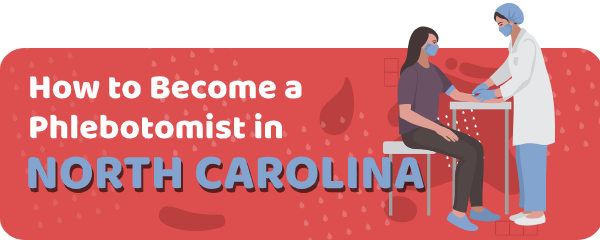 The majority of people were in contact with phlebotomists when they visited a medical clinic or doctor's office for a blood test.
A healthcare worker, who is in charge of drawing blood from the patients, usually by skin puncture, is called phlebotomist or phlebotomy technician
Also, phlebotomists work with doctors during a blood transfusion or any other medical procedure that includes blood testing or transfer.
A career in phlebotomy is an excellent starting point for those who want to have the opportunity to advance their career in the future.
In North Carolina, there are plenty of schools and colleges that offer phlebotomy training.
You can find schools in Fayetteville, Charlotte, Raleigh, Hickory, Wilmington, and Durham.
Sponsored Listings
These cities are also the top places for phlebotomists' employment.
Certification Requirements in North Carolina
In North Carolina, the phlebotomy certification isn't mandatory for employment.
While you are not required to hold certification, you are highly encouraged to do so.
It is because you will have a hard time finding a job in the phlebotomists without certification.
The majority of healthcare facilities prefer skilled and certified phlebotomists, as the certification proves that you have gained the necessary knowledge and skills for the role.
To get certified, you will have to complete the training program at an accredited facility.
Typical phlebotomy training includes classroom instructions and practical training in laboratory and clinical settings.
Schools can set different requirements for the programs, but there some general requirements:
Age: 18 years or older
Being up-to-date with your vaccinations
High school diploma or proof that you have passed an equivalency exam
Being able to communicate effectively in English
Having a CPR certification
Some programs don't have options for financial aid, thus you should research costs and options before you start the application process.
Some schools have different payment plans, while others require you to pay tuition 100% upfront.
Where do Phlebotomists Work?
Phlebotomists have many employment options.
Having a wide choice for work settings in different medical facilities is one of the perks of becoming a phlebotomist in North Carolina.
First of all, hospitals need a large number of qualified phlebotomists in different departments.
For example, phlebotomists can work in the ER or NICU, as well as surgery pre-op.
Also, community health centers employ phlebotomists as well.
Therefore, if you choose a community health center as your work setting, you can expect to work with patients of all ages.
Next, nursing homes and blood donation centers are great options for a phlebotomist's job.
Working in a blood donation center is very dynamic, and you can expect to work with dozens of patients per day.
Other possibilities for a phlebotomist's employment are doctor's offices and urgent care facilities.
Having a certification will ensure you leverage all these employment options.
Additionally, certification will make you eligible to work in almost all states across the country.
However, remember that you have to maintain and renew your certification.
The renewal cycle in North Carolina is two years.
How to Choose the Training Program?
There are plenty of schools in North Carolina that have high-quality comprehensive phlebotomy training.
However, it is important to find the one that fits your schedule, your budget and education expectations
Some schools offer weekend courses, and others have classes every or every other day.
Remember to choose an accredited institution, as it will make you eligible for the certification and you will have more options for clinical rotations.
Additionally, check the size of the classes.
Classes with a lower number of students are usually more focused and you will have more opportunities to get individualized attention.
Schools
If you live in North Carolina, you have great options for training.
For example, the Phlebotomy Certificate Program is available at Asheville-Buncombe Technical Community College, Brunswick Community College, Cleveland Community College, Gaston College, and Southeastern Community College.
Wake Technical Community College has a phlebotomy training that can be completed in 16 weeks, during the fall and spring semesters.
Rowan-Cabarrus Community College has a phlebotomy course that is available at various locations and includes 137 hours of clinical practice.
Phlebotomy Training at Rockingham Community College is approved by the NAACLS.
Piedmont Community College offers training for future phlebotomists in two locations.
Check the table for more information on schools for phlebotomists in North Carolina.
| School Name | Address |
| --- | --- |
| Asheville-Buncombe Technical Community College | 340 Victoria Road, Asheville, NC 28801 |
| Brunswick Community College | 50 College Road, Bolivia, NC 28422 |
| Cape Fear Community College | Wilmington (411 N. Front Street, Wilmington, NC 28401) Castle Hayne (4500 Blue Clay Road, Castle Hayne, NC 28429) Burgaw (100 East Industrial Drive, Burgaw, NC 28425) |
| Care One Health Training Institute | 309 Chapanoke Road, Suite 116, Raleigh, NC 27603 |
| Catawba Valley Community College | 2550 US Highway 70 SE, Hickory, NC 28602 |
| Cleveland Community College | 137 South Post Road, Shelby, NC 28152 |
| The College of Albemarle | Elizabeth City (1208 North Road Street, Elizabeth City, NC 27909) Manteo (132 Russell Twiford Road, Manteo, NC, 27954) Edenton (800 North Oakum Street, Edenton, NC 27932) |
| The College of Davidson and Davie Counties | PO Box 1287, Lexington, NC 27293 |
| Continual Health Education and Training | 2920 North Tryon Street, Charlotte, NC 28206 |
| Gaston College | Dallas (201 Highway 321 South, Dallas, NC 28034) Lincolnton (511 South Aspen Street, Lincolnton, NC 28092 Belmont (7220 Wilkinson Blvd., Belmont, NC 28012) |
| Halifax Community College | 200 College Drive, Weldon, NC 27890 |
| Johnston Community College | 245 College Road, Smithfield, NC 27577 |
| Montgomery Community College | 1011 Page Street, Troy, NC 27371 |
| Nash Community College | 522 North Old Carriage Road, Rocky Mount, NC 27804 |
| Piedmont Community College | Roxboro (1715 College Drive, Roxboro, NC 27573) Yanceyville (331 Piedmont Drive, Yanceyville, NC 27379) |
| Rockingham Community College | 215 Wrenn Memorial Road Highway 65, Wentworth, NC 27375 |
| Rowan-Cabarrus Community College | Salisbury (1333 Jake Alexander Blvd. South, Salisbury, NC 28146) Concord (1531 Trinity Church Road, Concord, NC 28027) (660 Concord Parkway North, Concord, NC 28027) (942 Cloverleaf Plaza, Concord, NC 28081) Kannapolis (399 Biotechnology Lane, Kannapolis, NC 28081) (200 West Avenue, Kannapolis, NC 28081) |
| Southeastern Community College | 4564 Chadbourn Hwy PO Box 151 Whiteville, NC 28472 |
| Southwestern Community College | 447 College Drive, Sylva, NC 28779 |
| Wake Technical Community College | 9101 Fayetteville Road, Raleigh, NC 27603 |
Salary
An average salary of a phlebotomist in North Carolina is $33.391 per year.
Salary is affected by certification, experience, location, facility, etc.
Annual Salary Range: Annual Salary by Location:
| Location | Avg. Annual Salary |
| --- | --- |
| Charlotte | $33,764 |
| Raleigh | $33,955 |
| Greensboro | $33,823 |
| Durham | $33,767 |
| Salemburg | $32,327 |
| Fayetteville | $32,476 |
| Cary | $33,955 |
| High Point | $34,026 |
| Wilmington | $32,281 |
| Asheville | $32,511 |
Phlebotomy Classes by State
---