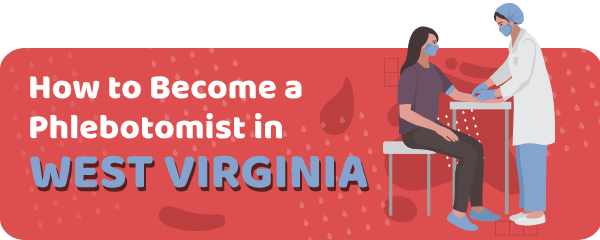 If you want to become a phlebotomist in West Virginia, there are a few things to know about the process, including training and state regulations.
There are plenty of colleges and vocational schools that offer phlebotomist training in this state.
Becoming a phlebotomist is an excellent entry point for all aspiring medical workers.
Certification
A phlebotomist is a medical worker who is responsible for drawing blood from patients.
Formal training wasn't required in the past, but nowadays healthcare facilities prefer phlebotomists with certification and appropriate training.
Large hospitals offer on-site training for aspiring phlebotomists as well.
Sponsored Listings
In West Virginia and other US states, there is a growing need for all medical workers, including phlebotomists.
Still, hospitals and clinics prefer to employ phlebotomists who have completed official training, pass the exam, and earn a CPT (Certified Phlebotomists Technician) certificate.
Additionally, some facilities require extra certification, but usually provide training for it.
Phlebotomy Training
Multiple schools in West Virginian has quality phlebotomy courses.
Those can offer a certificate, diploma, Associate, or Bachelor's degree.
At some schools, you can find an exclusive phlebotomy course, while others include phlebotomy training as part of the medical assistant program.
Satelite programs at clinics or nation-wide training centers are also available for aspiring phlebotomists.
If you choose a program at the clinic, you can expect that your training will be focused on practical tasks.
Phlebotomy students at colleges, learn equally about theoretical and practical elements of phlebotomy.
The training duration depends on the course type and number of credits.
Also, you can find a course that offers a certification examination at the end of the program, issued by the American Society of Clinical Pathology (ASCP).
Certification Requirements in West Virginia
In the USA, several states, including West Virginia, don't require their phlebotomists to hold national certification.
As mentioned before, certification is a great addition to your skills and offer better job opportunities.
To become eligible for the national CPT certification, your training institution needs to hold proper accreditation.
All accredited institutions that offer phlebotomy training have similar curriculums and similar requirements.
However, there could be some differences in prerequisite requirements.
The general requirements include holding a high school diploma or GED, having a CPR certification, English proficiency, up-to-date immunization, negative tuberculosis tests, medical insurance, liability insurance.
Additionally, some schools require aspiring phlebotomists in West Virginia to pass the criminal and drug background tests.
Therefore, make sure to be fully aware of what is expected from you, before you enter a phlebotomist training.
Required Skills
Logically, phlebotomist needs to develop primary skills of drawing blood.
Those include puncture site identification, including alternate entry points, understanding and proper use of instruments, proper samples preservation, and bandaging skills.
Next, phlebotomists need to be trained about standard laboratory practices and have basic computer skills.
It is also important that a phlebotomist is familiar with proper waste disposal, and processing procedures.
Moreover, phlebotomists need to be friendly and able to handle different patients and their fears.
Where does a Phlebotomist Work?
There are several work settings suitable for phlebotomists, due to the nature of their work.
The most common work setting for a phlebotomist is a hospital or clinic.
Therefore, they can work in an emergency room, labor, and delivery, nursery, NICU, recovery, etc.
Additionally, phlebotomists are commonly found at medical labs and community clinics, private practices, and private blood banks.
Schools
Aspiring phlebotomists have a few schools with appropriate phlebotomist training.
For example, the Academy of Careers and Technology has a phlebotomist training that includes 100 hours of clinical practice and sixteen weeks of instruction held two days per week.
Next, Blue Ridge Community and Technical College in Martinsburg offer a phlebotomist certification program.
BridgeValley Community and Technical College have a phlebotomist course that includes 120 hours of clinical rotation and 90 hours of classroom instruction.
You can also choose the Mercer County Technical Education Center and Mingo Extended Learning Center.
Both schools have excellent training options for phlebotomists.
Pierpont Community & Technical College includes a 13-credit phlebotomists program.
Next, Triad Tech, Inc. in Huntington has a comprehensive phlebotomist training course that prepares students for proper venipuncture procedures and following processes.
West Virginia Office of Laboratory Services in South Charleston offers a great phlebotomist program that lasts six weeks.
| School Name | Address |
| --- | --- |
| Academy of Careers and Technology | 390 Stanaford Road, Beckley, WV 25801 |
| Blue Ridge Community and Technical College | 400 West Stephen Street, Martinsburg, WV 25401 |
| BridgeValley Community and Technical College | 619 2nd Avenue Montgomery, WV 25136 2001 Union Carbide Drive South Charleston, WV 25303 |
| Mercer County Technical Education Center | 1397 Stafford Drive - Princeton, WV 24740 |
| Mingo Extended Learning Center | 165 Bulldog Boulevard Delbarton, WV 25670 |
| Pierpont Community & Technical College | 1201 Locust Ave, Fairmont, WV 26554 |
| Triad Tech, Inc. | 431 Fifth Ave, Huntington, WV 25701 |
| West Virginia Office of Laboratory Services | 167 Eleventh Avenue, South Charleston, WV 25303 |
Salary
An average annual salary of a phlebotomist in West Virginia is $31.011.
Additionally, salary depends on factors including certification, education and experience level, hospital, etc.
Annual Salary Range:
Annual Salary by Location:
| Location | Avg. Annual Salary |
| --- | --- |
| Charleston | $31,882 |
| Huntington | $30,913 |
| Parkersburg | $31,081 |
| Wheeling | $34,266 |
| Morgantown | $34,266 |
| Weirton | $34,143 |
| Fairmont | $34,266 |
| Beckley | $31,602 |
| Clarksburg | $30,801 |
| Martinsburg | $38,561 |
Phlebotomy Classes by State
---