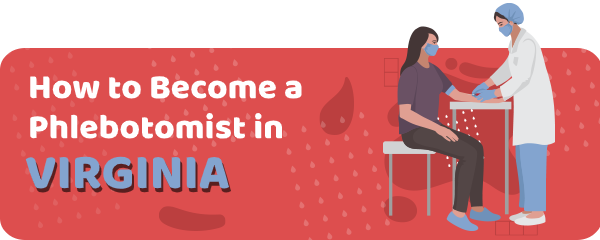 If you want to start a career in the medical-allied field in Virginia, choosing phlebotomy is an excellent idea.
The training starts after high school and soon after you complete it, you can start working and gaining valuable practical experience.
The Phlebotomy procedure is drawing blood samples from the patient.
In ancient times, phlebotomy was known as bloodletting.
Nowadays, the blood sample gathered through phlebotomy, serve to inspect the health of the patient and identify possible diseases, illnesses, conditions, or deficiencies.
Typically, a phlebotomist can work in hospitals, clinics, blood banks.
Sponsored Listings
In Virginia, you can find training for phlebotomists at lots of schools.
Getting a national certification in phlebotomy is also a plus, and you have a great foundation to continue your education in the future.
Lexington, Colonial Heights, Covington, Waynesboro, Winchester, Fairfax, and several other cities in Virginia are the best places for phlebotomists in terms of salary and employment options.
Training Programs
Aspiring phlebotomists in Virginia have great options for training programs that will prepare future technicians for the exam properly.
You can find courses at private clinics, vocational schools, and colleges across the state.
If you choose training in a clinic, you can expect a great deal of practical exposure, while colleges focus on both theory and practical training.
In Virginia, you can find courses with different credits and different degree levels – Certificate, Associate Degree, and Bachelor's Degree.
Some are more advanced, while others cover only basic aspects of phlebotomy.
The majority of courses require students to meet minimum educational standards.
Some courses make you eligible to take the certification exam at the American Society of Clinical Pathology (ASCP).
How to Choose Appropriate Phlebotomy Training in Virginia?
The best training for you is the one that educates you entirely and prepares you for the role in all aspects of phlebotomy.
Before you sign up for any of the courses, check the detailed descriptions to make sure the training includes all necessary topics.
The program should teach you how to assess the patient and identify signs that could tell you that the procedure can be harmful to the patient.
A highly important part of the training is hand hygiene and gloving procedure.
Next, the best courses will teach you how to make the patient comfortable and choose proper patient placement.
Furthermore, you should learn how to select the venipuncture site and more about the procedure itself.
Therefore, after you complete the course, you should understand the differences between venipuncture methods and techniques.
Moreover, all students will learn how to apply the Tourniquet and how to label the samples.
Lastly, after the procedure is complete, you need to assess the patient before leaving.
Skills for the Role
To become a phlebotomist, you need to be knowledgeable about important points in venipuncture.
The job of a phlebotomist is much more than just holding a needle.
It requires knowledge not only about techniques and sites but also about samples collection in the proper tubes, preservation, bandaging, etc.
Phlebotomists need to know about human anatomy and physiology, veins types, laboratory equipment, data entry, evaluation, laboratory practice, waste disposal, glucometer systems, etc.
Moreover, phlebotomist needs to be friendly and able to deal with different people and situations.
Therefore, a phlebotomist needs to know how to calm the patient and perform the procedure that will put the patient in minimal discomfort.
Phlebotomist Career Outlook in Virginia
Phlebotomists are in high demand all across the country.
The expected growth rate for the next several years is high, around 14%.
Phlebotomists can work in different healthcare facilities, including hospitals, clinics, blood banks, home health agencies, doctor's offices, etc.
Therefore, they have plenty of employment options.
Schools
There are numerous training programs for future phlebotomists in Virginia.
For example, the program at AlliedRX Institute Of Healthcare focuses on procedures and laboratory practice.
America School of Nursing & Allied Health offers the course that can be completed in only eight weeks.
Blue Ridge Community College has a comprehensive 200 hours Phlebotomy training program.
In Lynchburg, you can choose between Central Virginia Community College and American National University.
Metropolitan Institute Of Health And Technology holds the training in Lorton.
The program at Mountain Empire Community College lasts for two semesters and is equivalent to 25 credit hours.
Check the table for more options for schools in Virginia.
| School Name | Address |
| --- | --- |
| AlliedRX Institute Of Healthcare | 2105 E Parham Rd #108, Henrico, VA 23228, USA |
| American National University | 3926 Seminole Trail, Charlottesville, VA 22911; 1515 Country Club Road, Harrisonburg, VA 22802; 104 Candlewood Court, Lynchburg, VA 24502; 1813 East Main Street, Salem, VA 24153 |
| America School of Nursing & Allied Health | 14914 Jefferson Davis Hwy, Woodbridge, VA 22191 |
| Blue Ridge Community College | Box 80, One College Lane, Weyers Cave, Virginia 24486 |
| Central Virginia Community College | 3506 Wards Road, Lynchburg, VA 24502-2498 |
| ECPI University | Newport News, VA; Northern Virginia, VA; Richmond, VA Moorefield (South Side); Virginia Beach, VA |
| Fast Track Health Care Education | 3201 Brandon Ave., SW Suite 8, Roanoke, VA 24018 |
| Hear to Heart Training Center | 312 Waller Mill Rd #600, Williamsburg, VA 23185 |
| Medical Educators | 4920 East Millridge Parkway, Suite 202, Midlothian, VA 23112 |
| Metropolitan Institute Of Health And Technology | 8170 Silverbrook Road, Lorton, VA 22079 |
| Mountain Empire Community College | 3441 Mountain Empire Road, Big Stone Gap, VA 24219 |
| Norfolk State University | 700 Park Avenue, Norfolk, VA 23504 |
| Northern Virginia Community College | 6699 Springfield Center Drive, Springfield, VA 22150 |
| Northern Virginia Phlebotomy, LLC | 42020 Village Center Plaza, Suite 120-144, Stone Ridge, VA 20105 |
| Southside Virginia Community College | 109 Country Road 378, Alberta, VA 23821 |
| Southwest Virginia Community College | 724 Community College Road, Cedar Bluff, VA 24609 |
| Tidewater Community College | 315 Granby Street, Norfolk, VA 23510 |
| Tidewater Medical Training | Hampton Campus, 1503 Hardy Cash Drive, Hampton, VA 23666; Virginia Beach Campus, 1300 Diamond Springs Road, Suite 102, Virginia Beach, Virginia 23455 |
| Virginia Highlands Community College | 100 VHCC Drive, Abingdon, VA 24210 |
| Virginia Western Community College | Virginia Western Community College, Roanoke, VA 24038 |
Salary
An average salary of a phlebotomist in Virginia is $34.791 per year.
Salaries vary across the state, but also depend on education, certification, facility type, experience, etc.
Annual Salary Range: Annual Salary by Location:
| Location | Avg. Annual Salary |
| --- | --- |
| Virginia Beach | $33,461 |
| Norfolk | $32,957 |
| Chesapeake | $32,915 |
| Richmond | $35,079 |
| Newport News | $32,789 |
| Hampton | $32,789 |
| Alexandria | $38,736 |
| Portsmouth | $32,957 |
| Roanoke | $32,326 |
| Lynchburg | $32,239 |
Phlebotomy Classes by State
---