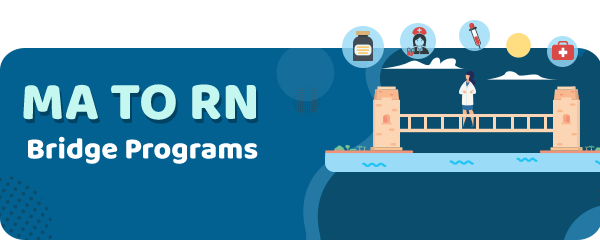 Medical assistants (MA) take the role and training specific to the ambulatory or outpatient setting.
MAs are an essential part of the medical care team and are exposed to many aspects of the Registered Nurse (RN) job.
The transition from an MA to RN can be challenging, but it brings numerous benefits and rewards for those who choose this career.
They can also obtain multiple RN specialties.
MA to RN Pathways
There is no specific program designed as the MA-to-RN transition.
But there are multiple areas of medical assisting via which MA can become RNs.
It includes securing enrollment in a nursing program as well.
In many nursing programs you can be assigned "points" for work experience related to nursing, e.g., Certified Nurse's Aide or other experience.
Depending on the program that an MA completed, some classes can be transferred to nursing school as one of the requirements for pre-nursing, if they received some college credits.
Starting as an MA
Medical assistants who have taken a training program and have an associate's degree in science have better chances to transfer some credits to a nursing school.
Some programs require such courses as Medical Terminology, College Writing, and Computer Familiarization which can transfer to multiple pre-nursing requirements.
For most MA programs, you need an introduction to anatomy and physiology (A&P) course which is missing from the full college course required for pre-nursing admission.
However, when attending the full course for the pre-nursing program, MAs have the advantage of having completed the introductory A&P course.
The MA program includes courses specific to the role of a medical assistant:
Administrative Medical Assisting.
General Medical Assisting.
Medical Assisting Practicum.
Work Experience in Medical Assisting.
Medical Insurance Procedures.
Clinical Procedures.
Medical Assisting Certification Review.
Independent Studies in Medical Assisting.
With the coursework and MA's experience in clinical procedures, MAs have an advantage in the nursing school clinical rotations.
MAs will learn how to perform simple wound care and dressing wounds, aseptic and sterile techniques for procedures, how to apply simple splints, how to assist with procedures, collect data and measure vital signs through the course of the clinical procedure during MA.
The medical assistants who graduated from an accredited MA program can take the certification examination through the Certifying Board of the American Association of Medical Assistants (AAMA).
However, not many employers require medical assistants to be certified.
But taking the certification exam can prepare the candidates in how to study and sit for national exams.
Transitioning to Registered Nursing
The training and education of the RN take more time and are more extensive than of the medical assistant.
This is because the practice of the RN is more complex and calls for a clinical license.
RNs should complete nursing studies accredited by the Accreditation Commission for Education in Nursing (ACEN).
This ensures that their nursing education is consistent and is grounded in evidence-based studies.
The programs for nurses can range from a 64-week diploma program to a four-year bachelor of science.
The required courses for nursing programs include:
English – Two Semesters.
Anatomy with Lab.
Microbiology with Lab.
Chemistry with Lab.
Physiology with Lab.
Nutrition.
Human Growth and Development.
The minimally-required courses to graduate an accredited nursing program to sit for the (NCLEX-RN) are determined by the Board of Nursing in every state.
The requirements may include about 500 hours of classroom time and more than 1,200 hours of clinical experience.
Courses include:
Professional Nursing Skills.
Nursing Care of the Adults.
Health Promotion and Wellness.
Psychiatric Nursing.
Maternal-Child Nursing.
Nursing Care of Pediatrics.
Complex-Care Nursing.
Medical assistants work under the supervision of the podiatrists, physicians, physician assistants, registered nurses, and nurse practitioners.
The role of an MA is essential to both the front and back of the medical practice office.
However, many MAs pursue more advanced education to become registered nurses.
Medical Assistants who attend nursing schools to obtain an RN license have an advantage over non-medically skilled applicants.
They can use their experience as an MA to overcome the challenges of nursing school and continue their career as an RN.
All Nursing Bridge Programs