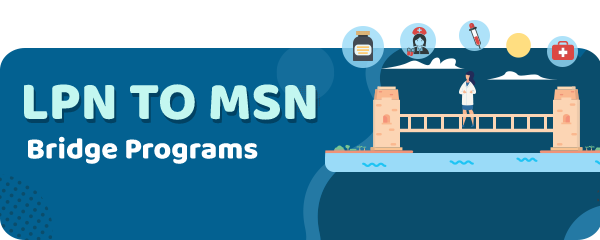 Licensed Practical Nurses (LPNs) who are seeking advancement opportunities and wish to continue their education can earn a Master of Science in Nursing degree.
This will allow them to get promoted to advanced positions and expand their knowledge in the field of nursing.
With a positive and fulfilling job outlook for LPNs, with the additional degree, they can benefit from better opportunities.
Essentially, there is no program allowing you to transfer directly from LPN to MSN.
First, to qualify for the MSN program, LPN should become registered nurses.
With a Bachelor's degree (BSN) you can take a Master's program at some schools.
The Bridge program is a path for LPNs wishing to earn an MSN degree.
The MSN degree can be reached in different ways.
You can take the LPN to RN program, or LPN-to-BSN program.
Both can help you enroll in the MSN program.
The accelerated bridge program is explained below:
LPN-to-RN Bridge Program
Through this two-year program, LPNs can earn an associate's degree in nursing (ADN).
This program is an alternative to the RN license.
Upon completion of this bridge program, you can take the NCLEX-RN exam and become a licensed RN.
LPN-to-BSN Bridge Program
This program is considered to be the best way to qualify for the MSN degree.
Most schools take students with this degree.
If you are seeking a particular specialty through the MSN, you will also need to hold a bachelor's degree with your RN license.
How to Get into the MSN Program
Upon completion of one of the programs mentioned above, nurses can enroll in the MSN bridge program.
The program lasts for 2-3 years.
This will depend on the coursework of the initial program.
The requirements for the LPN to MSN include 2.5 or higher GPA or 2.0 GPA on a 4.0 scale from your LPN degree or other nursing programs.
The majority of schools take students with a higher GPA.
Additional requirements include a letter of recommendation and character references from a college dean or another higher authority.
Additionally, you will have to provide transcripts and a diploma.
The syllabus of the MSN bridge program is quite advanced, and it also covers the scientific part of nursing.
With the MSN program, you can pursue the following specializations:
Pediatric Nurse Practitioner.
Family Nurse Practitioner.
Women's Health Nurse Practitioner.
MSN in Nursing Entrepreneurship.
Adult Acute Care Nurse Practitioner.
Adult Psychiatric Mental Health Nurse Practitioner.
LPN to MSN Bridge Program Entrance Exams
If you are considering enrolling in a graduate-level program in nursing, you need to know what entrance tasks may be required at a nursing school to determine if a candidate is right for the Master's program.
The verification criteria are specific for every program.
Typically, there are two exams required to enroll in the Master's nursing program – the MAT or GRE.
MAT
The MAT stands for the Miller Analogies Test.
It's a mental ability test that evaluates your analytical skills.
Students are presented with problems in analog format that they should solve.
The examination covers detailed academic subjects.
MAT exam evaluates a student's academic capability.
It also checks your ability to memorize information.
GRE
The GRE, or the Graduate Record Examination, is designed for students preparing for the graduate-level program.
This exam includes two parts, the general tests, and subjects tests.
The general test evaluates verbal, analytical, and quantitative reasoning skills.
Additionally to the entrance exams, you need to maintain the required GPA at the undergraduate level as well as gain some work experience before you enroll in the program.
The experience can include part-time employment, internship, or volunteer work.
Students with experience and knowledge are perfect candidates for the master's program.
LPN to MSN Bridge Program Coursework
The MSN bridge program coursework includes the scientific aspect of nursing and advanced syllabus.
At the beginning of the MSN program, the specialization should be decided on.
The additional specializations include ambulatory care, nursing education, nurse midwife, community health care nursing, nurse anesthetists.
Depending on the school, the coursework can vary.
They average 60 credit hours that you should dedicate to earn the degree.
Undergraduate BSN courses can be finished early in the semester.
After that, you can go for a higher level of education to complete the MSN course.
To meet the needs of individuals, most schools have an academic counseling facility.
Since the coursework and workload are quite complex, students can use the help of appointed experts during the bridge program.
Students can also transfer their existing credits to shorten the coursework.
In some bridge programs, RNs can transfer up to 60 credits.
Others can transfer their undergraduate BSN credits based on their experience.
Those students who finished their coursework outside the US should submit transcripts to the particular school for revaluation.
The foreign transcripts are considered course by course, and slightly different standards apply to professional work.
Grades, pass/fail courses, and credited courses are considered as well.
Licensing and Accreditation
Nurses need a valid RN license to enter the bridge program to earn an MSN degree.
Some programs require a license of a certain state where the nursing school is located.
For some programs, RNs also need a year of clinical experience.
Online LPN to MSN Bridge Program
Admission Requirements
The Online LPN to MSN programs require the following:
A CGPA of 3.0 or above.
A state license in nursing.
ADN from an accredited school of nursing.
Successful telephonic and in-person interview.
Submission of Graduate Record Exam (GRE) scores.
At Least three letters of recommendation.
Prerequisites
For the top nursing schools, LPNs should complete prerequisite courses with a minimum of B grade, which includes:
English Composition.
General Psychology.
Physical Assessment.
Statistics.
Courses and Curriculum
The goal of the LPN to MSN program is filling the gap between the two courses.
The courses mandatory for both programs are what fills the gap between the associate's and master's degrees.
Some of the bridge courses are:
Statistics.
Community Health.
Communication.
Physical Assessment.
Leadership.
Nursing Theory.
Nursing Research.
Upon completion of the bridge courses, students move to the MSN-level courses and can study multiple essential subjects there.
These courses include:
Epidemiology.
Pathophysiology.
Biostatistics.
Pharmacology.
Evidence-Based Practice.
Health Assessment.
Accreditation
LPN to MSN courses, both online and traditional, are accredited by the Commission on Collegiate Nursing Education (CCNE) or the Accreditation Commission for Education in Nursing (ACEN).
Nursing Schools Offering Online LPN to MSN Program
1. Simmons School of Nursing and Health Sciences
Simmons School of Nursing and Health Sciences was founded in 1902 and has been offering a variety of courses in nursing since.
They teach students the skills and knowledge that are demanded by and significant for employers.
The MSN program is meant for nurses with an associate's or bachelor's degrees in nursing.
With this program, they can pursue more advanced positions and careers.
Campus: Online.
Accreditation: CCNE.
Type: Private, For-Profit.
GRE Required: No.
Per Credit Hour: Inquire.
Programs: RN to MSN, MSN, DNP.
2. Chamberlain College of Nursing
This college is meant for nurses with licenses and experience who are pursuing the MSN degree and wish to advance their careers.
The focus of the coursework is on practical experience and class discussions.
Students can take one of the following paths:
Executive.
Educator.
Family Nurse Practitioner.
Informatics.
Healthcare Policy.
Students taking an online MSN program can sit for national certification in their specialty.
Campus: Online.
Accreditation: North Central Association of Colleges and Schools.
Type: Private, For-Profit.
GRE Required: No.
Per Credit Hour: Inquire.
Programs: RN to MSN Online, Master of Science in Nursing (MSN), MSN – Family Nurse Practitioner, MSN – Nurse Educator, MSN – Nurse Executive, MSN – FNP, MSN – Nursing Informatics, MSN – Healthcare Policy.
3. Capella University
Capella University was established in 1918 and now offers a fully online program and clinical training.
There are 21,000 students currently enrolled in various degree programs.
Campus: Online.
Accreditation: North Central Association of Colleges and Schools, CCNE.
Type: Private, For-Profit.
GRE Required: No.
Per Credit Hour: Inquire.
Programs: MSN – RN-to-MSN Nursing, General, MSN – RN-to-MSN Nursing Informatics.
4. South University
South University was founded in 1899.
It offers a great platform for nurses to grow and learn.
The subjects include real-life experience.
With the online LPN programs, you can have a very flexible schedule.
Approximately 52% of students at South University take online programs.
Campus: Online.
Accreditation: North Central Association of Colleges and Schools.
Type: Private, For-Profit.
GRE Required: No.
Per Credit Hour: Inquire.
Programs: RN to MSN- Nurse Administrator, RN to MSN with a specialization in Adult Health Nurse Practitioner(MSN), RN to MSN- Family Nurse Practitioner (MSN), RN to MSN – Nurse Educator (MSN).
5. University of Cincinnati
The University of Cincinnati was founded in 1819, and it's a public research institute with a wide array of programs.
Every year, this University has about 5,000 graduates.
The research, faculty, accreditation, and advanced curriculum are evaluated by the Carnegie Commission.
This University is considered to be at a higher level in imparting higher education.
Campus: Cincinnati, Online.
Accreditation: Southern Association of Colleges and Schools Commission on Colleges.
Type: Non-Profit.
GRE/GMAT Required: No.
Per Credit Hour: Inquire.
Programs Offered: MSN- Nursing Administration, MSN – Adult-Gero Primary Care Nurse Practitioner, MSN- Nurse-Midwifery.
Pros of Getting MSN
Broaden Opportunities
With some nursing specializations requiring a master's degree, with MSN you can acquire certain prestigious jobs in hospitals and other healthcare organizations.
MSN is a great choice if you are aiming at managerial roles in hospitals.
Higher Income
Nurses who are heading to advanced nursing must earn MSN.
Their salary is higher than RNs.
According to the Bureau of Labor Statistics, Certified Registered Nurse Anesthetists make twice as much as the average salary of an RN.
More Options Available
Students have multiple options with an online MSN degree.
They can go at their own pace and schedule their studies with great flexibility.
You can even continue your education through distance learning.
In-depth Knowledge of Nursing
Students study advanced nursing.
With the MSN programs, they can pursue any favorable specialty path and dive into advanced nursing studies.
Eventually, they can become experts in a specific field.
Cons Of Getting MSN
The MSN programs look simple and uncomplicated, but in reality, there are some major things you should consider in the education you're after.
Advanced Nursing Degrees Are Hard
The curriculum of the master's program is vast and the program itself can be challenging.
You have to dedicate your full attention to the course.
Otherwise, you risk failing the program.
Every subject is essential.
So if you are planning to use your knowledge in the long run, you need to pay attention to all subjects.
MSN Program Is Expensive
The MSN degree is costly, and you will have to invest a great deal of time and money.
Compared to other types of education, tuition fees are high.
Most nursing schools demand a significant amount of fees for the MSN degree.
Time-consuming Course and Clinical Hours
Both online and traditional MSN programs are time-consuming and lengthy.
You need to have a particular number of hours a week to dedicate to the coursework to finish the course on time.
You have to deal with the pressure of studies correctly.
Pursuing an MSN degree can be tiring and demands hard work.
So, before you start your career advancement, think your own pace through and consider both sides.
Job Prospects For LPN to MSN Bridge Program Graduates
The job prospects are expected to be great for advanced nursing practitioners.
The employment of such occupations as nurse anesthetists, nurse midwives, and nurse practitioners should grow by 312% through 2024.
The increase in the rate is dictated by the growing demand for healthcare services.
The demand is also influenced by insured patients from healthcare legislation.
With the federal health insurance reform, many people will get access to health insurance.
The services of advanced practice registered nurses and physicians will be in demand.
The services of the APRNs will be in demand at physicians' offices, clinics, healthcare organizations, and other establishments.
Below, you can find the information on how the growth in employment was projected from 2014 to 2024:
Nurse anesthetists, nurse midwives, nurse practitioners: employment rate in 2014 – 170,400; projected employment rate in 2024 – 223,800
Nurse Anesthetists: employment rate in 2014 – 38,200; projected employment rate in 2024 – 45,600
Nurse-Midwives: employment rate in 2014 – 5,300; projected employment rate in 2024 – 6,600.
Nurse Practitioners: employment rate in 2014 – 126,900; projected employment rate in 2024 – 171,700.
All Nursing Bridge Programs