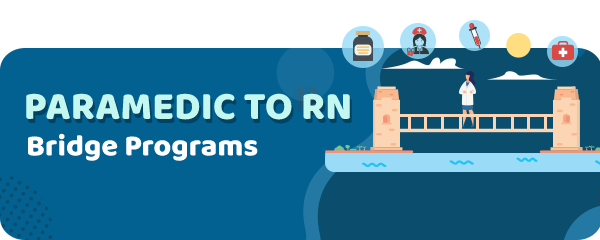 Paramedics that wish to advance their careers can choose to become registered nurses, which is an excellent progression.
The paramedics to RN bridge programs are available all over the country.
With an accelerated curriculum designed specifically for paramedics, they can build upon their skills and knowledge.
In the field of registered nursing, you can earn a better income, get more job opportunities, and a more regular schedule.
This can be suitable for paramedics who are looking for a change of pace.
2023 – Best Paramedic to RN Programs
Paramedics who wish to move up the career ladder by obtaining a nursing degree can benefit from specialized pathways to achieve this goal efficiently.
There are multiple programs available nationwide to help paramedic transition to the area of registered nursing by building upon the skills and experience they already have.
Those who consider enrolling in such a program need to choose the one that suits their needs the best.
So, we have put together a list of top Paramedic to RN programs to help you pick the right option for your future.
#1 MidAmerica Nazarene University
MidAmerica Nazarene University's Accelerated BSN Program is designed for Paramedic/MICT, LPN, or other students with a previous college education.
They should have at least 60 college credit hours.
The program can be completed within 12 months.
With MNU's hybrid program, students can take some online classes, and take the rest on-campus in Olathe, Kansas.
The program covers such courses as Discipline & Practice of Professional Nursing, Pathophysiology, etc.
Students should complete a total of 64 credits, which cost $569 per credit hour.
#2 Georgia Highlands College
Georgia Highlands College offers a Paramedic to RN bridge program upon completion of which you earn an associate's degree in nursing (ADN/ASN).
Those who wish to apply should do so before September 1 for a Spring semester program.
Students have a flexible part-time schedule.
The full-time program comes in the summer.
In the GHC bridge program, you will earn credits for the first five courses in the traditional ASN curriculum to those paramedics who meed the requirements.
#3 Polk State College
The Paramedic to RN program at Polk State College in Winter Haven, Florida can be completed within one year covering the two years of nursing coursework.
This is a competitive and accelerated program that ends with an Associate's Degree in Nursing (ADN).
This program admits students once a year.
The application period is in May for the admission date in August.
#4 Southwest Baptist University
Southwest Baptist University of Salem, Missouri holds a bridge program for paramedics pursuing an associate's degree in nursing (ADN/ASN).
Students benefit from small class sizes, faith integration, and course options in the afternoon or evening.
Students should hold an unencumbered paramedic license to be eligible for the bridge program.
#5 Florida State College at Jacksonville
The RN bridge program offered at Florida State College at Jacksonville is designed for paramedics and LPNs with the equivalent of at least 6 months of experience within the last two years.
The program takes 12 months and requires 72 credit hours for the Associate's Degree in Nursing (ADN).
The curriculum covers the courses in nursing care across the lifespan and includes a review class for NCLEX.
#6 St. Petersburg College
St. Petersburg College has a specialty pathway for qualified paramedics to bridge them to the careers of RNs.
The Nursing AS Degree for Paramedics is a program with limited enrollment and offers afternoon and evening courses for busy students.
The graduates receive essential nursing knowledge for the NCLEX-RN examination.
#7 University of Arkansas – Little Rock
The University of Arkansas, Little Rock (UALR) has a 12 months, or 3-term, LPN/Paramedic to RN program.
It combines lectures with clinical and simulation lab training that prepares paramedics for a career of an RN.
Each term, in summer, fall, or spring, students can take two classes and obtain an ADN upon graduation.
After, students can enroll in their RN to BSN program if they wish to advance their RN education even more.
#8 Kansas City Kansas Community College
At Kansas City Kansas Community College (KCKCC), you can find a selective-admission LPN/Paramedics/RRT to RN program.
Paramedics receive 16 advanced-standing credit hours upon completion of prerequisites.
This helps them complete the 68 total credit hours for an associate's degree in nursing faster.
The curriculum comprises Pharmacology, Homeostatic Concepts, and more.
#9 Albany State University
Albany State University in Georgia offers a quality Healthcare-Professional-to-RN Bridge Program designed for paramedics and LPNs.
This program helps them earn the ADN/ASN through lectures, clinical rotations, and online activities.
Students can be accepted every 5 semesters, and the program meets once a week.
#10 Hutchinson Community College
Hutchinson Community College (HCC) of Kansas holds an advanced placement RN program for paramedics who can earn an ADN.
Students take various courses such as Leadership, Care of the Family, Management Concepts in Nursing, and more.
Didactic courses at HCC are offered online, but students should complete 405 hours of clinical instruction.
How Does a Paramedic Become an RN?
Paramedics that wish to become RNs should have extended experience as a licensed professional paramedic.
This is because many bridge programs require at least one year of experience to qualify for the RN program.
Additionally, students should meet the requirements to be accepted and graduate from the online or classroom-based program.
After they complete the program, students are eligible to take the exams for the RN license.
Education and Certifications
The paramedic to RN program is designed to help paramedics obtain the training and education they need to start a career in the nursing area.
These programs are usually accelerated transitional programs based on the medical knowledge of paramedics.
Students learn nursing theory, mental health nursing, patient care planning, and more through courses and clinicals.
After completing the program, students earn an ADN, rarely BSN, and can sit for the NCLEX-RN to become certified as RNs.
If they pass the examination, the Board of Nursing in the student's state grants them a license.
Are There Paramedic to RN Bridge Programs Online?
Paramedics who wish to become an RN as soon as possible can take an online paramedic to RN training program.
Such programs allow students to get full credit for courses through standardized exams.
This program is perfect for busy students so that they can work at their own pace and access the program anytime.
The credits that students gain from these programs can be transferred to various accredited colleges.
Paramedic to RN Bridge Program Requirements
Every school may have different requirements, but commonly the admittance requires the following:
High school diploma or GED.
Completion of a variety of prerequisite courses with a grade of B or higher.
Transcripts from all high schools, colleges and universities attended.
Minimum of one year of paramedic work experience within the last 3 years.
Copy of current, valid and unrestricted state or National Paramedic Registry Certificate.
Proof of up-to-date immunizations and CPR certification.
Professional references.
HESI test results with satisfactory scores.
Paramedic to RN Classes and Courses
Students taking a paramedic to RN programs take a variety of nursing courses designed to build on their healthcare knowledge.
Both clinical and academic class experiences are a part of the curriculum.
For example, the program at Hill College in Texas divides its program into three semesters.
The first semester introduces the paramedic to RN nursing, the second covers the comprehensive nursing care of various patients across the lifespan, and the third focuses on applying critical thinking skills and client assessment.
Another example of a paramedic to RN program curriculum is courses offered at Dyersburg State Community College in Tennessee:
Mental Health Nursing.
Fundamentals of Nursing.
Pediatric Nursing.
Medical-Surgical Nursing.
Transition to Professional Practice.
Women's Health and Childbearing Family.
Professional Practice in Nursing.
Length and Cost of Paramedic to RN Bridge Programs
With the accelerated status of the programs, most of them can be completed in 12 to 16 months.
For example, the program at Parkland College in Illinois takes three semesters with 11-14 credit hours per semester after taking the prerequisite courses.
Many students can complete the program within a year.
The paramedic to RN programs are quite affordable and take only a few semesters of study.
For those tight on a budget, there are scholarships and financial aid available.
The total cost of the program at Southern Union State Community College in Alabama, for example, is approximately $9,073.50, including fees, course material, and tuition.
Program fees can vary depending on the school.
Job Outlook for Paramedics Becoming RNs
The outlook for RNs is quite favorable.
The BLS estimates the employment rate to grow by 16% by 2024.
Students who have taken the paramedic to RN program have the advantage of using their past experience in the medical field.
That specifically includes emergency and trauma situations.
This may increase their demand at hospitals, healthcare offices, clinics, etc.
The skilled RNs are sought-after with the aging population, and the experience as a paramedic is a great foundation for employment in various settings.
Potential RN Careers
Upon completion of programs, paramedics gain licenses as RNs, and they can get many rewarding nursing positions:
Home Health Nurse.
Medical-Surgical Nurse.
Trauma Nurse.
ER Nurse.
Operating Room Nurse.
Remember that some of these specialties require additional certifications.
RNs can be employed in clinics, hospitals, nursing homes, medical centers, schools, and other settings.
RNs with experience as paramedics are particularly suited for the roles in trauma or emergency care.
Paramedic to RN Salary Comparison
Both paramedics and RNs have rewarding careers, but RNs make more than paramedics.
As of May 2017, the salary for paramedics was estimated between $21,880 and $56,990, with a median of $33,380.
As an RN, you can earn from $46,360 to $101,630, with a median salary of $67,490.
This is the reason for paramedics to seek to expand their careers, and that's why it's worth investing in the RN bridge programs.
All Nursing Bridge Programs