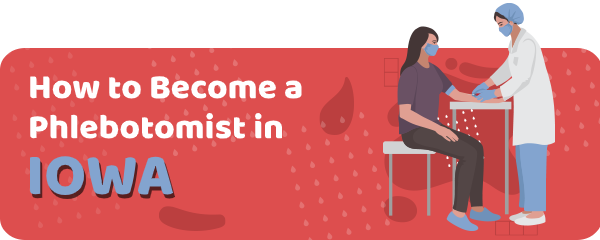 If you are reading this article, then you are probably interested in becoming a phlebotomist in Iowa!
Congratulations, it is an excellent choice for starting a career in the medical field.
To become a phlebotomist, you need to complete certain training courses and get familiar with drawing blood procedures, techniques, laboratory practice, and more.
There is a growing demand for phlebotomists in Iowa, so your choice of career is very prospective.
In Iowa, holding a national CPT (Certified Phlebotomist Technician) certificate isn't required, but it is very useful.
National Phlebotomy Certification in Iowa
In Iowa, you can choose one of the several approved certification agency for phlebotomy.
Sponsored Listings
Those include:
National Center for Competency Testing
American Society for Clinical Pathology – Phlebotomy Technician (PBT, ASCP)
American Society of Phlebotomy Technicians – Phlebotomist
National Phlebotomy Association – Phlebotomist
In other states, you can slightly different lists of approved agencies.
Iowa regulations recognize national phlebotomy certification but don't require phlebotomists to hold certification to be employed.
But, certified phlebotomists are preferred within many healthcare facilities.
Therefore, if you are still deciding on getting a certification, you can research potential employers to find out what their policy is toward uncertified job candidates.
Training Requirements
There are several general requirements you need to meet to be accepted to the training program in Iowa.
Students are required to submit high school or GED transcripts upon application.
Additionally, all candidates are asked to bass criminal background and drug test.
Also, candidates need to submit evidence that they are not suffering from any contagious diseases.
To become eligible for the certification, students need to complete at least 40 hours of classroom instruction and 40 hours of practical training.
Moreover, students need to prove that they can perform 100 venipunctures and 10 skin collections.
Training Courses Basic Elements
There are several training courses in Iowa.
The course may include different programs, but some general training in the phlebotomy filed is common.
For example, the course includes the next topics:
Patient assessment before the procedure
Hand hygiene
Selection of the venipuncture site
Knowing about alternate puncture sites
Learning about three major puncture techniques
Tourniquet application
Proper labeling the specimens, etc.
Skills Required
Aspiring phlebotomists in Iowa need to develop skills related to proper venipuncture procedures and techniques.
Next, their professional skills set needs to include handling laboratory equipment and proper waste disposal.
Additionally, phlebotomists are required to have suitable skills for blood specimen collection and transport, etc.
All phlebotomists need to have basic computer skills and some interpersonal characteristics.
For example, phlebotomists need to be friendly and patient.
Also, they need to be able to explain the procedure to the patient, to help the patient relieve the pain and reduce the needle-related stress.
Besides, phlebotomists are part of the larger healthcare team, so teamwork and honest communication is always a plus.
Phlebotomist Work Setting
Phlebotomists are an important part of the healthcare field.
Therefore, there are commonly found at all medical facilities.
A phlebotomist can work in hospitals, clinics, blood banks, private praxis, etc.
Schools
Nine schools in Iowa offer excellent phlebotomist training programs.
Des Moines Area Community College has several locations and offers Phlebotomist Specialist Certificate Program.
The program lasts around 13 weeks and has a total of five credit hours.
There are two courses during the program – Principles of Phlebotomy and a Phlebotomy Clinical.
Eastern Iowa Community College includes Phlebotomy Technician Training Program that lasts 12 weeks.
The program focuses on both theoretical knowledge and practical experience.
Indian Hills Community College offers a Phlebotomy Technician Certificate Program.
It is equivalent to nine credit hours.
Iowa Valley Community College District has convenient phlebotomy training.
The classes are held in the evening and Saturdays.
The phlebotomy training at Iowa Western Community College includes 64 hours of classroom training, 120 hours of clinical hours.
Lastly, there are eight hours for certification preparation.
Kirkwood Community College has an excellent training course for aspiring phlebotomists.
It consists of 60 hours of classroom instruction and 80 hours of practical experience.
Northeast Iowa Community College offers a 180-hour phlebotomy training program.
Two-thirds of the program is for practical experience.
Phlebotomy Services is an educational option in the workshop field, held online.
Students enrolled in the phlebotomist training at Saint Luke's College need to complete 120 hours in the clinical work setting during which they need to perform 100 venipunctures and 25 dermal punctures.
| School Name | Address |
| --- | --- |
| Des Moines Area Community College | Ankeny Campus- 2006 S Ankeny Blvd Ankeny, IA 50023 Boone Campus- 1125 Hancock Drive Boone, IA 50036 Carroll Campus-906 N. Grant Road Carroll, IA 51401 |
| Eastern Iowa Community College | 306 West River Drive Davenport, IA 52801 |
| Indian Hills Community College | Ottumwa Campus- 525 Grandview Avenue Ottumwa, IA 52501 Centerville Campus- 721 N. First Street Centerville, IA 52544 |
| Iowa Valley Community College District | 3702 South Center Street Marshalltown, Iowa 50158 |
| Iowa Western Community College | 2700 College Blvd. Council Bluffs, IA 51503 |
| Kirkwood Community College | 6301 Kirkwood Blvd. SW Cedar Rapids, IA 52404 |
| Northeast Iowa Community College | 1625 Hwy 150 South; P.O. Box 400, Calmar, IA 52132; 8342 NICC Drive, Peosta, IA 52068 |
| Phlebotomy Services | Location varies |
| Saint Luke's College | 2720 Stone Park Boulevard Sioux City, IA 51104 |
Salary
An average annual salary of a phlebotomist in Iowa is $33.870.
Certification, experience, skills, employer, and other factors determine the phlebotomists' salary.
Annual Salary Range:
Annual Salary by Location:
| Location | Avg. Annual Salary |
| --- | --- |
| Des Moines | $34,238 |
| Cedar Rapids | $33,580 |
| Davenport | $33,427 |
| Sioux City | $29,446 |
| Waterloo | $31,994 |
| Iowa City | $33,304 |
| Council Bluffs | $33,461 |
| Dubuque | $33,185 |
| Ames | $33,919 |
| West Des Moines | $34,238 |
Phlebotomy Classes by State
---