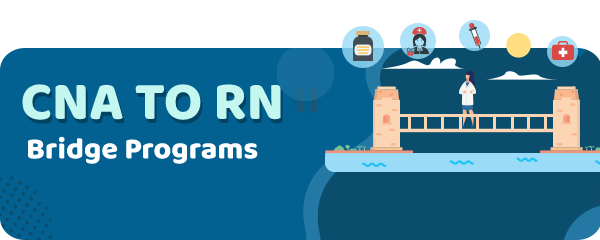 Many people are seeking the career of a nurse.
However, not everybody can become one right out of high school.
Due to financial or family issues, not everybody is able to complete the necessary associate's or bachelor's degree in the nursing program.
Also, some people aren't confident completely that they want to be a nurse, so they may choose to try the job first by becoming a CNA (certified nursing assistant).
CNAs are the first-line patient care staff.
They have multiple responsibilities, including taking vital signs, assisting with feeding and patient mobility, documenting output and intake, basic wound care, and hygiene.
CNAs learn a lot in the nursing field, primarily because they work closely with LPN/LVNs and RNs.
For this reason, nursing programs offer bridge CNA to RN programs, which allows CNAs to get a step closer to becoming a registered nurse.
Benefits of CNA to RN Programs
With the CNA to RN programs, nurses can take the RN program without the need to take unnecessary courses again.
The program can take from two to four years to complete.
The CNAs taking the RN program will have a reduced completion time by about six months.
Many courses CNAs completed can be transferred to RN programs.
Besides, CNAs gain valuable bedside experience required to become an RN.
They already have the basic skills.
It may be harder at the beginning for the CNAs who don't have experience in-patient care.
Past experience as a CNA before enrolling in the nursing school can be helpful for students, as they will have a better understanding of what to expect.
How CNA to RN Programs Work
CNA to RN programs can work differently.
First, they may include the "bridge".
That means that the courses you take in a CNA program can be transferred and applied in the nursing program.
CNA programs cover the following courses:
Personal care/patient hygiene.
Vital signs.
Anatomy and Physiology.
Exercise/activity.
Environmental care (e.g, bedmaking).
Medical terminology.
Care of the patient with specific disorders (e.g., diabetes, neurological disorders, etc.).
Nutrition.
Special needs care.
Communication.
These courses are either a requirement for a nursing program or are introduced in the first semester.
So, CNAs have an advantage when they enroll in nursing school.
Another way to pursue an RN degree is to test out of required courses.
Often, CNAs who have worked at the bedside for a few years have enough knowledge and skills, so they don't have to take particular prerequisite courses.
There are some test prep programs you can find, for example, the one by Achieve Test Prep.
Online CNA to RN Options
Returning to school is an important step.
Usually, those who are pursuing more advanced education or degree are already employed full-time or raising families.
So, to make it work out, you need some level of flexibility.
Luckily, with the prevalence of digital technology, some RN programs can be taken online.
While nursing theory can be completed via distance learning, the clinical part of the program will still have to be completed on-site.
Online programs are highly beneficial for students taking CNA to RN programs.
Even those who wish only to test out of certain courses can benefit from test preps that can be taken online or through a hybrid option.
CNA to RN Program Cost
The costs for the CNA to RN programs can greatly vary.
They depend on the program, school, state, city.
The programs can cost from a few thousand to more than $10,000 per year.
Programs at community colleges are less expensive than at four-year universities.
Private universities or colleges can cost even more than that.
Besides, there can be additional expenses involved, such as books, supplies, transportation, and living costs.
Some schools offer financial aid and grants.
While looking for the programs, you can search through the websites and campuses to find the right program for you.
CNA to RN Program Curriculum
The CNA to RN programs' curriculum can vary by school and depending on the courses you can transfer or test out.
Depending on the school and experience, students may skip some nursing fundamentals and focus on more advanced skills:
Leadership.
Population-specific care.
Physical assessment.
Pharmacology.
Nursing care plans.
Research.
The most important thing in becoming an RN is applying the nursing process when caring for patients.
It includes assessing and formulating a nursing diagnosis, planning and executing a treatment plan, as well as evaluating the results.
This process takes practice and can be mastered only through nursing schools and experience as an RN.
Career Outlook
There is a high demand for registered nurses.
The BLS predicts a 15% employment growth by 2026, which is far faster than the average for other occupations.
With the aging population and healthcare legislation, the demand for healthcare services increases.
The baby-boomer generation is aging and requires more patient care.
Nurses with a bachelor's degree will have an advantage when seeking employment.
Registered nurses typically work in hospitals or inpatient settings.
The top four industries employing RNs include:
Nursing Facilities.
Physician offices.
Home Health Care Services.
Outpatient care centers.
All Nursing Bridge Programs