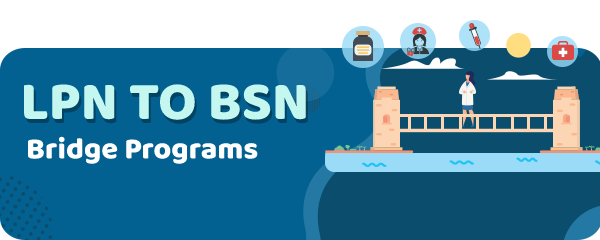 BSN stands for Bachelor of Science in Nursing.
Among all the LPN to RN bridge programs, this program is the most in-depth.
There were many attempts to make this degree mandatory for registered nurses.
However, these attempts weren't successful until now.
The LPN to BSN bridge program is designed for Licensed Practical Nurses employed in the health care centers and pursuing a bachelor's degree to improve their job opportunities.
As an aid for such students, there are online LPN to BSN programs.
Mostly, these are bridge programs, which means that candidates obtain an associate-level RN license.
Later, they can complete their baccalaureate.
The BSN program provides the students with extensive knowledge and a comprehensive skill set.
To practice in different work settings, critical thinking and problem-solving skills are necessary.
The requirements for RN with BSN degree are higher than for RN with an ADN degree.
The reason for that is that students with a bachelor's degree receive more in-depth knowledge than those with an associate's degree.
Nurses with BSN can also help patients understand the importance of a healthy lifestyle and manage difficult conditions easily.
Upon completion of the Bachelor in Nursing, you can go for a master's degree and obtain such specialties as a diabetes educator, critical care nurse certification, school nurse certification, etc.
Duration and Admission Requirements of LPN to BSN Bridge Program
The bachelor's degree takes four years to complete if you pursue it directly.
With the bridge program, you can shorten the duration of the degree.
If you have credits that you earned in your LPN program, you can use them in the LPN to BSN program.
However, it's not an option in all colleges and universities.
The requirements for the bridge program admission include:
Previously earned college credits.
A minimum of 2.0 GPA in LPN education.
To earn a BSN degree, you need 120 credits.
However, it may vary depending on the institution.
You have to meet the admission criteria to get into a BSN program.
Typically, you have to pass an entrance test.
Students can take both part-time and full-time classes.
An LPN to BSN bridge program comes with an average tuition fee of $17,000 and lasts for three years.
The financial aid is available as well.
What Does a BSN Degree Offer
As stated previously, through a BSN program, you can learn more than in an LPN to ADN program.
A bachelor's degree provides better employment opportunities as well as a higher salary.
As you advance from a PN to RN, you will get different responsibilities.
The transitions are covered during the classes.
How to Select an LPN to BSN Bridge Program
There are numerous options available for programs like this, and it can get difficult to pick the most suitable for you.
To choose the right program, you can consider the following factors:
University: authenticity, accreditation of the program, duration of its establishment, the percentage of students getting employment, the licensure examination passing rate.
The education model: if it's online or on-campus, whether you have to follow a regular semester or can join anytime, the amount of time given to the students by the faculty members.
The program cost, the payment mode (submitting at the beginning of every semester or deposited in installments, financial aid).
The average size of classes and student-teacher ratio, availability of resources for extra help on the subject, the duration of a program.
The possibility to appear before the RN boards after earning the associate's degree and continue the studies for a bachelor's one.
Get the feedback from the current students of the college.
For non-local residents, the amount of time they need to be present on campus, and which facilities are available for those living on-campus.
Affiliated health facilities and in what kind of settings you can work during the program, whether they suit your interests, and what's the emphasis on practicum.
There can be a lot more things to consider before you take admission in a college.
However, you should conduct thorough research in advance, as the program you choose greatly influences your future.
LPN to BSN Courses and Classes
The BSN program coursework includes theoretical knowledge of behavioral and biological sciences.
The emphasis on practicum is lower, especially in the beginning.
However, the clinical experience is coming up soon, which is a good thing for LPNs who are already employed in the health care facilities.
Students taking BSN to obtain a lot of responsibilities and autonomy.
The most common classes and courses covered in the LPN to BSN programs include:
Learn to analyze the gene expression.
Understand the development process of animals at the molecular and organism level.
Study the structure and organization of the immune system along with the immunological technologies.
Examine the diagnostic tools along with the production of recombinant vaccines.
Analyze the roles and content of different genomes and their implications & identification.
Assess and examine all the aspects of the clinical experience.
Practice in different clinical settings with your mentors and partners as an observer in the beginning and holding higher responsibilities later.
Assess the evolutionary process in different living organisms.
Know about the various medical settings and learn to practice accordingly.
Understand the ethical and legal aspects of patient care and the nursing profession to meet the medical standards.
Understand the cellular and molecular foundations of immunity, autoimmune disorders, histocompatibility antigens, and the role of sanitation.
Interact with the patients and their families in an affable way.
Analyze the Human Genome project including the tools used in distinguishing the sequences in a specific genome.
Participate in practices related to person-and-family-centered care.
Study the evolution along with the mechanism of speciation, adaptive radiation, phylogenetic, and extinction.
Study ecology, evolution, and diversity and their roles in human physiology.
Understand the sequential morphological changes and gene expression during evolution, the aging process and sexual maturation in plants, humans, and animals.
Study bodily systems like reproductive, lymphatic, integumentary, respiratory, skeletal, urinary, nervous, digestive, endocrine, muscular, and others.
Evaluate the theoretical and current models of the health care system along with the role of insurance, hospital, and regulatory stakeholders.
Understand the physiology, structure, development, and classification of animals: from protozoa to vertebrate mammals.
Evaluate the biological synthesis of commercial products and how it relates to the genetic engineering of animals and plants.
Career Opportunities for BSN Graduates
As an LPN, you will explore less of the nursing area while with a BSN degree, you get multiple opportunities.
Some of the best career options for an LPN with a BSN include:
Critical Care Nurse
The BSN degree and an RN license can broaden your opportunities.
As an LPN, it's unlikely that you will take on an essential role in critical patient care.
But as an RN with a BSN degree, you will get more responsibility and work with other medical staff in the critical conditions.
Cardiovascular Intensive Care Nurse
In CVICU (Cardiovascular Intensive Care Unit), some cases can be too critical to be handled by LPNs.
RNs have multiple opportunities in these units.
With a BSN degree, you can make a career in the cardiovascular nursing area.
LPN Instructor
LPN instructors educate practical nurses.
They usually work in colleges, universities, institutes, and other educational facilities.
They reach theoretical and clinical skills and concepts to students.
If you are passionate about teaching, this job can be a great fit for you.
Together with a higher salary, you will receive multiple professional and personal benefits.
School Nurse
If you are a talented nurse but don't want to work odd hours and under high pressure, you can work as a school nurse.
They need an RN license and a bachelor's degree.
Such nurses provide medical care and assistance to students at the educational facilities.
Nurse Coach
Nurse coaches teach people about a healthy lifestyle.
They deal with patients with such conditions as cardiovascular health problems or diabetes.
They help patients select the lifestyle course that will help them reduce the risk of health conditions.
Besides, they can even launch their own businesses or work for insurance companies or corporations.
Case Management Nurse
Case Management Nurses work with the medical teams to provide the best available and suitable medical care and facilities.
As per PayScale, they earn from $27,000 to $69,000 per year on average.
They can be employed at hospitals, and other healthcare facilities to oversee the acute care settings.
Public Health Nurse
Public health nurses provide a wide range of services.
Mostly, they work for the government.
They may also be employed at the federal level and develop short- and long-term programs to promote the health of citizens and the nation.
They can also do some research work.
The biggest advantage of the Public Health Nurse is the fixed Monday through Friday schedule.
They also don't work on holidays.
However, compared to other nursing jobs, the salary is not as satisfactory.
Diabetes Nurse Educator
With more diabetic patients, the nursing field requires more RNs who can serve these patients.
They take care of proper nutrition and blood pressure, regular check-ups, and healthy habits of patients, and more.
For this profession, you need to have a bachelor's degree and an RN license.
Military Nurse
A Military Nurse serves as a military officer.
This job can be done only by RNs with a BSN degree.
You can obtain such benefits as health coverage for you and your family at a zero or minimum price as well as life insurance and dental coverage.
While working in the military, you can also take continuing education programs.
Pediatric Intensive Care Unit Nurse
Pediatric Intensive Care Unit Nurses treat chronically ill children.
You need experience with children in other settings before you enter this field.
These nurses must be RNs.
Besides providing care to children, they offer emotional support to their families.
Perianesthesia Nurse
In Post-Anesthesia Care Units, nurses take care of recently sedated and recovering patients.
To obtain this position, you need to be knowledgeable about operating different medical equipment that these units use.
Pain Management Nurse
Some patients can't lead a normal life because of poor pain management.
These nurses work in both inpatient and outpatient settings.
They should educate patients and their families and teach them about the benefits of healthy nutrition to cope with and get rid of chronic pain.
Pain management nurses can also assist physicians in the surgical area.
All Nursing Bridge Programs