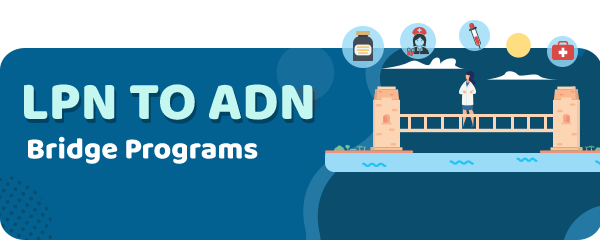 Licensed Practical Nurses are professionals working in the healthcare industry.
They are licensed to legally practice as service providers.
Given their education, they get lesser opportunities.
To advance their career, they can go for the LPN to ADN Bridge program.
With ADN, you can get more opportunities in the healthcare industry compared to LPNs.
With the bridge program, students can complete an associate degree in nursing.
Upon completing the ADN, students become eligible to take the licensure examination for RNs, called NCLEX-RN.
By taking the LPN to ADN Bridge program, you will build a foundation for the career of a practicing LPN in the healthcare field.
Registered Nurses also often enroll in the program since with it, they are exposed to the entry-level nursing jobs.
Technically, the program lasts for 2-3 years.
Not only covers the program nursing, but also liberal arts.
If the candidates don't want to study the college coursework, they may earn an LPN certification.
The demand for these professionals is expected to increase within the next few years.
One of the best advantages of this program is that nurses can benefit from it in the long run.
This program opens up multiple opportunities in the healthcare area.
Duration and Admission Requirement of LPN to ADN Bridge Program
The LPN to ADN Bridge programs can be part-time and full-time.
The full-time program covers 3 semesters or a year.
The part-time program may take 5 semesters or two years.
Depending on the institution, the duration of the program may vary.
With the credits of general education, the duration of the program can be shortened.
LPNs seeking advancement opportunities for their careers can enroll in the LPN to ADN program.
These programs are designed to reduce the time required for a regular LPN program.
Additionally, since the Bridge program can be completed part-time, you don't have to quit your job.
Also, you can go to an online program.
To be eligible for the LPN to ADN Bridge program, you need to meet the basic requirements:
Being a graduate of an NLNAC/state-approved LPN program.
A minimum GPA of 2.5.
Active LPN license
LPN Transcripts and records, to be sent to the LPN to ADN Bridge program school.
The completion of general education requirements.
LPN to ADN Bridge Program Classes & Courses
While working as practical nurses, LPNs can take additional courses at colleges to obtain career advancement opportunities with an Associate's Degree in Nursing (ADN).
With ADN certification, they can become Registered Nurses.
Employers often provide tuition reimbursement to the nurses pursuing a career as an LPN.
The course length for the LPNs registering for the ADN is reduced in half.
The ADN program though can vary from one institution to another.
In the course of the program, the candidates learn the following concepts:
Individual, the nursing profession, and healthcare system perspectives.
Interdisciplinary teams, nutrition, quality improvement, medication administration, assessment, informatics, evidence-based practice, and individual-centered care.
Concepts of cellular regulation, oxygenation, acid-base, and metabolism.
Stress/coping, impacts of infection, health-wellness-illness paradigm, and sanitary measures.
Systematic health goals, caring interventions, examining patient-caregiver communication.
Systematic safety information, informatics, and quality improvement cycles.
Examining cognition, looking into roles in healthcare and wellness.
Understanding assessment, ethics, and interdisciplinary team dynamic.
Realizing the importance of exercise.
Analyzing aspects of clinical experience.
Taking feedback from nurses related to care.
Examine the Workflow of nurses working in various medical settings.
What Does the LPN to ADN Bridge Program Teach
You can earn an associate's degree from many community colleges across the US.
Some programs last for 4 years.
In the ADN program, you can take both theoretical sessions and practical training.
The courses cover anatomy, physiology, nutrition, and biology.
Students enhance their clinical nursing skills mandatory for the ADN profile during practical sessions.
The LPN program usually lasts for one to two years and can be found at technical schools and community colleges.
The LPN program covers basic nursing, physiology, emergency care, nutrition, obstetric nursing, and medical-surgical nursing.
Online LPN to ADN Bridge Programs Availability
Presenting knowledge has become easier with the advancement of technology.
Students can take online ADN programs.
This way, they can save time and attend online sessions at the time they prefer.
The online LPN to ADN Bridge programs offer excellent options, so if you are too busy to attend the offline classroom, you can manage your time accordingly.
In the US, you can find selected schools that offer online LPN to ADN Bridge Programs.
They are offered through community colleges, vocational schools, universities, and accredited nursing schools.
It is recommended for the students to check if the program is accredited by the National League for Nursing Accrediting Commission (NLNAC).
The online program coursework includes emails, live chats, and video simulations.
The database is available 24/7 for students to access.
However, practical classes require only a medical setting.
Advantages of Online LPN to ADN Bridge Program
The LPN to ADN Bridge distance learning program is designed to save time for students and make learning flexible.
This is a faster and more efficient method to obtain a bridge program nursing degree.
For someone employed as an LPN and wishing to become an RN with a bachelor's degree or earn a Master of Science in Nursing, this is a perfect solution.
With this degree, you will be exposed to new opportunities as a registered nurse.
Through the online LPN to ADN program, students can get direct access to professors and manage schedule and time efficiently.
They will also benefit from various e-learning tools.
They aren't demanded to commute and can take classes at any suitable time, like after work.
Some programs feature asynchronous or synchronous methods of classroom teaching.
Through the asynchronous systems, students take classes on their own when they need to.
In the synchronous one, students take classes together with others who are enrolled in the program.
If necessary, students can retake classes, therefore, becoming RNs in a hassle-free way.
Job Prospects For LPN to ADN Bridge Program Graduates
LPNs, wishing to use the ADN bridge program, benefit from the ADN degree as a second option to open opportunities in the healthcare area.
Most working professionals don't want to take a full-time college program, so they benefit from the bridge program to save money and time.
When they obtain the degree, students can acquire a better-paying job in higher profiles.
According to the BLS, the employment rate of nursing professionals should grow by 20%.
The median salary is coming up to the figure of $70,000 per year.
The opportunities are expanding mainly because of the lifestyle of people and higher risks of diabetes and obesity.
All Nursing Bridge Programs