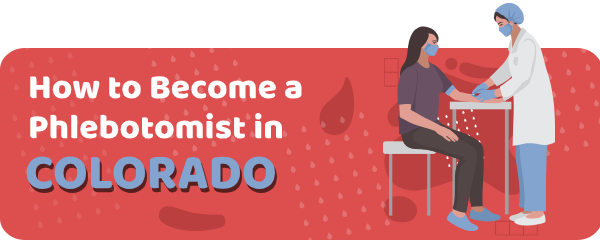 Phlebotomy is the practice of drawing blood for various purposes, and the procedure is called venipuncture.
Medical workers who perform the procedure are called phlebotomists or phlebotomy technicians.
Blood samples collected through skin punctures are used for diagnosis or donation.
Therefore, phlebotomists are important in medical teams, and they need to be skilled and qualified for the role.
In Colorado, official certification isn't required, but it is preferred.
Therefore, certified phlebotomists in Colorado have higher chances to find appropriate jobs and even negotiate a better salary.
Sponsored Listings
Hospitals, clinics, community centers, blood banks, home care agencies, and other healthcare facilities are always in the search for qualified and compassionate phlebotomists.
In Colorado, top hiring cities for phlebotomists are Denver, Aurora, Colorado Springs, Breckenridge, Vail, Boulder, Estes Park, and several others.
How to Become a Phlebotomist in Colorado?
In general, becoming a phlebotomist in Colorado is simple, but you will have to complete several steps.
The first one is to complete an accredited phlebotomy training program.
Next, you will have to show proof that you have completed at least 100 hours of practical training in a clinical setting.
Certification is a matter of personal choice in Colorado.
However, getting certified ensures many benefits.
To get certified you will have to pass the phlebotomy certification exam, issued by the Phlebotomy Certification Board or other recognized national agencies.
Once you get certified, you will have to keep track of your license renewal.
Phlebotomy Certification Organizations in Colorado
Let's have a quick overview of all organizations in Colorado that certify phlebotomists.
First, the American Medical Technologists conducts the certification exam that can be taken in oral or written form.
You have to show evidence of practical experience and to renew your license every three years.
Next, you can get certified through the American Society for Clinical Pathology (ASCP).
To get certified through ASCP you have to show evidence of work experience or adequate training, pass the exam.
Renewal is every ten years.
The Phlebotomy certification process through the American Society of Phlebotomy Technicians includes practical exams, written
exams, and annual certification maintenance.
Similarly, the National Phlebotomy Association in Colorado requires you to pass an oral or written exam to achieve your certification.
Getting certified has many advantages.
You will become a more valuable candidate in the job market and you will have a better salary and secure position at any healthcare facility.
Phlebotomy training can last for several weeks from several months.
Some programs are intensive and short, others cover basic aspects of phlebotomy, while comprehensive programs last for several months.
In general, you should pick the program that ensures that you receive practical training as much as possible.
In Colorado, phlebotomists are under the jurisdiction of the Colorado Department of Regulatory Agencies, Division of Professions and Occupations.
The government body doesn't require phlebotomists to be certified, but you need to have a high school diploma or GED to apply for the accredited phlebotomy courses.
Personal Skills for the Role
Phlebotomists need to know how to handle laboratory equipment.
Also, because they will perform some data entry and clerical tasks, having basic computer skills is great leverage for phlebotomists.
Other than professional skills related to the field, phlebotomists need to be able to communicate effectively and calm the patient.
Compassionate, flexible, and phlebotomists who can handle different people and different situations and cause minimal discomfort to the patient during the procedure are highly appreciated across the state.
Schools
Colorado is a state with plenty of educational options for future phlebotomists.
Phlebotomy Technician Course at Accent Learning Systems includes 30 hours of clinical experience and covers important elements of the phlebotomist's role.
Phlebotomy Certificate Program is available at Arapahoe Community College in Littleton.
Emily Griffith Technical College offers a phlebotomy training course for future technicians.
The course lasts for six weeks and the last week includes clinical exercises.
Phlebotomy Certification Program at Front Range Community College is an 8-credit hour course that offers a comprehensive education for future technicians.
The program at Colorado Mesa State University has an excellent practical portion of the program.
During that time, you will have to complete 100 clinical hours and 100 venipunctures.
The Phlebotomy certification program at the Phlebotomy Learning Center of Denver can be completed in ten weeks.
Consult the table for more information on schools in Denver.
| School Name | Address |
| --- | --- |
| Accent Learning Systems | 1450 S. Havana #232 Aurora, CO 80012 |
| Arapahoe Community College | 5900 South Santa Fe Drive Littleton, CO 80120-1801 |
| Emily Griffith Technical College | 37835 Astra Way Watkins, CO 80137 |
| Front Range Community College | Larimer Campus-4616 S. Shields Street Fort Collins, CO 80526 Community Learning Center- 800 S. Taft Loveland, CO 80537 |
| Colorado Mesa State University | 1100 North Avenue Grand Junction, CO 81501-3122 |
| Morgan Community College | 920 Barlow Road Fort Morgan, CO 80701 |
| Phlebotomy Learning Center of Denver | 1780 S. Bellaire St., #780 Denver, CO 80222 |
| Phlebotomy Services | Various locations across the state |
| Pikes Peak Community College | Centennial Campus (south)-5675 South Academy Boulevard Colorado Springs, CO 80906 Downtown Studio Campus (central)-100 West Pikes Peak Avenue Colorado Springs, CO 80903 Rampart Range Campus (north) - 11195 Highway 83 Colorado Springs, CO 80921 Falcon Campus (northeast)- 11990 Swingline Road Falcon, CO 80831 |
| Pima Medical Institute | Colorado Springs-3770 Citadel Drive North Colorado Springs, CO 80909 Denver-7475 Dakin Street Denver, CO 80221 |
| Pueblo Community College | Pueblo Campus- 900 W. Orman Ave Pueblo CO, 81004 Fremont Campus-51320 W Highway 50 Canon City, CO 81212 |
| Red Rocks Community College | Lakewood Campus-13300 West Sixth Avenue Lakewood, CO 80228 Arvada Campus-5420 Miller Street Arvada, CO 80002 |
| Stillwater College | 4155 E Jewell Ave #316 Denver, CO 80222 |
Salary
An average annual salary of a phlebotomist in Colorado is $35.286.
Salary is different in private and public healthcare facilities and depends on certification, education, experience, etc.
Annual Salary Range: Annual Salary by Location:
| Location | Avg. Annual Salary |
| --- | --- |
| Denver | $35,792 |
| Colorado Springs | $35,226 |
| Aurora | $35,768 |
| Fort Collins | $34,454 |
| Arvada | $35,792 |
| Pueblo | $32,823 |
| Westminster | $35,792 |
| Boulder | $36,312 |
| Thornton | $35,792 |
| Aspen | $35,423 |
Phlebotomy Classes by State
---