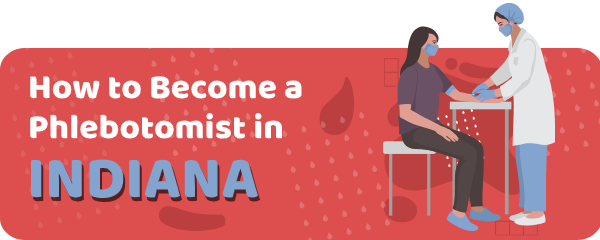 Becoming a phlebotomist in Indiana requires completing training and developing needed skills for drawing blood specimens from the patients.
The career outlook for phlebotomists is highly positive, as there is a growing need for these medical workers.
The healthcare facilities in Indiana that employ phlebotomists prefer those with a diploma or associate's degree in the phlebotomy field.
The American Society for Clinical Pathology, and other recognized organizations in Indiana, distribute certification exams.
Keep reading for more information on becoming a phlebotomist in Indiana.
Phlebotomy Training in Indiana
Enrolling in a phlebotomy course is the first step toward a phlebotomist career.
Sponsored Listings
You can pick any of the offered phlebotomist training courses in your area, as long as they are offered at accredited educational institutions.
The majority of institutions offer certificate programs.
The average duration of certificate programs is four to six months, while associate degree programs last one year.
All courses will prepare aspiring phlebotomists to draw blood from patients during venipuncture or skin puncture procedure.
Next, after you complete the training program, you can enroll in a clinical internship and you will become eligible to sit for the certification.
Keep in mind to choose nationally-accredited agencies for your certification process.
National Phlebotomy Certification in Indiana
In the state of Indiana, there are several national certification agencies.
However, Indiana doesn't require phlebotomists to hold national certification to be employed.
The Indiana State Board of Nursing and the Indiana Professional Licensing Agency oversee the field of phlebotomy in this state.
Although certification isn't required, it is highly appreciated.
Therefore, certified phlebotomists have important leverage when applying for a job at hospitals, blood banks, laboratories, etc.
Besides, some employers require the certification for the phlebotomist's role.
If you still have doubts about certification, research your potential employer and find out what is the policy toward uncertified phlebotomists.
National Certification Agencies in Indiana
If you decide to get certified, you can complete the process through one of the following agencies:
National Center for Competency Testing
American Medical Technologists
American Society for Clinical Pathology
American Society of Phlebotomy Technicians
National Phlebotomy Association
Once you complete the training, you can apply for the certification exam.
Requirements for Phlebotomy Certification:
There are general requirements you need to meet to get accepted for the phlebotomy training and certification.
For example, you need to submit a high school diploma or GED transcripts.
Next, candidates are asked to pass the criminal and drug background test.
The certification requirements include completing at least 40 hours of classroom instruction, and the same number of hours of practical training.
Lastly, aspiring phlebotomists need to show proof of the ability to perform 100 venipunctures and 10 skin collections.
Required Skills
The training is there to help students to develop skills for drawing blood properly.
Therefore, proper technique is important to prevent accidents.
Additionally, the phlebotomist needs to be friendly and patient.
He or she needs to be able to communicate openly and explain procedures to lower the stress.
Moreover, a phlebotomist needs to be familiar with laboratory equipment, sample collection, and preservation, waste disposal.
Besides, a phlebotomist is required to have basic computer skills.
Schools
In Indiana, several appropriate schools have phlebotomist training in their programs.
For instance, ABP, Inc. in Granger offers high-quality phlebotomist training, as part of the Southwestern Michigan College.
The program includes nine credits and lasts for three weeks.
After three weeks, students are asked to complete 120 hours of clinical training.
Next, there is phlebotomy training at In Training Inc. College of Adult Education, that lasts for 16 weeks and includes both theoretical instructions and practical exposure.
Indiana School of Phlebotomy in Indianapolis offers standard phlebotomy training and accelerated version.
Ivy Tech Community College has several locations across the state, and once the phlebotomy program is completed, a student is eligible for the national certification.
A nine-week phlebotomist training is available at Medical Career Academy in Indianapolis.
The University of Saint Francis is one of the educational institutions with the longest tradition in Indiana and has a high-quality phlebotomist program.
Lastly, Vincennes University offers a 15-week training for aspiring phlebotomists.
The program includes 90 classroom hours and covers various topics such as anatomy, physiology, blood collection procedures, etc.
| School Name | Address |
| --- | --- |
| ABP, Inc. | P.O. Box 127 Granger, IN 46530 |
| In Training Inc. College of Adult Education | 1330 E. Commercial Ave Lowell, IN 46356 |
| Indiana School of Phlebotomy | 6919 E. 10th St., Suite D-6, Indianapolis, IN 46219 |
| Ivy Tech Community College | Bloomington Campus-200 Daniels Way Bloomington, IN 47404 North Meridian Campus-50 West Fall Creek Parkway North Drive Indianapolis, IN 46208 Columbus Campus- 4475 Central Avenue Columbus, IN 47203-1868 Anderson Campus- 104 West 53rd Street Anderson, IN 46013 |
| Medical Career Academy | 10 N Senate Avenue, Suite SE 308, Indianapolis IN 46204 |
| University of Saint Francis | 2701 Spring Street, Fort Wayne, Indiana 46808 |
| Vincennes University | Jasper Campus-850 College Avenue Jasper, IN 47546 |
Salary
The salary of a phlebotomist in Indiana is $34.196 per year.
Certifications, experience, education, employer, and other factors determine the salary.
Annual Salary Range:
Annual Salary by Location:
| Location | Avg. Annual Salary |
| --- | --- |
| Indianapolis | $34,191 |
| Fort Wayne | $32,653 |
| Evansville | $33,082 |
| South Bend | $32,719 |
| Gary | $34,861 |
| Hammond | $35,251 |
| Bloomington | $32,601 |
| Muncie | $32,646 |
| Anderson | $32,773 |
| Terre Haute | $32,493 |
Phlebotomy Classes by State
---